New York City Trendsetting in Tourism
July 11, 2013 10:24 am Last Updated: July 11, 2013 1:59 pm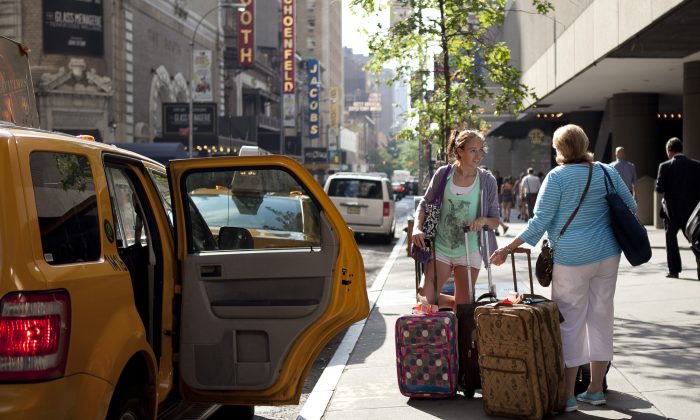 NEW YORK—New York City has been an industry leader in areas like finance and fashion, but now you can add tourism to that list.
The Big Apple has seen an unprecedented 19 percent jump in visitation since 2006, with the city hosting a record 52 million visitors in 2012. The success has not gone unnoticed, with representatives from cities and countries around the globe flocking to New York to find out the city's secrets.
NYC & Company, the official marketing, tourism, and partnership organization for the city of New York, has hosted hundreds of meetings with municipalities and is not shy to hand out their pearls of wisdom.
"For New York City to give advice and council to other cities and destinations to make them more attractive, it is the right thing to do from a policy standpoint," said Kimberly Spell, chief communications officer with NYC & Company. "All ships rise with the tide."
New York City does not charge for its recipe for success, but in some cases the meetings result in city-to-city partnerships that are beneficial to the city's ever expanding tourism industry.
On June 10 representatives from NYC & Company flew to Amsterdam to ink a one-year deal with the Dutch city for an exchange of advertising space around the city and on official tourism websites. In New York City the advertisements will pop up on bus stops, the sides of telephone booths, and in-taxi ads. To make up for its slim $13.8 million from the city budget, NYC & Company controls 22 percent of those advertising methods.
"I believe in connected cities," said deputy mayor for Amsterdam, Carolien Gehrels by phone Wednesday. "When you connect the cities, it improves the quality of life."
Gehrels was an integral part of rebranding Amsterdam in 2004, helping to create I amsterdam. Gehrels said the idea was born from the "I Love New York" motto, which was used to promote New York City tourism after the Sept.11 attacks.
"I thought it was brilliant because everyone knows I Love New York," Gehrels said.
Stateside Success
Not long after he took office, Mayor Michael Bloomberg made it a mission to grow the tourism industry, seeing it as a way to diversify the city's tax base, which relies heavily on Wall Street.
In 2006, with Bloomberg's seal of approval, NYC Marketing and NYC Big Events, merged with NYC & Company to form a unified approach to market, promote, and attract tourists and big events to the city.
NYC & Company engaged the private sector and created promotional events such as Restaurant Week, Broadway Week, and Comedy Week. The partnerships were hugely successful, and each year the city adds more of them. The targets are not limited to Midtown either. Nine in '09 showcased nine authentic neighborhoods in all five boroughs, and Destination Harlem was added in February 2011.
The boom has shown in the city's bottom line. In 2012, the tourism industry generated $3.3 billion in city taxes (compared to the $13.8 million budget investment from the city). The leisure and hospitality industry has grown by 27 percent, and was the fastest growing industry from 2006 to 2012.
The numbers have made waves across the country especially in Chicago, which has a history of strong convention tourism, particularly at McCormick Place.
For years the convention and tourism office operated separately from leisure and marketing promotions, much like New York City pre-2006.
Once Rahm Emanuel was elected as Chicago's mayor, he began to study which new tourism model the city would use. Chicago looked at San Francisco and Boston, among others, according to Don Welsh, president and CEO of Choose Chicago, the official destination marketing organization for the Windy City.
Welsh said New York City's model was a favorite not only because of the unity the one-agency system brought, but also NYC & Company's process of luring international travelers.
According to a report from NYC & Company, overseas visitors stay 7.8 days and spend $1,600, compared to domestic guests who only stay 2.7 days and spend $471 on average.
Chicago has one of the largest airports in the world, with 170 overseas flights per day. Despite the access, Welsh said Chicago ranked a paltry No. 10 on the share of international travelers to the United States.
"I started to ask why we were number ten, and it became apparent we, as a city of Chicago, did not have international representation."
Once officially formed in July 2012, Choose Chicago took a page from NYC & Company, seeking representation though firms already established in other countries. The offices promote using local press outreach, and work directly with travel agents, which are used with much more frequency overseas than in the United States.
Thanks in large part to help from New York City, in just one year Chicago now has 10 partnership offices.
"New York has been very helpful to strategically point out things that were successful," Welsh said. In some cases Chicago was given approval to work with the same agencies as New York.
With 10 nonstop flights from Chicago to London per day, Choose Chicago has put focus on the U.K. market using the New York City model.
"It has yielded incredible growth for us," Welsh said. Chicago saw 39 million visitors in 2010, jumping to 46.2 million in 2012.
Welsh said their numbers are outpacing some cities by three to four percentage points, in certain segments. "We are probably outpacing other cities because we are doing things we have never done before," he said.
Welsh credits the core strategies from New York City's model with much of the growth.
On some levels, Chicago still competes with New York City, vying for those same international travelers. Yet, because of its iconic status, New York City will likely remain heads and shoulders above the rest of the industry.
Now that it is king of the tourism mountain, New York City is showing how cooperation can lead to better things for all.
"Once we get through our own competitive positioning of our cities, there is just a lot of collaboration that can be done," Welsh said.