New York City will make COVID-19 vaccinations optional as of Feb. 10 for current and future city employees, including police officers, firefighters, and teachers, Mayor Eric Adams said on Feb. 6.
"With more than 96 percent of city workers and more than 80 percent of New Yorkers having received their primary COVID-19 series and more tools readily available to keep us healthy, this is the right moment for this decision," Adams, a Democrat, said in a statement.
Vaccination requirements also will be lifted for nonpublic school, early child care, and day care staff, according to a statement from Adams.
"City workers stepped up tremendously throughout the pandemic," the mayor added. "From our health care frontline workers and first responders who saved lives, to the city employees who kept our streets clean, our schools open, and our streets safe, we owe city workers a debt of gratitude for their service during New York City's darkest days."
COVID-19 mandates "saved lives" and were "absolutely necessary," NYC Department of Health and Mental Hygiene Commissioner Dr. Ashwin Vasan said.
"We cannot overstate our appreciation for the millions of New Yorkers who made the necessary sacrifices to keep our city safe and save lives," he added.
Meanwhile, the 1,780 former workers who were fired for not submitting proof of vaccination "will not be able to automatically return to their previous positions," the city said. "They will be able to apply for positions with their former agencies through existing city rules and regulations and hiring processes."
A spokesman for Adams told the New York Post that the city won't provide back pay for the terminated employees.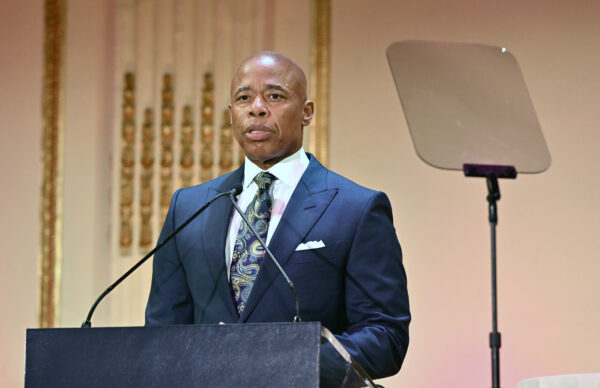 The COVID-19 vaccine mandate, which faced numerous lawsuits, was first imposed in October 2021 by then-Mayor Bill de Blasio, a Democrat, who also set proof-of-vaccination rules on restaurants, concert venues, and other establishments. Adams in September 2022, also lifted de Blasio's private-sector vaccine mandate, although it isn't clear to what extent the rule was actually enforced.
Republicans praised Adams for lifting the COVID-19 vaccine mandate.
"This news will come as an incredible relief to thousands of city workers and their families, and the parents and guardians who have been barred from attending their children's public school events," the City Council's six Republicans, along with two Democrats, said in a joint statement, according to local media.
"There is more to be done for those workers who were unjustly fired for making personal medical choices, but this is a tremendous step toward righting the wrongs of the previous administration's misguided pandemic policies."
Lawsuits
A Staten Island judge in October 2022 ordered New York City workers who were terminated to be reinstated. The city has since appealed the ruling.
"We shouldn't be penalizing the people who showed up to work, at great risk to themselves and their families, while we were locked down," Staten Island Supreme Court Justice Ralph Porzio wrote. He said that Dr. David Chokshi, the former city health commissioner, overstepped his authority when issuing the mandate.
About a month ago, dozens of New York City workers filed a $230 million lawsuit that sought to end the city's mandate.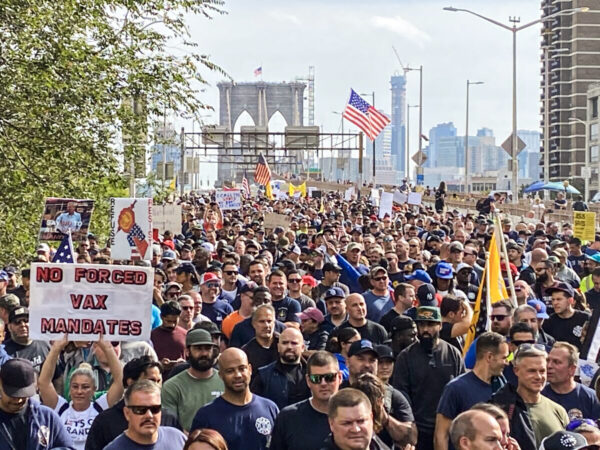 The ex-workers, the lawsuit stated, "have been unemployed for over a year, and most have lost their homes or the ability to support their families." The court papers also said that the "petitioners have been mocked for their religious beliefs," including by the city.
Elaborating, a lawyer representing those plaintiffs stated that he believes "every single one" of his clients was treated unfairly by the city.
"Most of the petitioners have been employed for over 20 years, and the city showed a lack of respect to these people," James Mermigis told the New York Post. "They just terminated them as if they were working there for six months."
Also in January, a New York court struck down a statewide vaccine mandate that was imposed on health care workers, ruling that Gov. Kathy Hochul and the state's health department overstepped their authority.
In a ruling issued on Jan. 13, state Supreme Court Judge Gerard Neri wrote the statewide COVID-19 vaccine mandate for medical staff "null, void, and of no effect."
"In true Orwellian fashion, the Respondents acknowledge then-current COVID-19 shots do not prevent transmission," Neri wrote, citing a Summary of Assessment of Public Comment that was submitted as evidence in the case.