New York City Cashing in on Sports Tourism
March 15, 2013 11:43 am Last Updated: July 11, 2013 11:47 am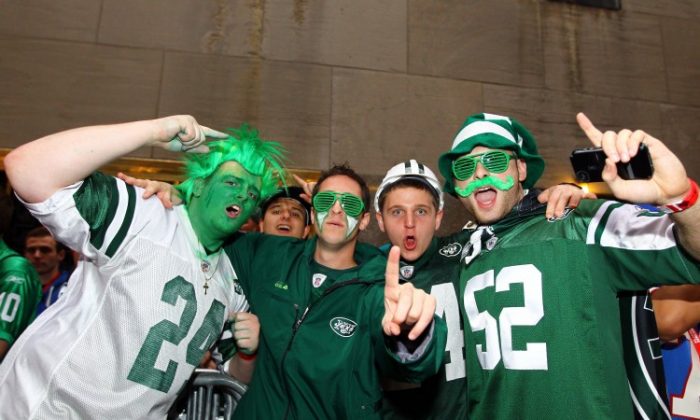 NEW YORK—They dress up, paint their faces, and yell until their voices are hoarse. Sports fans may not wear three-piece suits, but they are big business for New York City.
And New York City has what it takes to draw them in. "When people look at the New York–New Jersey region, they see it as a sports hub unlike any other," said Mike Hopper, vice president of sports marketing for NYC & Company.
"They can come to town and, if they play their schedule right, they can probably see four games within a few days," said Hopper.
With Madison Square Garden (MSG) set to complete its nearly $1 billion renovation this year, the region can now lay claim to a new football stadium, two new baseball stadiums, one brand new basketball arena, and one heavily made-over iconic basketball arena (see infographic for details).
The private investments are paying dividends by driving marquee events to the area, such as the Major League Baseball (MLB) All-Star Game, which will be held at Citi Field in Queens this summer, and the Super Bowl, which will be held at Met Life Stadium just across the river in East Rutherford, N.J., in February 2014.
Fans cheer during the NFL season opener between the New York Giants and Dallas Cowboys at MetLife Stadium in East Rutherford, NJ on September 5, 2012. (Michael Heiman/Getty Images)
It may be only one game, but these events are tourism gold. The All-Star Game is expected to attract 176,000 people to New York City, bringing $191.5 million in economic impact. The estimates for the Super Bowl are not in yet, however the city has planned for a week of activities leading up to the big game.
New York City is finally starting to see the fruit of a plan that was born years ago with an unsuccessful bid to host the 2012 Summer Olympics. The plans, unveiled in 2000, called for a new basketball arena in Brooklyn, the West Side Stadium to be built on the West Side near the Javits Center (which would have been home to the Jets after the Olympics), and upgrades to facilities in Flushing Meadows Park and in the Bronx near Yankee Stadium.
In 2005, New York City lost its Olympic bid to London, but the stadium plans lived on.
"That set a game plan for sports tourism to New York," said Cristyne Nicholas, chair of the New York State Tourism Advisory Council. "We may not have gotten the games, but as a result, we got a new stadium."
The new football stadium moved across the river to New Jersey, Brooklyn got its basketball arena, and Citi Field, which had been a last-minute replacement for the West Side Stadium when Speaker Sheldon Silver killed the plan, also came to fruition.
The Home Run Big Apple in front of Citi Field in Queens, New York on April 5, 2012. (Nick Laham/Getty Images)
New Stadium, New Opportunity
NYC & Company, the city's official tourism organization, began to set its eyes on marquee sports events before the stadiums were ever built. Nicholas, who served as president of NYC & Company for seven years, saw what perception-altering events like the Grammys, the CMA Awards, and the Republican National Convention, did for branding the city and attracting groups.
For a town already rich in sports culture and ripe with venues, the sports market was an easy target.
In 2002 the city tried unsuccessfully to lure Super Bowl XLII (2008) to New York, losing out to Glendale, Ariz., and its newly opened University of Phoenix Stadium.
"In terms of big events, you see all the sports leagues really reward people for building new venues by bringing their marquee events there," said Mike Hopper, vice president of sports marketing for NYC & Company.
With a new stadium in the works, the idea of which came from the Olympic plans, their bid for the 2014 Super Bowl was successful.
(Diana Benedetti/The Epoch Times)
What's Next
With new and updated indoor and outdoor facilities able to house every major event, New York City is in a prime position to bid on future events.
Some they have already won.
The NCAA tournament, a two-week extravaganza of college basketball played each March, will visit MSG next season, the first time since 1961. Both MSG and Barclays Center have submitted bids to host the 2015 NBA All-Star game. The two-team city has not hosted the All-Star game since 1998, and paired with the new arenas, they have a good shot.
The city is looking to expand its portfolio outside the four major sports. Formula One will run a Grand Prix race along the Hudson River shore in New Jersey in 2014. The city is also courting the America's Cup, a yacht race with plenty of international appeal, making it a top priority.
"It is one of those events that has such interest from an international perspective that I know it is a great opportunity for us to market New York City [to an international audience] and market it for a longer-term stay than just coming in for the race," Hopper said.
Expanding to the State
Nicholas, who is also co-founder and CEO of Nicholas & Lence Communications, was an integral part of revitalizing the tourism industry following the events of 9/11. She saw firsthand how bringing perception-altering events to the city boosted the value of the city in the tourism market.
Now she has her eyes on New York state, an area rich in outdoor assets for sports like white water rafting, road racing, cycling, skiing, and swimming.
"In New York State, you have more flexibility to market big sporting events that are not just professional," Nicholas said. "You have more opportunity to market amateur and participatory events."
She will take a page from the playbook used to bolster New York City's tourism numbers to record highs.
Nicholas said she will work on the Adirondack Challenge, a white water rafting competition, which was proposed by Gov. Cuomo in January. The plan is to promote successful events, and add only a few new ones.
"We are looking at the summer of 2013 as laying the ground work," Nicholas said.