New York City Candidates Linked to Chinese, North Korean Regimes
September 14, 2009 2:56 am Last Updated: October 1, 2015 9:24 pm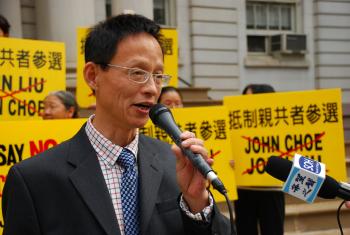 NEW YORK—At a rally on the steps of City Hall last week, New York residents expressed concern that two New York City political candidates—John Liu and John Choe—have connections with communist regimes.
John Liu has been a city council member representing New York's Flushing area since 2001. This year, he is running for city comptroller—the position that oversees the city's finances, including its $60 billion budget.
Spokesman for the Christian Democracy Party of China, David Lu, says John Liu appears to be cultivating a relationship with the Chinese consulate.
"We, Chinese communities, where John Liu lives, know him better, who this person is," Lu said. "Besides the lies of the sweatshops exposed by the Daily News, he has some other proven records of his ties with the Chinese communist government."
"A lot of people are still sleeping about this," says David Donglu, the spokesperson for the CDPC about John Liu's alleged connections. "They don't know how the Chinese government operates."
In 2003, when the Chinese military launched its first manned spacecraft, Shenzhou 5, Liu proposed a city proclamation in support. When China launched Shenzhou 6, Liu went directly to the Chinese consulate on Oct. 17, 2005 to personally issue the proclamation in this photo.
Liu also has connections with the Fukien American Association, a group connected with human trading in the 1990s. According to the World Journal, the association helped Liu raise $70,000 for his 2009 comptroller campaign.

"His money [is] coming from the donations and support of the pro-communist communities in Chinatown and Flushing," said Lu. "We have known that those pro-communist associations are controlled by the communist government."
At a Fukien American Association event on June 3 this year in Manhattan, John Liu and the Chinese Consul General were key guests, sitting to the right and left of the association's leader during dinner.
Protesters at last Thursday's rally were also opposing John Choe. Choe—John Liu's former chief of staff—is running for the city council position John Liu has held for eight years. The protesters said Choe actively supports the North Korean communist regime.
John Choe is a co-founder of New York-based Korean group Nodutdol. Among other activities, Nodutdol arranges trips to North Korea. And Nodutdol's website has glowing accounts of former communist leader Kim Il Sung.
In addition, John Choe has made strong statements in favor of North Korean policy, and against what he has called "U.S. imperialism" in South Korea. The following is an audio recording from a speech he gave in May 2006:
"We still have friends, activists who are being arrested on a daily basis [in South Korea] for acting in the interests of the Korean people for expressing their free will and their thought and for struggling against the U.S. and U.S. imperialism," said John Choe at the event: "Preparing for the Rebirth of the Global Struggle for Socialism."
Protesters at the rally said the connections that Liu and Choe have to the Chinese and North Korean communist regimes pose a risk to New Yorkers.
Cao Jintao, from the Chinese Coalition for Citizens' Rights, said, "If we let a dishonest person, a person disloyal to America, hold a public office in America, it would pose a great risk to Americans' values and safety."
The primary elections are coming up on Sept. 15.