Residents of New York's Congressional District 3 called on Speaker of the House Kevin McCarthy (R-Calif.) to expel embattled freshman Rep. George Santos (R-N.Y.) rather than wait for an ethics investigation to be completed.
"There's no criminal conviction necessary to remove a member [of Congress]," said 18-year-old Princeton student and activist Aidan Davis. "All that is needed is a two-thirds vote."
Davis chuckled as someone in the group chimed in, "And a little courage."
Santos has been accused of fabricating his family background, education, and work history. Santos claimed in his biography that he had "degrees in finance and economics" from Baruch College and New York University and had worked for Citigroup and Goldman Sachs.
The press conference, hosted by Rep. Daniel Goldman (D-N.Y.), was coordinated by Concerned Citizens of New York 03. The Group's founder Jodi Kass Finkel described the organization as an ad hoc committee with a single purpose.
"We have only one goal—that is to have George Santos removed from squatting in our seat," she told the group.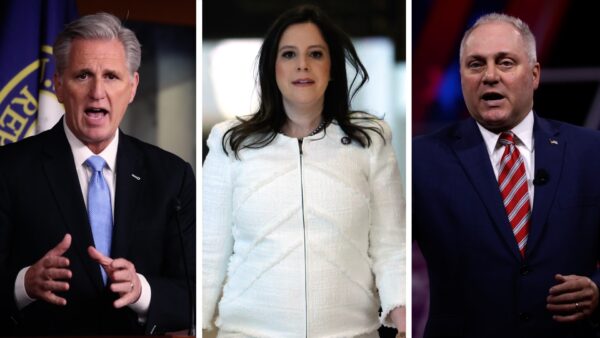 District 03 includes parts of the North Shore of Long Island, then extends across Nassau County into northeastern Queens.
According to Finkel, Santos is an embarrassment—not only to the people of the District, but to the Republican Party and the entire Congress. She and the other Santos constituents came to Washington because Republican leadership was doing nothing to address their concerns.
"We are here because Speaker (Kevin) McCarthy cannot hear us when we speak from Long Island," she said.
Goldman addressed the group, waving signs and chanting slogans calling for Santos's ouster. He criticized McCarthy for doing nothing in the face of what he said was clear evidence of wrongdoing on Santos's part.
He said McCarthy blamed people who voted for Santos, even though those voters had been lied to. Goldman pointed out that while much of what Santos is accused of is illegal, lying to voters is not. According to Goldman, this sends a cynical message to the American people.
Lying to Voters Not Illegal
"You can deceive the voters, you can defraud the voters as long as they voted for you, it's okay," Goldman said.
In December, Santos admitted to some "resume embellishments," confessing he hadn't graduated from Baruch College or any other college. Santos said he also overstated that he worked for two Wall Street firms and said he instead worked for a company called Link Bridge, which did business with both firms. Santos also admitted to lying about owning 13 different properties.
Santos faced other allegations, including falsely saying he was Jewish. In an interview with the New York Post, Santos said he had "never claimed to be Jewish."
Ben Marzouk, of Long Island, told the group that he is only one New York Republican owed an explanation about why Santos is still on the job.
"It's not difficult. McCarthy, do the right thing—expel him. Have some dignity and respect, and do the right thing," Marzouk said.
'No Greater Threat'
Santos was also accused of defrauding a veteran raising money to pay for surgery for his dog. The veteran said that when they met, Santos called himself Anthony Devolder. The U.S. Navy veteran, Richard Osthoff, said "Devolder" set up a GoFundMe crowdfunding page for the dog, but ultimately kept the money and cut off contact with the veteran.
The dog died without the necessary medical treatment, Osthoff said. Santos denied Osthoff's claims, tweeting that "the reports that I would let a dog die is [sic] shocking & insane."
Taiba Ahmad is a teacher and Afghan refugee whose family came to the United States in 1989. She has been working with Congress and the U.S. Department of State to help Afghanis who helped the United States escape their country. She said this often involves providing sensitive information to government officials.
"Unfortunately, I cannot trust George Santos or his staff with something so sensitive," she said.
Rep. Ritchie Torres (D-N.Y.) also addressed the gathering. He and Goldman filed an ethics complaint against Santos, but Torres agreed with other speakers that McCarthy and the Republican Party should address the voters' concerns. He called Santos "the greatest fiction writer in the history of Congress."
"No one poses a greater threat to the integrity of [Congress] than George Santos," Torres said.
Ryan Morgan, a writer for The Epoch Times, contributed to this report.