Jennifer Appel, 48, and Tasha Fuiaba, 26, and their two dogs were lost at sea for five months when a Taiwanese fishing vessel found them and, eventually, they were rescued. At least those have been the headlines since the U.S. Navy picked them up on Oct. 25.
But after multiple interviews the women described a very different story. One that includes some disputed claims, but also one that may have been distorted by the media.
Now they're saying they weren't lost and the only reason they needed a rescue was because they thought the crew on the Taiwanese vessel wanted to kill them.
"We were never 'lost at sea.' We knew where we were the entire time," Appel told NBC News. "While the media portrayed a rescue with the Taiwanese fishing vessel, they were actually the reason why we called for help."
"The Taiwanese fishing vessel was not planning to rescue us," she continued. "They tried to kill us during the night."
Appel said the fishing vessel put them in tow but also intentionally rammed their boat. She also described her getting onto the fishing vessel and using its satellite phone to call for help.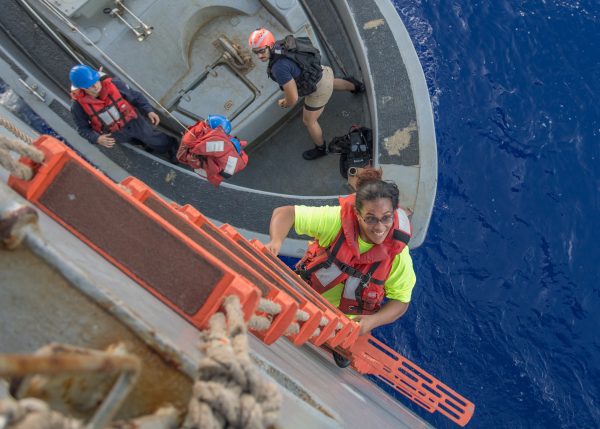 "I was able to get on a surfboard and get on their boat, make an actual phone call. Because no one spoke English, it was easier and safer for me to relay the information to the U.S. Coast Guard-Guam sector that we were in danger without them realizing what we were saying," she said.
That fits some of the women's earlier claims. After they were picked up by the USS Ashland, Appel said they thought they would have been dead within 24 hours. But she didn't say it was because they were lost.
They said they had consumed 90 percent of their food supplies, but that would have still left them enough for a few weeks. They also didn't use an emergency beacon they had onboard over the five months, which would suggest they didn't consider themselves in immediate danger.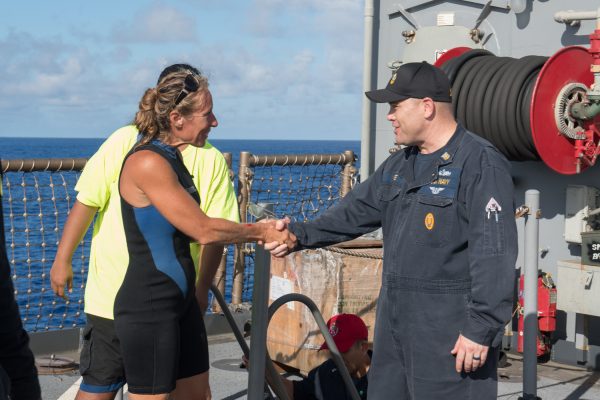 Appel also explained they didn't use the beacon after feeling threatened by the fishing vessel because using it would have alerted the vessel's captain.
In fact, in one of the first Fuiaba's comments on record she mentioned their biggest worry was the fishing vessel.
"We thought we had it bad during the entire trip and then that 24 hours of being towed, kid you not, that was the scariest moment in the entire trip," she said when the Navy interviewed them on the Ashland.
Yet some other claims the women made have been disputed.
The women set sail from Hawaii on May 3. Appel said that on the first day they encountered "a Force 11 storm, and it lasted for two nights and three days." Such a storm would have wind speeds of 64–72 mph and caused waves 37–52 feet high.
But meteorologists detected no such storms around Hawaii on that day or at any time during several subsequent days, Fox reported.
"I understand fish stories. I believe that the storm advisory that the U.S. Coast Guard did say that they put out … was anticipated to be smaller than some of the downdrafts that we saw," Appel told NBC "TODAY" on Wednesday, Nov. 8. "If you were there, you would say the same thing I did. It really felt a lot bigger."
The women met late in 2016 and within a week decided to take a trip together. They wanted to sail to Tahiti on Appel's boat, the Sea Nymph, and then travel the South Pacific. Fuiava had never been on a sailing trip before that.
They packed two water purifiers, food for six months, and took their two dogs along. Appel said one of the purifiers didn't work and they used its parts to maintain the other one.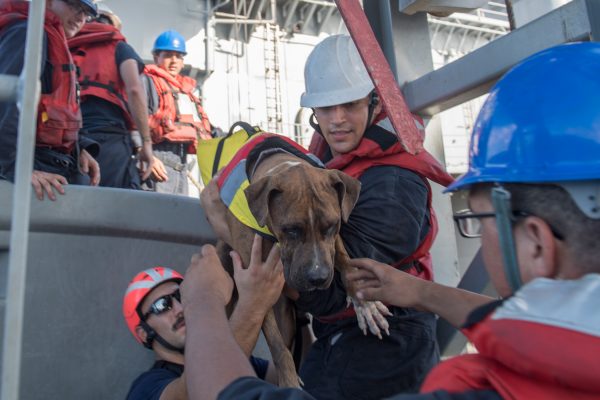 The Coast Guard made radio contact with a vessel that identified itself as Sea Nymph in June near Tahiti. The captain said they were not in distress and expected to make land the next day.
But the women said they never reached Tahiti, because they encountered a 10-knot current that was pushing them west, away from their course, while their engine could only do four knots to push them back.
Appel said their account will be confirmed by their GPS record after their boat is recovered.
She said that around May 25 they encountered a storm that flooded the ignition of the engine so they couldn't start it anymore.
But that still didn't make them activate their beacon.
Appel told The Associated Press she thought the beacon should only be used if one is in danger of dying within 24 hours.
"Our hull was solid, we were floating, we had food, we had water, and we had limited maneuverable capacity," she said. "All those things did not say we are going to die."
It is not clear who was aboard the Taiwanese fishing vessel and what exactly they did upon discovering the Sea Nymph on Oct. 24, 900 miles southeast of Japan—over 3,000 miles west of Hawaii.
Though it looked like the women were genuinely happy to see the Navy pick them up the next day.
While you're here…
We work hard to deliver the most important and interesting news of the day for you, but would like to ask a little favor in return: Would you mind sharing this story with your friends? You can just click the share button on the Facebook post below. Thank you!