As Los Angeles officials grapple with a growing homeless population and lack of supportive housing units, a new tiny home community will make its debut after Independence Day in the San Fernando Valley to service the unhoused. The village will have 76 units and 10 showers, housing up to 150 people.
Los Angeles Councilmembers Kevin De Leon and Bob Blumenfield spent the night in the Tarzana Tiny Home Village on West Topham Street on June 28 to commemorate its opening. Members of the media, including The Epoch Times, spent the night as well to get an insider view of what guests will experience when they move in July 5.
"I love that we had an opportunity to do this, this sleepover event, because this enables me to get a firsthand experience of what it's actually like to sleep in the cabins and to go through an evening of what someone who is coming off the streets and living here would go through," Blumenfield told The Epoch Times.
Hope of the Valley, the nonprofit who oversees the tiny home communities, partnered with the City of Los Angeles to place multiple cabin communities across the county. There's a total of four tiny home villages in the county. Each unit is 64 square feet and includes a bed, power outlets, air conditioning, heater, lights, and a lock on the door. Pets are also permitted.
The communities offer full wraparound services such as rehabilitation programs, job training and placement, three meals a day, washer and dryer, 24-hour security, and more. The home is meant to be a 90-day shelter while case managers try to connect them with permanent housing.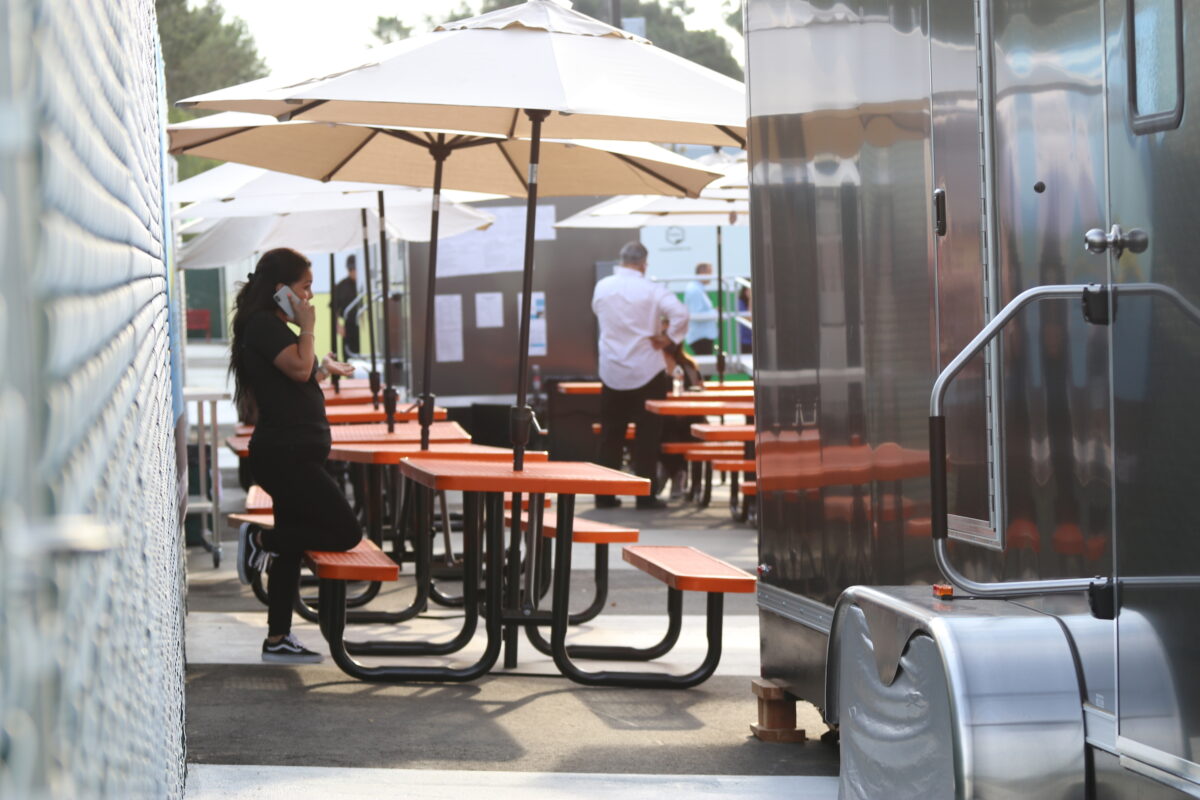 "The city realized that we can't just wait until permanent housing is built, we needed an interim solution. And so, the nice thing about a site like this is that it's scalable, it's affordable, it is doable," CEO and President of Hope of the Valley, Ken Craft, told The Epoch Times.
Grace Ancheta, one of the outreach workers at Hope of the Valley, told The Epoch Times "a lot of people have the assumption that many of the people that come in are … addicted to drugs," but "many times it's also underlying issues."
"We have domestic violence, we have trauma, PTSD, kids that get fostered out of the foster care system, once they turn 18, they lose benefits. We also have people that weren't homeless in the past that due to the pandemic, now, you know, they're out on the street, the elderly, the disabled, those that care for the disabled," she said.
No drugs, alcohol, or weapons are allowed on the premises, but residents have lockers outside the facility where they can store their belongings. They are not required to be sober to enter the facility.
According to the 2020 Los Angeles Homeless Authority and Services (LAHSA) count, there are more than 66,000 people experiencing homelessness in the county, a 12.7 percent increase from the previous year. And while many Measure HHH permanent supportive housing units are stuck in the project development pipeline, city leaders are being urged to direct some of those funds to lower-cost shelters in the interim.
"This is a humanitarian crisis of biblical proportions unlike anything we've ever seen before or experienced," De Leon, whose district includes Skid Row, said during the Tarzana Tiny Homes press conference.
"You can't even compare it to sleeping in a tent on cement concrete or asphalt in a park, in an alleyway on a street or even in your car. It is apples and oranges. It's a light year difference between living on the streets and having your own locked door," he said.
Los Angeles Sheriff Alex Villanueva was highly critical last week in a press conference with Venice Beach community members of the city's partnerships with various nonprofits, calling it a "homeless industrial complex" as he pointed out policy failures in Venice Beach. But Craft said in response, "Nobody is getting rich."
"Once you start addressing the real issue, and you start bringing in mental health services, substance abuse counseling, and detox and ongoing services, job training, job placement, case managers, housing, navigators, subsidies to really help people get into housing, and then you throw on just the operational costs with food services, and delivery of those food services, utility costs, it costs money, I wish it didn't, and I wish that all of our staff could just donate their time," he said.
"But when you add it all up … honestly, these particular projects, we actually lose money on them," he said.
The price to install a tiny home is about $6500 each. However, when the total cost of site development, design, the sewer line, the shower units, the offices, the fencing, and so on is factored in, the total cost is roughly $24,000 per bed.
The construction for the tiny homes is 100 percent covered by the City of Los Angeles, according to Chief Financial Officer for Hope of the Valley, Rowan Vansleve. The operation of the site is 80 percent covered by LAHSA and the remaining 20 percent is covered by Hope of the Valley.
But not everyone approves of the tiny homes. Blumenfield, whose district includes Tarzana, received pushback from neighbors during the opening of a tiny home village he championed in Reseda. Some protested outside of his home. Given the close proximity, he said he spoke with community members in the Tarzana area.
"I understand that people have spent their whole lives to live in a townhome or to live in a house and all of a sudden there is a cabin community going up very close to them, and they're worried about their safety, and they're worried about the impact on their property value, and they're worried about change," he said.
"We need to house people. But we also need to maintain our public rights of way," he said.
Blumenfield said he believes "everyone has a right to a roof over their head," but they "don't have a right to every park bench."
"We need to have legitimate, appropriate shelter and homes, for everyone. It is it is a shame and unconscionable to have people living on our streets. But that doesn't mean that it's okay to have an encampment, it's okay to block the right of way, or that it's okay to be living in the dugout where the little league needs to play. That's not okay," he said.
During a city council meeting on June 29, a motion was brought forth by Councilmember Joe Buscaino to reinforce regulations on encampments during the day and distinguish where people are permitted to dwell in public space. The motion was shot down, but it's up for a vote again on July 1.
Meanwhile, Venice Beach has become the center of a political battle between Councilmember Mike Bonin and Sheriff Villanueva, as both attempt to house every single person on the boardwalk by July 4. Bonin predicts it will take up to six weeks to accomplish the goal through a St. Joseph Center outreach team.