New Stonehenge Theory: Ancient Hunting Site?
April 24, 2013 3:53 pm Last Updated: April 24, 2013 3:55 pm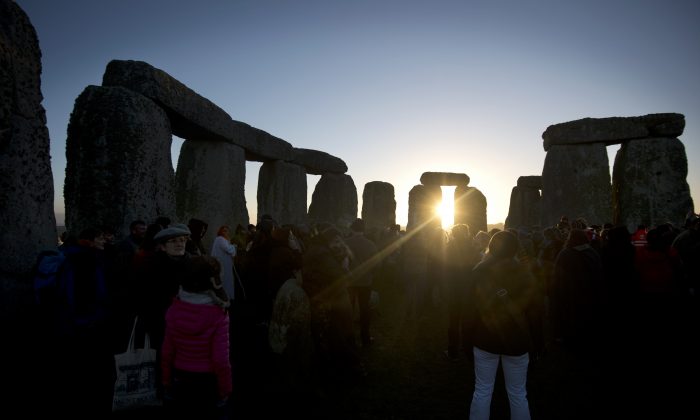 New Stonehenge theory: Researchers said on Wednesday that Stonehenge might have been a site used for thousands of years as an ancient auroch and feasting site.
David Jacques of Open University in the United Kingdom told LiveScience that "we may have found the cradle of Stonehenge, the reason why it is where it is."
He said that hunters might have lived just a mile from where the first Stonehenge stones were laid down.
Scientists found evidence of burning, flint tool fragments, and auroch bones. Aurochs are a type of wild bovine that went extinct in the 1600s.
There has been a great deal of speculation as to why Stonehenge, which is said to have been erected 5,000 years ago, was created. The massive stones are as 30 feet tall and weigh as much as 25 tons.
Scientists think the stones came from a quarry 20 miles from the site.
Jacques' team found nearly 350 animal bones, 12,000 flint tools and fragments, and evidence that fires took place. They also found an ancient spring.
"The spring may have originally attracted large animals to it, which would have aided hunting and may have led to associations that the area was a sacred hunting ground," Jacques told the website.
Such evidence, he added, may contribute to a better understanding of who built the site.
"We are getting closer to understanding their reasons for putting it up — it is all to do with ancestors, but those ancestors go much further back than has previously been realized," he said.
The finding comes as operators of the site said they are looking for a new manager.
"He / she will manage a team of more than 80 employees and 100 volunteers and will be responsible for ensuring the highest standards of customer service and presentation across the site," a statement from English Heritage reads, according to ABC News. "Responsibilities also include overseeing the arrangements for the summer and winter solstices and seasonal gatherings."
English Heritage said that more than one million tourists come to Stonehenge each year. The number is slated to increase to 1.25 million in around five years, according to the broadcaster.
"Stonehenge is one of the wonders of the world, a monument of the same iconic status as the Pyramids, the Taj Mahal and the Eiffel Tower," Tim Reeve, English Heritage's Historic Properties Director, said in a statement. "We are looking for a dynamic and inspirational person to welcome the million plus visitors to Stonehenge each year including the tens of thousands who celebrate the sun-rise there every Summer Solstice."