New Simulation Predicts Missing Malaysian Flight's Most Likely Location
July 28, 2016 Last Updated: July 28, 2016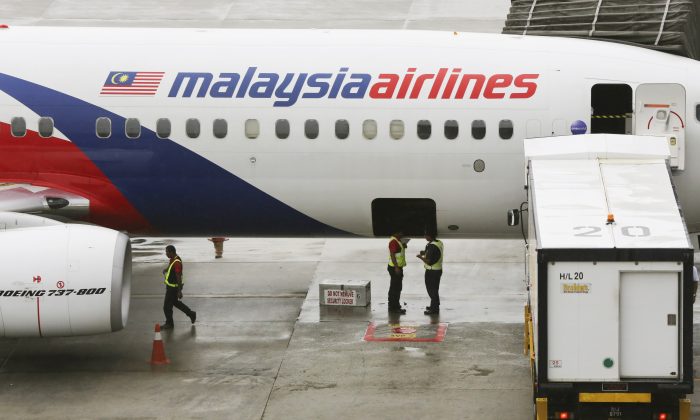 Search teams have now scoured more than 110,000 square kilometers of the southern Indian Ocean floor.
The search has failed to find the main wreckage of Malaysia Airlines Flight MH370, which vanished on March 7, 2014, while en route from Kuala Lumpur, Malaysia, to Beijing, China. The plane had 239 passengers and crew on board.
Italian researchers have designed a model that predicts possible locations of the still-missing plane using debris that has already been found, according to a press release from the European Geosciences Union.
The first remains from the accident were discovered on July 29, 2015, when a small piece of the right wing of the aircraft was found on the island of Réunion, according to a study published on July 27 in Natural Hazards and Earth System Sciences.
Since then, other debris has washed up on parts of the African east coast and Indian-ocean islands in Mozambique, South Africa, and Rodrigues Island.
Simulation
To calculate where the main wreckage might be, the researchers placed a large number of virtual particles in the ocean, using a computer simulation program.
They then used ocean and weather data, such as global surface currents and wind data, from the past two years to simulate where the particles would most likely end up.
The program took multiple simulations, adjusted the model to best represent the debris already found, and then combined it into a single model.
This should make it the most accurate prediction," said Eric Jansen, a researcher at the Euro-Mediterranean Center on Climate Change in Italy and lead-author of the study.
To illustrate, Jansen gave an example using the weather forecast.
"Imagine that you want to know what the weather is going to be tomorrow, but you have several websites that give contradictory information. Which one do you trust? You check what weather they predicted for today and you put more faith in the websites that were correct and less in those that were wrong," Jansen said.
"This is more or less what we do for MH370: we perform many simulations that are all plausible given the information that we know about the flight. When we combine the results of all these simulations, we give more importance to those that predicted the debris that was found correctly."
Related Coverage
The results from the model show that the most likely areas to find additional debris from the plane are Tanzania and Mozambique, and the islands Madagascar, Réunion, Mauritius, and the Comoros.
The results also suggest a search area between 28°S and 35°S as the most likely location of the main wreckage, which overlaps with an underwater region investigators are currently searching off the west coast of Australia (see below image from study).
Authorities in Malaysia, China, and Australia, the three nations conducting the search, agreed during a conference on July 22 that the search be suspended if no "credible new evidence" is found upon completion of the 120,000 square km zone.