New Sandy Money Fails to Reach Small Businesses
Businesses either unaware, or unable to avail due to strict criteria
April 10, 2014 5:51 am Last Updated: April 10, 2014 7:16 am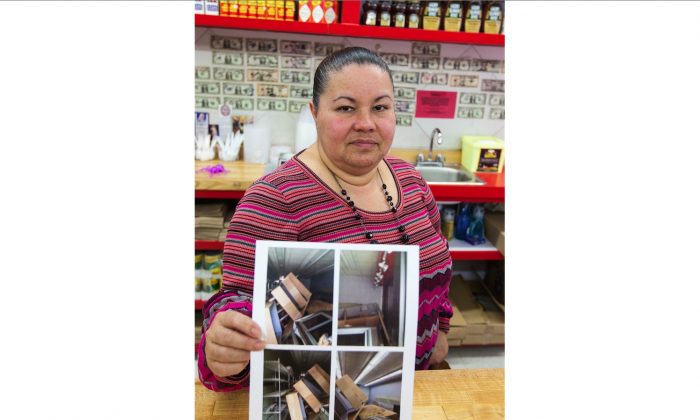 NEW YORK—Only a handful out of hundreds of small businesses hit by Superstorm Sandy received money from the second wave of recovery loans and grants, according to the city's Office of Management and Budget (OMB). Many don't know the opportunity exists.
Half a million in grants and $2.4 million in loans was awarded to seven businesses since the second wave started in November, said John Grathwol, deputy director of the OMB, testifying before the City Council Wednesday.
The plan is to distribute $42 million through the program, but getting the money is not that easy.
When the storm hit 17 months ago, hundreds of small business were particularly prone to its devastation, as most operate on the ground level. On Coney Island's Mermaid Avenue alone, all 126 small businesses were destroyed.
Edwin Cosme lost his Mermaid Avenue beauty salon and electronics store to the storm. He spent more than $100,000 to get his ventures back on track, and received a $25,000 low-interest loan from the city's Department of Small Business Services (SBS).
It wasn't until November 2013 that he received an email saying he could apply to SBS for a second round of loans and grants.
Yet the second round, he learned, won't reimburse him for all the expenses he had. If he could prove he still had, a year after, some expenses related to the storm damage, he could apply. The only thing left was the storefront of his former beauty salon, now hair salon, worth $8,400.
But Cosme can consider himself lucky to even learn about the second wave of grants and loans.
Magda Perez, running a butcher shop a few blocks away, had no idea there was such an opportunity. "If I knew I would have applied," she said.
Her shop was destroyed by Sandy one day before its grand opening. As a first-time business owners she and her husband couldn't even get a loan. "We have to show taxes, but we have no taxes," Perez said. In the end they were able to get a small grant from National Grid. They cleared their accounts and started the business again.
"I've just been struggling," Perez said.
Council member Mark Treyger, chair of Council's Recovery and Resiliency Committee, called it jaw-dropping and unacceptable so few businesses were able to get on board for the second wave.
"There are some businesses on Coney Island that are still shut down. Many of them had no idea about any of these programs," Treyger said. "I question what type of outreach was done to notify all the communities."
Cosme said only a few entrepreneurs in his Coney Island neighborhood knew there was a chance to apply for more money. Some were discouraged from applying by the required paperwork.
Treyger said he will hold a hearing to find out how many small businesses were hit by Sandy, how much relief they received, and from what sources. The council member didn't specify when will the hearing take place.