Australian retail sales broke a new record in the June quarter, despite high inflation pushing up prices across industries.
According to the Australian Bureau of Statistics (ABS), retail sales volumes climbed 1.4 percent to around $94.3 billion (US$65.6 billion) in the three months to June, marking the third consecutive quarterly increase, following rises of one percent in the March quarter and 7.7 percent in the December quarter 2021.
"Sales volumes continued to rise into the June quarter, despite the largest rises in retail prices since the introduction of the GST in 2000, with price rises of 1.7 percent in June and 1.8 percent in March," said Ben Dorber, the head of retail statistics at the ABS.
The growth in retail sales volumes in the June quarter was driven by the turnover in the cafes, restaurants, and takeaway foods services category, which jumped by 8.6 percent during the period.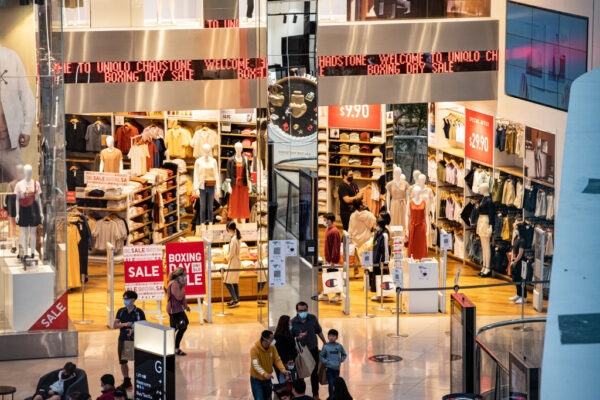 Clothing, footwear, personal accessory retailing, and department store retailing also recorded robust rises of 3.9 percent and three percent, respectively.
"The top three retail industries in the June quarter were all hit hard during lockdowns," Dorber said.
"Since the end of the Delta lockdowns, they have all continued to recover quickly, as they have returned to more usual trading conditions."
Additionally, other retailing grew for eight quarters in a row, up 1.2 percent in the June quarter.
Sales Drop For Household Goods and Food Retailing
Two industries experienced a fall in sales volumes in the June quarter, with household goods retailing reporting the most significant drop of 1.8 percent and food retailing dipping 0.8 percent.
"Cost of living pressures and increasing interest rates appear to be weighing more on sales volumes for household goods retailing, the industry where most high-priced discretionary items are sold," Dorber said.
ANZ economists said while the slowdown in retail spending growth was inevitable because of ballooning inflation and rising interest rates, large household savings buffers and solid labour market conditions were likely to delay and ease the negative impacts on consumption.
Among the jurisdictions, Queensland saw the most significant increase in retail sales volumes at 2.4 percent, followed by Tasmania at two percent, Western Australia and South Australia at 1.3 percent, Victoria at 1.2 percent, and New South Wales at 1.1 percent.
In contrast, the Australian Capital Territory's retail sales volumes remained the same, while the Northern Territory's dropped 0.2 percent, which was the third quarterly fall.