After announcing his retirement at the end of the 2019 NFL season, there has been speculation that Rob Gronkowski may return to the New England Patriots or somewhere else.
Gronkowski, 30, made a public appearance at an undisclosed location, revealing a much slimmer frame.
The former tight end's playing weight was about 265 pounds.
So Gronk is RETIRED retired 😳
(via @25_male_nyc) pic.twitter.com/SSCKeL5n8s

— The Lefkoe Show (@LefkoeShow) June 28, 2019
Patriots wide receiver Julian Edelman said there is a small chance Gronkowski would play again.
"I'd say (there's) maybe an 11 percent chance," Edelman said, reported MassLive.com. "I'm a fan for it. He's a valuable player."
However, he had no idea what his former teammate would do.
"I honestly don't know," Edelman said. "My guy is having some fun right now. He's enjoying it and he's taken a lot of hits. He takes a beating. He's six-foot-seven. anytime he falls that's three-and-a-half feet."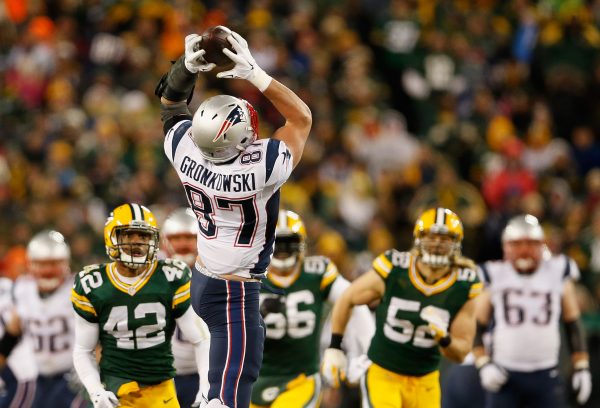 He noted: "Sometimes, when you're banged up, football isn't always fun. I can speak for myself on that."
Edelman noted that the game took its toll on Gronkowski, who at the end of his career, had nagging injuries.
"We never had that conversation, but you could just tell that my guy was feeling it a little bit here and there. He's got banged up," Edelman said. "It's not easy. Especially as you get older and you've accumulated a lot of injury.
He added: "It gets tougher for everyone, it's tougher for me to just get out there every day and rev up, you know?"
Gronkowski, a Western New York, also said he is happy to be accepted in Buffalo again after spending years playing for the New England Patriots, an AFC East rival to the Bills.
"We were out Saturday night, and they were all giving cheers at our charity event, and everything," he said last week, according to WIVB-TV. "It was cool to finally be accepted, once again, where I grew up. So, I decided to come back and start giving back."
He donated $50,000 to the John R. Oishei Children's Hospital in Buffalo via his charity, the Gronk Nation Youth Foundation, according to the report.
"I've actually been to the children's hospital twice, myself, when I was growing up," the three-time Super Bowl champion added. "So, it's actually really cool to see this new improved upgraded children's hospital here and giving back to where I was taken care of."