WASHINGTON—Information is scarce about the new migrant caravan that set off from Honduras on Jan. 15, but one activist journalist that is traveling with the group said about 2,000 Hondurans are on the move so far—with most traveling north by bus from San Pedro Sula, a major city in Honduras. More are expected to join. Still others departed El Salvador.
The caravan departed under the shadow of a record-breaking U.S. government shutdown over border-security funding, with the main sticking point for Democrats being $5.7 billion for fencing along the southwest border.
"A big new Caravan is heading up to our Southern Border from Honduras," President Donald Trump wrote on Twitter on Jan. 15. "Tell Nancy and Chuck that a drone flying around will not stop them. Only a Wall will work. Only a Wall, or Steel Barrier, will keep our Country safe! Stop playing political games and end the Shutdown!"
Negotiations between Trump and Speaker of the House Nancy Pelosi (D-Calif.) and Senate Minority Leader Chuck Schumer (D-N.Y.) petered out after Pelosi said she wouldn't agree to any wall funding.
Pelosi and Schumer have labeled the border fence as expensive and ineffective, with Pelosi going further by calling it an "immorality."
"It has nothing to do with politics, it has to do with a wall is an immorality between countries; it's an old way of thinking," Pelosi said at a news conference Jan. 3.

The caravan phenomenon isn't new, and its size isn't shocking—Border Patrol deals with around 2,000 illegal border-crossers on a daily basis—but the caravans tend to attract outsized media attention. Most illegal border-crossers come from Central America and the vast majority claim asylum.
Jim Simpson, author of "The Red-Green Axis: Refugees, Immigration and the Agenda to Erase America," said the latest caravan is likely a result of the success of the last one.
"They've discovered that they have success with the caravan method of swamping the United States with problems. And it's really been more successful than I think they imagined, because it's been enabled so much by court decisions in the United States," Simpson said.
"It's America's version of what happened in Europe, with mass migration of people from the Middle East. They found that it's a successful formula, and they have plenty of allies in the United States that are going to facilitate it and do everything they can to stop Trump from blocking it."
Administration Efforts
The Trump administration has tried several methods to stem the flow of illegal immigration, explaining that while most asylum claims are bogus, the system is being used as an effective way to gain access to the United States and disappear once inside the country.
Trump tried to prevent asylum-seekers from the caravan of late 2018 from entering the United States illegally, and overwhelming Border Patrol, by issuing a Nov. 9 proclamation that illegal border-crossers would be ineligible for asylum.
U.S. District Judge Jon Tigar blocked Trump's proclamation on Nov. 20, and on Dec. 19, the Supreme Court declined to intervene until the case completes its journey through the lower courts.
In May, the administration reintroduced the Bush-era, zero-tolerance policy that meant all adult illegal border crossers were to be prosecuted. The policy caused an uproar when some children were temporarily removed from the parent or adult accompanying them, and Trump quickly walked it back.
Trump has also urged Congress to close loopholes in the asylum system that allow for thousands of meritless claims to swamp the system. In June, then-Attorney General Jeff Sessions re-tightened the criteria for asylum to what it was pre-Obama, but U.S. District Judge Emmet Sullivan blocked that ruling on Dec. 19.
"Many of the judges opposing every aspect of Trump's efforts to curtail immigration, especially illegal immigration, have been judges appointed by either Bill Clinton or Barack Obama," Simpson said. "And those people are almost, without exception, extreme leftists."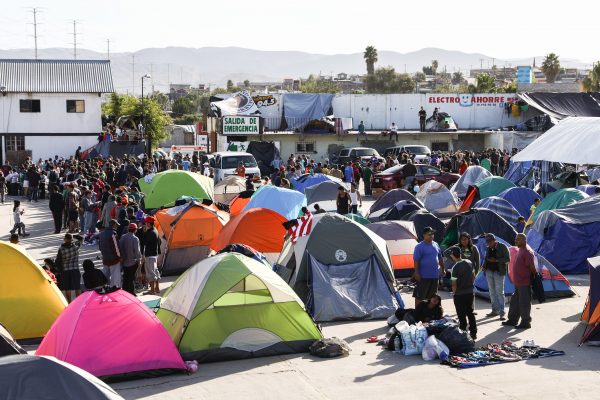 New Caravan, Old Caravan
Department of Homeland Security Secretary Kirstjen Nielsen said her agency is closely monitoring the new caravan.
"To be clear, participation in a caravan does not grant you a special status or provide you special treatment," she wrote on Twitter on Jan. 16.
In late-December 2018, reports surfaced of an anticipated 15,000-strong caravan that would leave Honduras mid-January.
A member of the pro-migrant group Reactiva Tijuana Foundation, Irma Garrido, said Dec. 27. "They are even bigger and stronger than the last caravan."
At the time, pro-migrant activists said the caravan's plan was to stay in the southern Mexican states of Chiapas and Oaxaca. But the latest reports suggest this caravan is bound for the United States, along the same route as the previous one.
The Mexican government offered previous caravan members temporary asylum, along with education, jobs, and healthcare, but most rejected the offer and many have since entered the United States illegally.
The last caravan swelled to around 6,400 members in Tijuana and members made two major attempts at breaking into the United States en masse.

The first was on Nov. 25, when more than 1,000 migrants pushed past Mexican riot police and attempted to climb or break through the border fencing into the United States. Border Patrol used teargas to disperse the crowds and only several dozen managed to break through.
Another attempt by about 150 members on New Year's Eve ended with Border Patrol again using tear gas to repel migrants who were pelting them with rocks, while others tried to climb the border fence.
Most of the migrants that The Epoch Times spoke to in Tijuana said they wanted to live in the United States to join family already there, or for economic reasons. Most said they planned to cross into the United States illegally.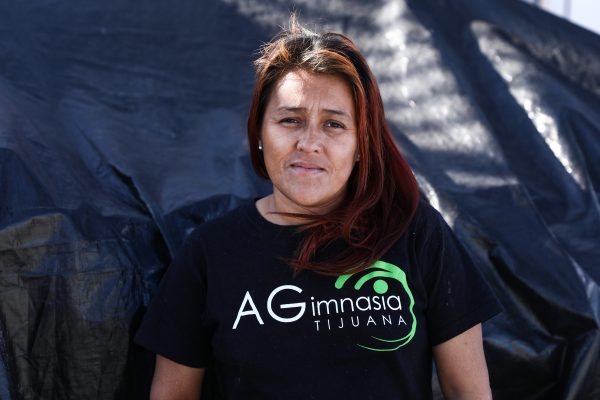 Karen Aviles said on Dec. 2 that she knew of many caravan members who had already crossed illegally, including her niece and nephew and their spouses.
Her nephew's wife was due to give birth Dec. 5.
"That's why they hurried, so the baby could be born in the United States," Aviles said. "The day they crossed, I wasn't there; otherwise, I would have gone with them."
She said she also planned to cross illegally.
After being in Tijuana for about two weeks, Guatemalan Luis Conde, 48, said he doesn't intend to apply for asylum in the United States, because "they're not going to give it to me."
"If they don't give papers, well to hell, I'm going to jump—there's no doubt about that," he said Nov. 26. "If one is an opportunist, you have know to grab the chances that come, and when they come and when you see that it's not dangerous, bam, you're there."
Frank Martinez, who traveled with his father from Honduras, said they intend to cross illegally.
"I personally, and I know many people will attempt to do the same thing—it's to cross illegally. I will enter illegally," he said  Nov. 24. "Because we want a better life, and I'm in a hurry."
Sovereignty
Simpson said the ultimate goal of the Left is to overwhelm the United States with illegal immigrants who will eventually be given amnesty and the right to vote.
"They are very close to their goal of bringing enough people in that they are very confident … that they can, for example, turn Texas from red to blue, and they can win permanent Left-wing majorities in Congress and the presidency," Simpson said. "And then our country will unalterably change for the worse. It'll become a socialist country—I mean that in the worst sense."
He said many Americans don't understand the real threat. "This is really a direct challenge to U.S. sovereignty and it's being foisted on us. The caravans are tools," he said.
"These are all dimensions of the same strategy, which is to overwhelm our society with problems and put themselves [the Left] in the position to provide the solution—which is always a big government solution," Simpson said.
Trump has made similar comments about sovereignty. "America's Southern Border is eventually going to be militarized and defended or the United States, as we have known it, is going to cease to exist," he wrote on Twitter on Jan. 13.

Trouble in Tijuana
In Tijuana, public safety secretary Marco Antonio Sotomayor, said he hopes the Mexican government will secure its southern border with Guatemala and not allow unregistered caravan migrants access into Mexico.
"We know that within the group of migrants, there are some hidden Central American criminals coming, who have current orders in their countries or criminal records, and, obviously, do not want to register because they know that this information is shared with the governments of Central America. They know that we are going to detect that they have criminal records," Sotomayor told The Epoch Times on Jan. 14. "So, that part, from my point of view, is very risky. We are demanding that the federal government not allow access to our national territory without a legal, orderly process."
Sotomayor said it has been challenging and very costly for the city to handle the thousands of caravan members since November.
"If another group comes … it should be divided equally in the border cities near all the border crossings that exist along the entire border of Mexico and the United States," he suggested. Twenty-six such ports of entry exist along the almost 2,000-mile U.S.–Mexico border.
To date, local Tijuana police have arrested 351 migrants from the November caravan for various crimes, mostly involving drugs.

Tijuana citizens staged a protest against the caravan in November, with many Mexicans telling The Epoch Times that they consider the caravan an invasion.
Rodrigo Melgoza held a handwritten sign saying, "Immigrants yes, illegals no."
"Because I think everyone has the right to create a life in a new country, but they have to do it the legal way," he said. "They should not violate the sovereignty of all Mexicans and of Mexico, like these people did there on the border."
Elvia Villegas said she admires Trump, "because he is defending his borders. Not like here in Mexico, where politicians are corrupt and do not defend their borders."
Remain in Mexico Deal
Nielsen announced on Dec. 20 a new policy where asylum-seekers may be returned to Mexico for the duration of their immigration proceedings.
"If they are granted asylum by a U.S. judge, they will be welcomed into America. If they are not, they will be removed to their home countries," Nielsen said. "'Catch and release' will be replaced with 'catch and return.' This will also allow us to focus more attention on those who are actually fleeing persecution."
No further details of the Remain in Mexico plan have been revealed; however, Sotomayor said the Mexican government isn't on board with the plan.
"I have the understanding that the government's position is not to accept them. If they [the United States] want to return them to Mexico, they will not receive them," he said.
"Obviously, we condemn that a foreigner who asks for asylum to the United States has to remain in national territory in Tijuana. What we want is if someone asks for political asylum and if a process is opened in the United States, well then, he should be received by the United States. We do not want Tijuana to be in charge of that."
But, he said, it's a federal issue between the governments of the two countries.
The U.S. State Department announced a $10.6 billion foreign aid package for southern Mexico and Central America on Dec. 18.
With reporting by Kimberly Hayek in San Diego and Tijuana, Mexico.