A new lawsuit against PG&E has been filed by a collation of law firms named Northern California Fire Lawyers on behalf of 34 Camp Fire survivors, alleging that the mechanical failure of a component on a power transmission tower resulting from poor maintenance was the cause of the Camp Fire.
The lawsuit claims a steel wire hook on a power transmission tower failed to hold up a high voltage line amidst strong winds and led the uninsulated wire to make contact with the steel tower. As a result, "blazing hot molten materials" fell on dry vegetation below the tower and ignited the fire.
"PG&E has an obligation to regularly inspect and maintain its power lines, which in some cases are nearly 100 years old, but it has failed time and again to do just that," Dario de Ghetaldi, an attorney with the Northern California Fire Lawyers, said in a Dec. 10 statement.
In addition, the lawsuit noted that PG&E reported a damaged transmission tower in the area one day before the fire.
Authorities investigating the deadly #CampFire have tied its origin to the failure of a single steel hook that held up a high voltage line on a nearly 100-year-old PG&E transmission tower, NBC Bay Area learned. https://t.co/USTK3OIKQs pic.twitter.com/LqW0pbJLUe

— NBC Bay Area (@nbcbayarea) December 6, 2018
The group of lawyers also filed separate lawsuits against PG&E on both Nov. 13 and Nov. 19 involving Camp Fire victims.
"It's important to remember that the cause (of the "Camp Fire") has yet to be determined," PG&E said in a statement. "Right now, our primary focus is on the communities, supporting first responders and getting our crews positioned and ready to respond when we get access, so that we can safely restore gas and electricity to our customers."
The Camp Fire started on Nov. 8 and charred more than 150,000 acres by the time it was finally extinguished on Dec. 6. The fire consumed nearly 14,000 residences in addition to some 4,800 other buildings, and forced tens of thousands of people to evacuate.
The blaze is the deadliest wildfire in the state history. It killed 85 people, mostly the elderly and the disabled.
According to a PG&E electric safety incident report filed with the California Public Utilities Commission on Nov. 8, a power outage was reported 20 mins before the deadly fire broke out. The damaged transmission tower mentioned in the report was cited by the Northern California Fire Lawyers in court documents.
PG&E suffered a huge drop in the stock market after the news was released.
In May 2018, Cal Fire alleged that three wildfires from the 2017 Northern California firestorm, which burned more than 245,000 acres and killed 44 people in Northern California, were ignited by PG&E power lines making contact with trees nearby.
A law signed by the Governor in September helps utilities avoid potential bankruptcy due to the 2017 fires and allows the companies to pass on fire-related costs to customers. However, the new California law did not specifically cover the 2018 fires.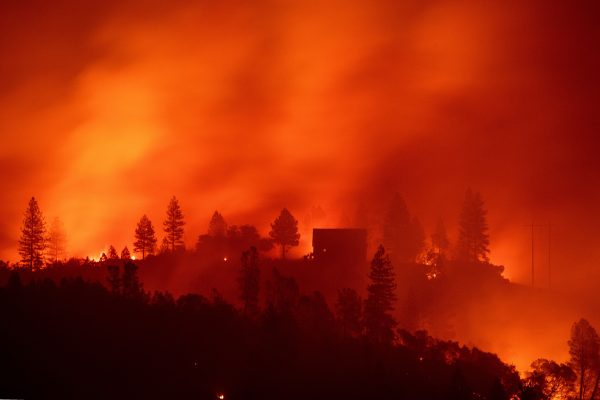 According to Reuters, there are about 200 lawsuits against PG&E related to the 2017 fires. The company could face costs of up to billions of dollars.
De Ghetaldi told NBC that PG&E should have done more detailed inspections after 2012, when five towers collapsed during a winter wind storm.
"They should have taken a serious look at the entire circuit," de Ghetaldi told NBC.
"It appears they didn't do that. That's a big problem for PG&E," he added, "It's a big problem for the people who were killed, who were made homeless, and who were harmed in many ways."