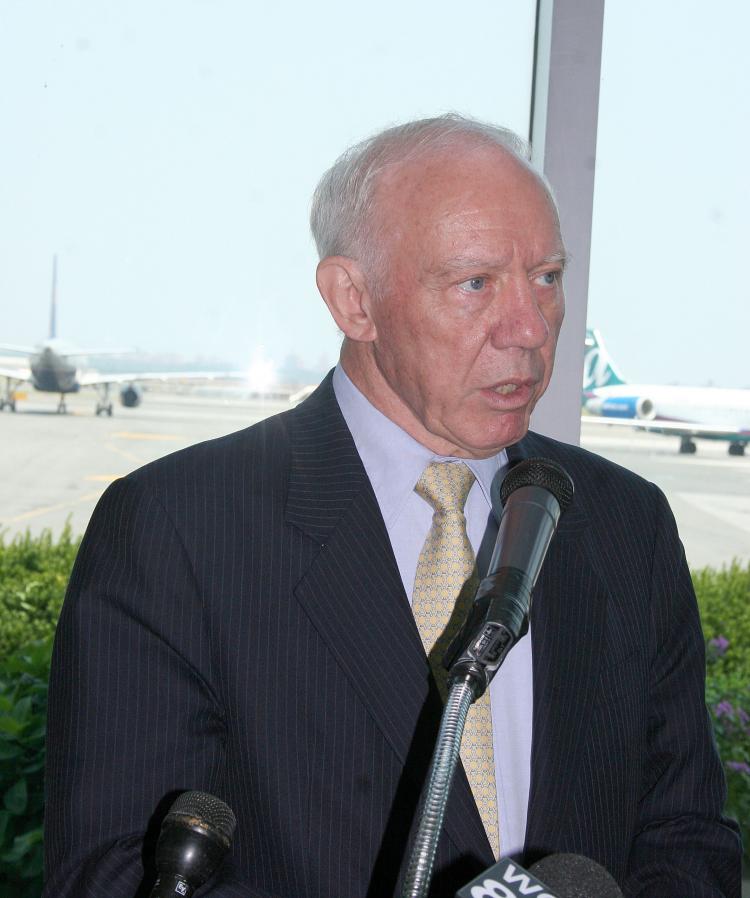 NEW YORK—Congressman Joseph Crowley (D-NY) and Congressman James L. Oberstar (D-MN), the Chairman of House Transportation and Infrastructure Committee, met with airport officials on Monday to discuss infrastructure improvements to New York's La Guardia (LGA) airport.
Rep. Oberstar said, that LGA's "terminal corridors [are] too narrow, [they are] insufficient, unable to handle modern technology, the old terminal needs to be rebuilt, replaced, and the airspace design needs to be updated and modern technology needs to be installed at this and the three other NY area airports."
The improvements hinge on bill H.R.915, currently before the Senate.
Bill H.R.915, the FAA Reauthorization Act of 2009, introduced by Oberstar, would, "Authorize appropriations for the Federal Aviation Administration [FAA] for fiscal years 2010 through 2012, to improve aviation safety and capacity, to provide stable funding for the national aviation system," according to GovTrack.us, an independent online system that seeks to track activities in U.S. Congress.
The pending aviation reauthorization bill provides $53 billion over the next three years, in airports around the country.
LGA has congestion and delay problems and creates significant noise pollution for surrounding neighborhoods.
Part of the improvement plan is an intensive evaluation of noise pollution around LGA, conducted by the FAA and the New York and New Jersey Port Authority.
The majority of airplane noise pollution occurs on take off and arrival. Oberstar said LGA can create glide slopes for incoming planes, and make straighter take off terminals for departing aircraft.
The bill would also install next generation aviation control technology, which includes satellite based navigational systems and ground differential correcting systems, in airports across the country within two years. On its website, the FAA says that, "NextGen represents an evolution from a ground-based system of air traffic control to a satellite-based system of air traffic management. This evolution is vital to meeting future demand, and avoid gridlock in the sky and at our nation's airports."
Crowley said that, "La Guardia airport will never be a good neighbor, we'll just try to make it a better one," a large airport is disruptive to any community.
According to Oberstar, La Guardia, which was built in the early 1940s, has 2.2 billion radar operations annually from its radar control facility, as compared to 3.5 billion operations collectively at major European airports.
LGA is a substantial contributor to New York City's economic infrastructure, earning $64 billion per year.
In 1990 Rep. Oberstar helped secure $46 million in funds to install quieter airplane engines and redesign LGA airspace. The result he said has reduced the number of persons impacted by the high noise pollution from 2 million to 100,000.