New Fairway Market Opens in Chelsea
July 25, 2013 5:16 am Last Updated: July 25, 2013 5:16 am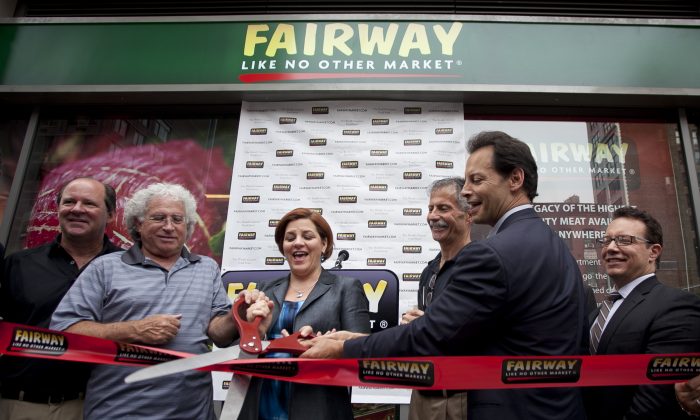 NEW YORK—Local grocery chain Fairway Market was warmly welcomed to Chelsea by shoppers and politicians alike at the grand opening Wednesday, July 24.
Located on Sixth Avenue between 25th and 26th streets, shoppers said they came for the fresh meat, fresh fish, fresh produce, and the convenience of one-stop shopping.
"Its a welcome addition to the area, which has long needed a supermarket like this. It is tremendously clean, there are a lot of employees around to help you. It is really a mecca that we welcome," said local resident Sy Presten.
The new Chelsea store is less than half the size of other larger Fairways, however the new store is said to offer the same selection of products. A full-service, one-stop grocery store with organic options, Fairway has an in-house bakery, a large produce section, a large selection of coffees (purchased green and roasted by Fairway), fresh fish filleted to order, an impressive selection of European cheeses, fresh sushi, a made-to-order chopped salad bar, prepared deli foods made by Fairway chefs, a smoked meats bar, as well a wide variety of packaged foods and products.
Started first as a produce stand in 1933 by Nathan Glickberg, in 1954 Nathan's son Leo joined him, and together they established the first store at 74th and Broadway. When Leo's son Howie Glickberg joined his father in 1974 he had a vision to grow Fairway even more.
"They invested in New York when other people were leaving," said Council Speaker Christine Quinn, speaking at the ribbon cutting July 24.