New Evidence Unveiled That Chinese Regime Ignored Earthquake Warning
May 21, 2008 12:00 am Last Updated: May 21, 2008 12:00 am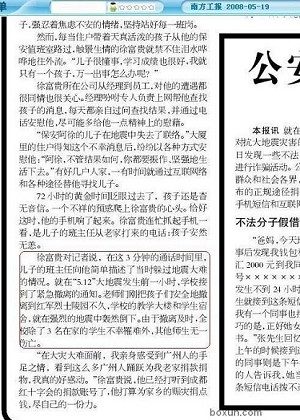 Just after the devastating earthquake in China, The Epoch Times reported that evidence shows the Chinese regime deliberately ignored the warning about the coming disaster. Two days ago, mainland media accidentally unveiled another piece evidence.
While Chinese people are still overwhelmed by the sorrow from the devastating earthquake, with a death toll that could exceed 50,000, some parents felt fortunate their children closely escaped death because of an urgent notice one hour prior to the disaster.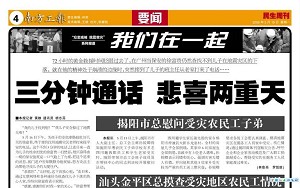 Mainland media Southern Worker's Newspaper published an article on May 19, titled "Three-Minute Conversation Turned Sadness to Joy," a father working as security in southern China's Guangzhou city was on the edge of mental collapse because he could not find his son after the 72-hour prime rescue period, suddenly, he received a phone call from his son's teacher telling him the good news.
According to the report, the teacher said, just one hour before the quake, the school received an urgent evacuation notice, not long after all teachers and students arrived at a nearby open yard, their school collapsed in front of their very eyes.
This report casts serious doubt on the Chinese regime's previous claim that no one had predicted and warned the regime about the quake.