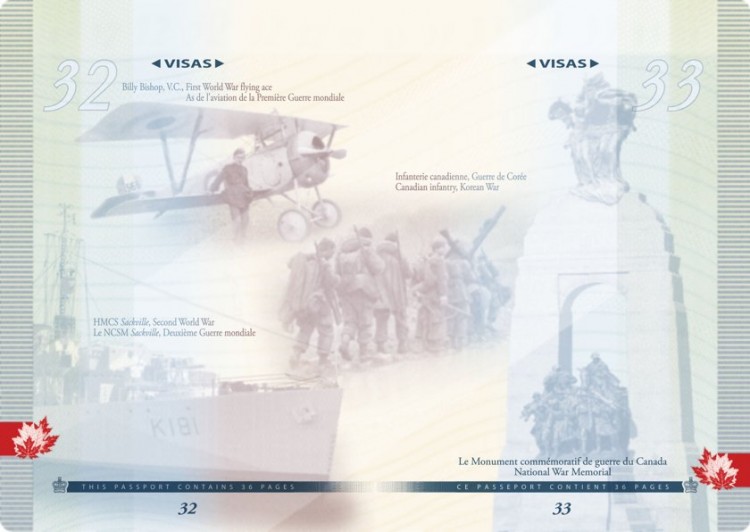 Canada's new ePassports will include iconic images to make them more attractive and secure, Foreign affairs Minister John Baird announced on Friday.
"The new ePassport will be more reflective and representative of who we are as Canadians," Baird said in a statement.
The images will be on the background of the passport pages and will include scenes of Canadian icons and landscapes such as the RCMP, the Grey Cup, Terry Fox, and the Canadian Prairies, to name just a few.
Besides making the passports more attractive, the images are also meant to bolster security, as the complexity of the images makes the passports more difficult to counterfeit.
Except for the signature, the electronic chips embedded in the back cover store the same information as on page 2 of the passport.
There are currently close to 100 countries around the world issuing ePassports.
The government says Canada fell behind in developing the ePassport due to America's Western Hemisphere Travel Initiative coming to effect in 2007, which required all Canadians to carry a passport to enter the U.S.
The new requirement consumed Passport Canada's resources, leaving little opportunity to pursue implementing ePassports.
The federal government will start issuing the ePassports in the spring of 2013 in select locations.
Union Upset over Offshoring
Meanwhile, the union representing workers who produce the covers for Canadian passports is calling on the government to reverse a decision to have the covers made in the Netherlands.
For the past 30 years, the covers have been cut and embossed by the Columbia Finishing Mills Facility in Cornwall, Ontario.
The decision to outsource the work to the Netherlands was made by the Canadian Bank Note Co., an Ottawa-based private company that won the contract to produce the new passports last year.
Dave Coles, national president of the Communications, Energy and Paperworkers Union, says "all Canadians should be embarrassed" that the covers will now be made outside of Canada.
"Our members at Local 1156 have done this work in a cost-efficient way for decades. There is no evidence of any potential savings by having it performed half-way across the world," Coles said in a press release.
The Epoch Times publishes in 35 countries and in 19 languages. Subscribe to our e-newsletter.