Sheriffs and deputies in New York are having to tiptoe around federal immigration agents, worried they might inadvertently share information that originates from the Department of Motor Vehicles (DMV).
The state's new "Green Light Law," which allows illegal immigrants to obtain driver's licenses, also withholds all DMV data from immigration agencies.
Local law enforcement can't act as a conduit for that information, either.
"So, if Border Patrol came and said, 'Hey, we want to look through your records because we're looking for this guy,' I can't share our investigation with them if it has DMV data," said Sheriff Barry Virts of Wayne County, New York.
It also creates complications for multi-agency task forces, Virts said.
"I just assigned a deputy, a criminal investigator, to the FBI Rochester, New York, office task force for human trafficking and sexual exploitation of children," he said.
But agents from Immigration and Customs Enforcement (ICE) and Border Patrol are also part of that unit.
Virts said he's had to exchange several phone calls and emails with the FBI agent in charge of the task force to figure out how the information sharing will work.
"I had … to say, 'Hey, look, you got [Homeland Security] on there, you've got ICE on there, you've got Border Patrol on there. If we're working something and my deputy gets information and it comes from the DMV, I gotta make sure my deputy's protected [from being sued],'" he said.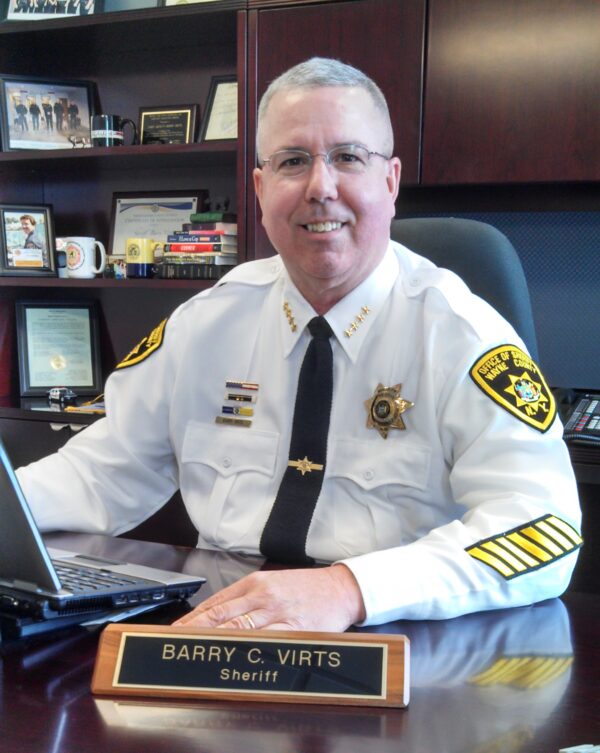 Virts estimates it's just a matter of time before he, or another New York sheriff, faces a lawsuit.
"I would assume at some point there's going to be an investigation that we have, [and] it's going to be alleged that we shared information," he said. "Again, because they've made it so complex … how are you going to separate the information when you're all working on the same investigation?
"So it's just constantly putting myself and my deputies on guard of what we can say to who. And that's not a good way to do law enforcement."
Virts said he was forced to sign a memorandum of understanding with the DMV under the new law.
"They extorted us to sign that agreement," Virts said Feb. 11. "I wouldn't be able to get any [DMV] data if I did not sign that agreement—they basically held us hostage."
He said if he refused to sign the MOU, his department would be blocked from accessing all state DMV data, which is used every day to verify licenses and identities, criminal records, and information on vehicles, including those involved in accident investigations.
Virts said he's having to create workarounds, including the purchase of a new iris scanner, so he can obtain precise identification information that he's then able to freely share with other agencies.
"I don't think I'll be able to put it in my budget this year, but for 2021, that's where I'm going to forge forward to. To make sure that we know who we're dealing with," he said.
The Green Light Law
The Driver's License Access and Privacy Act, also known as the Green Light Law, took effect on Dec. 16, 2019.
Proponents of the law say that roads will be safer if illegal immigrants take the required written and road tests before getting a license, as well as get insured. However, illegal aliens who already drive without a license might not apply for a license, or those who fail the testing may not stop driving.
Illegal immigrants wanting a driver's license don't need to produce a Social Security number; instead, they sign an affidavit saying they've never been issued one, according to the New York DMV website.
Twenty-seven county clerks with DMV responsibilities in New York issued a press release on Dec. 13, 2019, saying the affidavit will enable people to conceal their true identities.
The law will create "unacceptable security risks as the loopholes allow for nefarious people to obtain a … driver license and use it to commit bank fraud, identity theft, credit card fraud, human trafficking, and other criminal activities," the clerks said.
Approximately 265,000 illegal immigrants in New York are eligible for driver's licenses without verification of Social Security numbers, according to an estimate by Rep. Lee Zeldin (R-N.Y.), who wrote to the Justice Department requesting a review of the legality of the law.
The Justice Department hasn't yet made moves against New York over the law yet, but Attorney General William Barr announced lawsuits against three other states for their sanctuary policies on Feb. 10.

Using DMV Data
Citing security concerns over not being able to access DMV data, acting Secretary of Homeland Security Chad Wolf canceled the agency's Trusted Traveler programs—Global Entry, NEXUS, SENTRI, and FAST—for all New Yorkers as of Feb. 5. The programs allow for expedited access through customs control upon entry into the United States for pre-approved, low-risk travelers.
Wolf also said ICE has routinely used New York DMV data "in its efforts to combat transnational gangs, narcotics smuggling, human smuggling and trafficking … fraud, and identity theft."
Now, however, he said ICE can't run a license plate search on a vehicle "even when ICE is aware that the vehicle's owner has committed a heinous crime."
The New York Civil Liberties Union (ACLU) called Wolf's actions a "political stunt" that hits back at "common-sense legislation."
"Time and time again, the Trump administration has shown how far it's willing to go in its war on immigrants and to intimidate states for doing what is right," said Donna Lieberman, executive director of ACLU's New York chapter. "The Green Light Law makes New York's roads safer, allows immigrants to take care of their families, and reduces the risk that a routine traffic stop can result in detention or even deportation."
Virts said the issue needs to be fixed at the federal level.
"When it holds up our resources … it's not just an inconvenience, it's a waste of efficiency and effectiveness," he said. "We need to vet people that are coming into this country. And we need to stop drugs from coming out of this country. We need to stop human trafficking. We need to stop human slavery.
"And when I or my colleagues talk about it, they think that we're against people coming to this country. They think we're bigots, they think we're racist. We're not. We just want to know who's coming through. And if you're going to come through, please come through the front door and you're more than welcome."
New York is one of 13 states, along with the District of Columbia, that allow illegal aliens to possess driver's licenses.
The other states are California, Colorado, Connecticut, Delaware, Hawaii, Illinois, Maryland, New Jersey, New Mexico, Nevada, Vermont, and Washington.
The New York DMV said the licenses issued to illegal aliens won't comply with the federal REAL ID Act and will be marked with "NOT FOR FEDERAL PURPOSES" written in small letters. This means that after Oct. 1, 2020, when the REAL ID Act kicks in, the licenses can't be used to board a domestic flight or enter some secure federal buildings.