A new strain of the Delta variant of COVID-19 has been detected in Australia's most populous state New South Wales (NSW).
Chief Health Officer Kerry Chant revealed that a new variant had emerged, which was different from current strains in the community.
"We've been having a program throughout this response to the pandemic around genome sequencing, and those investigations have identified a strain of Delta which is different genome sequencing to the current strain circulating in Sydney," she told reporters on Oct. 8.
"There's no indication that this new strain presents any differences regarding transmission or vaccine effectiveness or severity," she added, revealing that currently, eight infections in NSW were from this strain—seven of which were in the same household.
"We're undertaking investigations into the source and how the transmission occurred, and we'll update you when any information is available."
Chant's announcement comes after recently promoted NSW Premier Dominic Perrottet announced an acceleration of the state's roadmap out of lockdown by expanding the "freedoms" on offer to residents in the Australian state.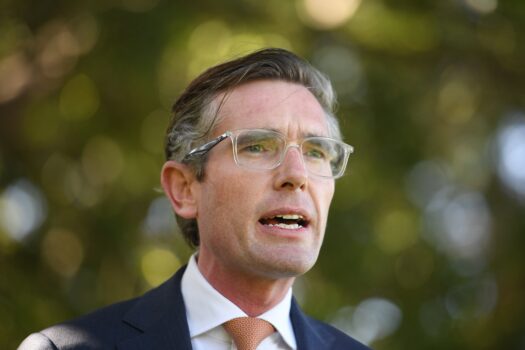 The state government is currently pushing for more residents to get vaccinated. In late September, the roadmap to "freedom" was revealed, which was modelled on the National Cabinet plan.
The roadmap will see one batch of "freedoms" made available to vaccinated individuals once 70 percent of the population is vaccinated (Oct. 11). Another set will be released once 80 percent is vaccinated, and Dec. 1 will mark the official "Freedom Day" that will see most restrictions dropped altogether.
Perrottet has long been a critic of tough lockdowns. In July, it was reported he told Chant to take a pay cut if she were to proceed with strict lockdowns over parts of Sydney.
Recent moves by the premier to speed up the roadmap have attracted criticism from the Australian Medical Association in NSW, left-leaning commentators and politicians.
Tim Soutphommasane, former Australian race discrimination commissioner and Marc Stears director of the Sydney Policy Lab, both pointed out that expanding "freedoms" was not a "radical risk" and warned left-leaning politicians of being "marooned" in the pre-vaccination world.
"During the past 18 months, many self-described progressives and social democrats have grown comfortable with lockdowns. Taking their lead from Jacinda Ardern, Daniel Andrews, Mark McGowan, and Annastacia Palaszczuk, they subscribe to the idea of COVID Zero," they wrote in an op-ed the Sydney Morning Herald on Oct. 8.
"It has become a progressive article of faith that the best response to the pandemic is a strategy of elimination: using the awesome power of government to restrict people's behaviour in pursuit of safety, almost irrespective of the cost," they continued.