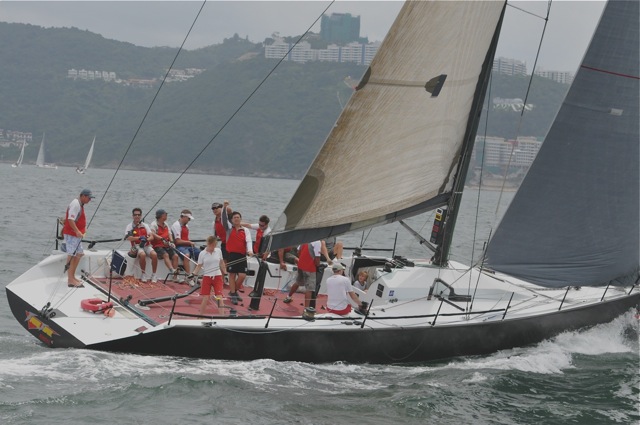 Six yachts had an immediate impact when they joined the Hebe Haven Yacht Club's Nautica Typhoon Series 2012 in its second race day on Sunday June 24, having missed the first day a fortnight ago due to other racing commitments.
Entries for races two and three of the popular Hebe Haven regatta in Hong Kong were strengthened by the addition of Freefire and Surfdude in IRC-A Division and EFG Bank Mandrake, Orient Express, Sell Side Dream and Elektra in IRC-B Division.
Koh Samui Regatta
Surfdude and Orient Express are now back in Hong Kong following completion of the Taiwan Strait Race. Meanwhile, EFG Bank Mandrake returned after a successful trip to Koh Samui Regatta where they had won the IRC One Class series – Elektra and Sell Side Dream also competed in the IRC One Class of the six-day, six-race series around the Thailand island Koh Samui.
Mr Frank Chan's Freefire came third in the Koh Samui Regatta in the IRC Zero Class division, behind Neil Pryde's HiFi (second) and Mui Mui from Hong Kong came fourth in this class. The Zero Class was won by Hooligan owned by Marcus Blackmore, from Australia, and Jeff Hill's Maxi Genuine Risk, who frequently races in Hong Kong waters, but under the Australian flag, brought up the rear.
Typhoon Series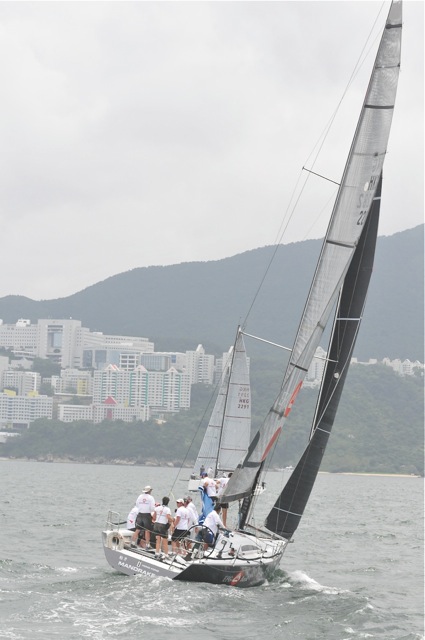 Genoas were bulging downwind and some serious tacking was required upwind, making for exciting racing for day two of the Typhoon Series in excellent conditions. IRC-A and IRC-B Divisions completed three circuits of the straight up and down wind course, while all other Classes only needed to complete two.
In IRC-A Division, Freefire won both races with line honours and on corrected time, with second place alternating between Tornado 2 and Surfdude – Surfdude did not finish in Race Two due to losing a sail. This three-boat Division looks like it will be quite competitive and it will be interesting to see how the different designs perform in varying conditions during the coming weeks.
EFG Bank Mandrake narrowly won both of the IRC-B Division races on corrected time ahead of Ambush and Electra. Minnie the Moocher and Wicked came in fourth and fifth in both races. Elektra took line honours in Race Three, finishing 30 seconds ahead of Mandrake.
Stella, who did well in the easier sailing on Race Day One, struggled in these more demanding conditions. It was evident from team discussions after the race that they had had some "operational" problems.
EFG Bank Mandrake and Electra jumped immediately into contention. Although they trail Ambush and Minnie the Moocher in the overall series results due to having missed Race Day One, they may discard that first result later in the series.
Mark Lyons of EFG Bank Mandrake – Typhoon Series 2011 IRC-B Division title winner – discussed this year's competitors with The Epoch Times.
"Today the wind was pretty strong," said Lyons. "We had 18 knots with gusts up to 20-22 and very tough competition.
"The new Elektra, a Curve 43, was on the water for the first time [in the Typhoon series]. It takes a time to get a new boat up to speed, but that is going to be interesting competition moving into the season. Ambush is always tough competition, so I think it is very, very tight racing. Lots of gusts; we had to be very quick."
Ross Lyons of Electra told The Epoch Times: "We went out today and had great fun. Crew-wise we improved greatly from the first to the second race and we are very happy with the boat and how it's going."
Meanwhile, Red Kite II continued to dominate IRC-C Division, winning both races on Day Two, finishing ahead of Dexter II, with Gambit and Whiskey Jack also showing good form.
Commenting on their performance, Redkite II's Christopher Slaughter said: "We had great conditions today. It was a really hard fought first race and a hard fought start to the second. [We are] very happy with the outcome". This puts Red Kite II well in control at the top of their division standings.
Boss Hogg, who won the IRC-D Division Island Race on Day One, won Race Two, but then had a problem in Race Three and did not finish. This let Moll who was in third place climb to the top of the table. After winning Race Three, Taxi moved up to third place in the overall series standings.
In the HKPN Division, Scintilla is leading the field, having won all three races on corrected time, with Pepper & Salt in second and the all ladies crew of Jil Jik lying third. Line honours were taken by Elites 99 and Kiasu, respectively.
After two good wins on Race Day Two, Fly By Wire is on top of the series standings for SMS Sportsboats Division, ahead of Black Magic and Merlin.
J Chi had a double win in the J80 Division to keep her firmly ahead of the field after the three races.
There are seven races to go in the six race days that remain in this series, so the opportunity exists for contenders to rise up and take their division title.
Next week: Race Day Three of Six in the Hebe Haven Yacht Club's Quest Yachting Summer Saturday Series 2012.
The Epoch Times publishes in 35 countries and in 19 languages. Subscribe to our e-newsletter.