New Bill Would Help Transit Riders Save Money
April 27, 2014 2:27 pm Last Updated: April 27, 2014 2:27 pm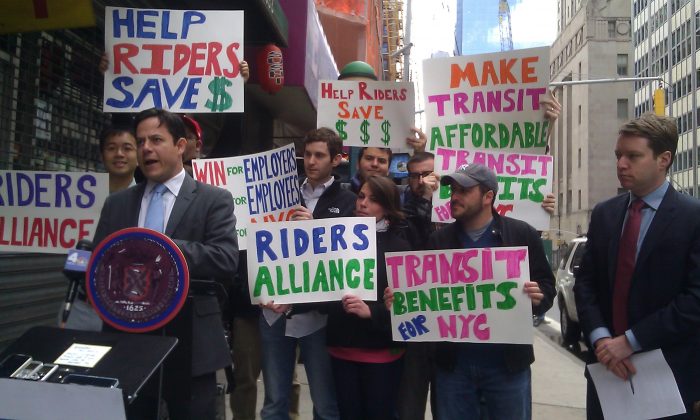 NEW YORK—Despite the record transit ridership in New York City, about a million people who live and work in the city can't get a transit tax break because their employers do not offer it, according to a Transit Center survey. A new bill to be introduced Tuesday by City Council member Daniel Garodnick will require businesses with over 20 employees to offer the program.
Under the program, a New Yorker earning the median income using monthly Metrocards would save $443 annually. Currently, those New Yorkers are paying $36 in federal income taxes on the money they spend on monthly transit passes before they receive the money in their paychecks.
"Helping New Yorkers take advantage of this tax benefit is an important way that we can put more cash in their pockets at the end of the day," Garodnick said Sunday at a press conference with members from the Riders Alliance and Straphangers Campaign.
Under a federal program, workers can pay $130 of their transit costs before taxes the way they pay health insurance premiums. By requiring businesses employing over 20 people to participate, over 600,000 New Yorkers would benefit. People working in New York but living outside the city would also be able to save on their transit costs.
Employer Benefits
The program won't cost employers any money, and will save the companies money because they pay less in taxes per employee as well.
"The dollars come out before they pay their taxes for employers," Garodnick said. Businesses would save about $103 annually per employee, according to a report by the Riders Alliance.
Many employers may currently not have the program in because it requires an extra administrative process to set up and companies may not want to bother with the forms. The legislation targets companies with over 20 employees because at that size, the companies should have the capacity to administer the program, transit advocates said.
Nancy Ashbridge, human resources administrator at Gannon Vitolo Contracting, works at a company with 26 employees, and 12 employees use the program.
"Everyone is very happy with TransitChek as it saves money for the employees and the company," Ashbridge stated. "It takes a little to set up but once it's [up] it's a piece of cake."
The other issue is awareness of the program, for both employers and transit riders.
"To the extent that employers are aware and capable of funding it and offering it they do but often it takes legislation like this to make more employers aware," said City Council member Helen Rosenthal.
Affordable New York
"Costs are getting higher for New Yorkers, they are struggling. If there's an existing tax benefit program that people could take advantage of, if only they could get their hands on it, we want to help facilitate that," Garodnick said. "We want to make it easier for them."
The new, progressive administration is focused on creating an affordable New York for the middle and lower-middle income families, Rosenthal said, and the bill's time has come.
There are impending fare hikes, though this bill is not in anticipation of higher fare hikes than what the MTA has already projected.
"We know that fare increases are something that will continue happening in the MTA, it's a matter of time," said City Council member Ydanis Rodriguez. "The reality is, it will happen in the near future."
With Governor Andrew Cuomo's help, Transit Workers Union Local 100 came to an agreement with the Metropolitan Transportation Authority (MTA) on new contracts and a raise, which will likely set a precedent for the rest of the Long Island Railroad unions in negotiation.
MTA CEO Tom Prendergast said there would be no fare hikes due to the contract agreements. But because the MTA originally said any contract that was not net-zero would require higher fare hikes, experts are concerned future fare hikes down the road may be higher.