Mattel, the maker of Barbie, is expanding the number of products in its Fashionista doll line, introducing three new body types—tall, curvy, and petite—and a range of new skin tones, in the wake of years of activist demands for body diversity.
"For more than 55 years, Barbie has been a global, cultural icon and a source of inspiration and imagination to millions of girls around the world," said Richard Dickson, president and chief operating officer of Mattel. "Barbie reflects the world girls see around them. Her ability to evolve and grow with the times, while staying true to her spirit, is central to why Barbie is the number one fashion doll in the world."
Barbie has been criticized by various groups for imposing a narrow conception of beauty onto young girls, and the company is making efforts to introduce body diversity to its line of dolls. In addition to having three new body types, some Barbie models will have flat feet, allowing the dolls to wear shoe styles beyond the traditional high heels.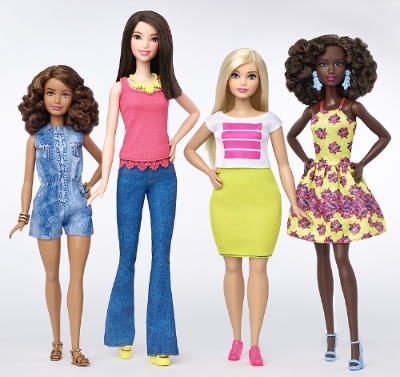 "Barbie has always given girls choices—from her 180 careers, to inspirational roles, to her countless fashions and accessories," said Evelyn Mazzocco, senior vice president at Mattel. "We are excited to literally be changing the face of the brand. These new dolls represent a line that is more reflective of the world girls see around them—the variety in body type, skin tones and style allows girls to find a doll that speaks to them."
In June, the company's Fashionista line added new features that brought up the total number of different skin tones to eight, facial structures to 14, hair styles to 22, and eye colors to 18, Adweek reports.
The 2016 Fashionista line has reduced the number of skin tones to seven, but bumped up the number of hair styles to 24 and eye colors to 22.
The doll are now available to pre-order and are expected hit retail stores this spring.