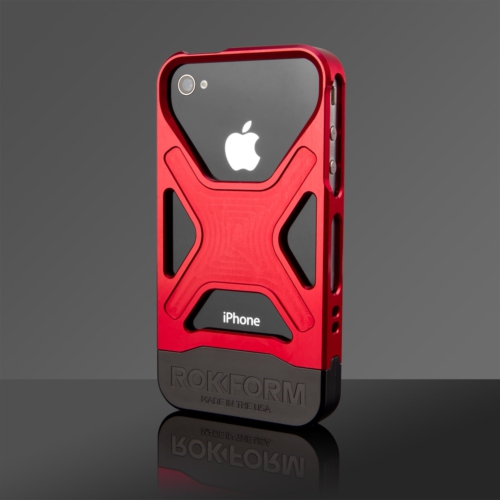 Orange County-based company Rokform is one of many that build accessories for the iPhone, iPad, and iPod Touch, yet the company stands out from the bunch, since as they state, their standard of building all products in the United States has set a new standard for quality in a market saturated by imports.
"Our approach to manufacturing and design is unique to the industry. Through this start-to-finish, hands-on method we can ensure the best performance for our customers in every Rokform product," said Jeff Whitten, vice president of Rokform, in a press release.
Whitten said functionality is their "top priority," and noted all development is done on their own turf and with domestic companies they've partnered up with.
The company just released its latest product, the Rokbed Fuzion iPhone 4/4S case. The case is built from aircraft-grade aluminum for toughness, and injection molded polycarbonate to help it snap on and off the phone.
The space-age-looking case goes along with designs common for the company—often smooth metallic frames with a robotic touch.
The Rokbed Fuzion weighs less than an ounce, has six-sided protection to guard against drops, and has 11 different color options.
To prove the durability of the case, the company hosted a contest on Facebook for ideas to test different drops, which it then featured in a video. These included dropping it on a tile floor, having it fall from a pocket on the street, and running it over with a truck. They then pick it up and show the back and front—with no noticeable damage.
The case sells for $79, and can be found at www.rokform.com.