New Airport in Tibetan Region Seen as Latest Chinese Incursion
September 17, 2013 8:19 pm Last Updated: September 17, 2013 8:19 pm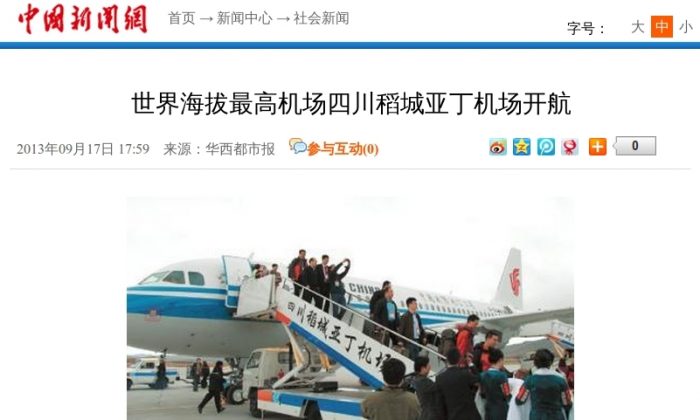 The Chinese Communist Party opened a new airport in Sichuan Province Monday in an ethnic Tibetan area where several people have self-immolated in protest against the crackdown on cultural rights over recent years.
Located 14,472 feet above sea level, Daocheng Yading Airport in Garzi will reduce travel time from Chengdu to just over one hour, compared with a two-day bus trip. The new facility replaces Qamdo Bampta Airport–also in Tibet–as the world's highest civilian airport, bringing the total number of airports in Tibet to five.
Free Tibet mentioned the development on its website earlier this year as part of the regime's Western Development Strategy, referring to a recent "string of huge infrastructure projects on the Tibetan Plateau, including a railway linking Tibet to the main Chinese rail network; dams and mines, and a series of airports."
The rights group added that the network is designed to aid quickening of Han Chinese migration into Tibet, and provide plentiful opportunities for Han Chinese migrant workers at the expense of local Tibetans.
Spokesman Alistair Currie spoke about the new airport with the Telegraph. "This is no holiday destination. What China does in Tibet, it does for China, not Tibet," he said. "… The economic benefits of these kinds of developments almost always flow out of Tibet. For China, Tibetan culture and landscape is a resource to be exploited."
Daocheng Yading Airport cost 1.58 billion yuan ($258 million) to build, and can process 280,000 passengers per year, who are expected to be wealthy Chinese tourists. The army could also utilize the new access during restive periods.
State mouthpiece Xinhua reported that the facility will help bring tourism to Yading Nature Reserve. The regime hopes to bring in 15 million tourists by 2015, and generate up to 2 billion yuan ($327 million) from Tibetan regions.