In the aftermath of the brawl that followed Khabib Nurmagomedov's UFC 229 victory over Conor McGregor on Oct. 6 in Las Vegas, the Nevada State Athletic Commission plans to file complaints against both fighters.
Commission chairman Anthony Marnell told ESPN on Oct. 8 that the board is investigating the Saturday fracas.
Nurmagomedov, from Russia, had his $2 million purse held with a complaint pending, multiple media outlets reported. McGregor received his $3 million payment, but that was before the NSAC saw video that implicated the Irish star of post-fight wrongdoing as well.
"We will be filing against Conor McGregor and Khabib Nurmagomedov," Marnell told ESPN. "Because we withheld one purse, we will have to move expeditiously to a complaint and hearing. We have held 100 percent of one of the fighter's money. Temporary suspensions will be out shortly, and we're shooting for a final hearing date in November."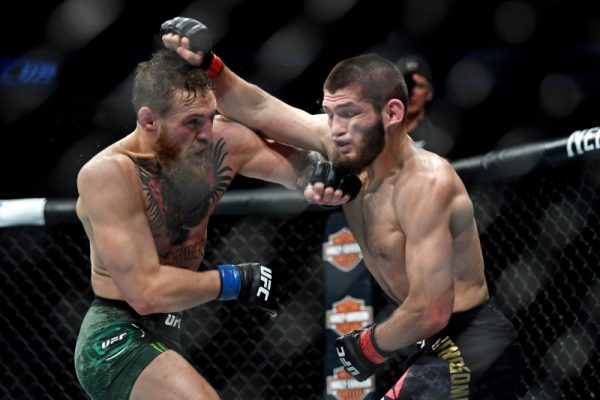 'Significant Punishment' Expected
Former MMA fighter and current commentator Chael Sonnen witnessed the all-in brawl and said on Oct. 8 he expects the Dagestani fighter will  likely face "significant punishment."
"He is going to face a suspension," predicted Sonnen, adding that "the only question is how long. I cannot imagine it will be less than six months, I will guess for you now it's going to be a year. He is going to face a fine."
Sonnen explained that in MMA, fines are a percentage of the purse.
"Khabib got a disclosed amount of 2 million dollars. I will guarantee you they take ten percent, at a minimum. I believe they're going to take twenty."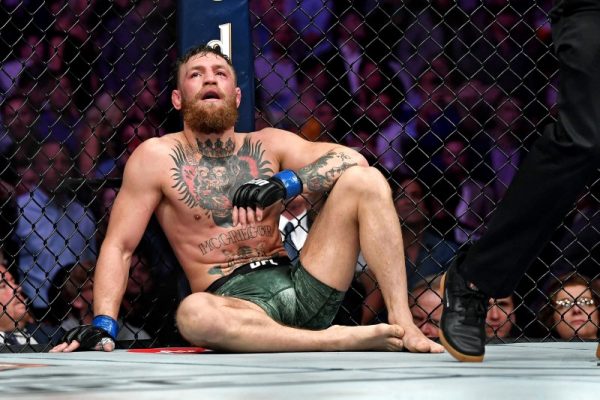 'That's the Fight Business'
The fight had been highlighted by bad blood between both camps, with McGregor pleading guilty in July as part of a deal with prosecutors to resolve charges over an April melee in which he attacked a bus the Russian was traveling on.
Nurmagomedov apologized for his part in the melee during a post-fight press conference and said he was angry about statements McGregor had made about him in the build-up to the bout.
"First of all, I want to say sorry to Nevada Athletic Commission and second to Vegas. I know this is not my best side. I'm a human being. But I don't understand how people can talk about how I jump on the cage. He talked about my religion, he talked about my country, he talked about my father," he said at the post-fight press conference.
"This is a respectful sport, not a trash-talking sport," said Nurmagomedov. "I want to change the game, you cannot talk about religion, about nationality," he said, without answering any questions before leaving.
UFC President Dana White said the trash-talk was "part of the game."
"That's the fight business," said White at the press conference.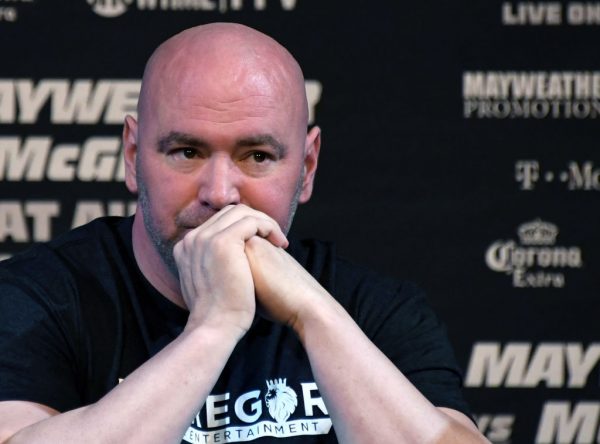 Nurmagomedov's Submission Win
Nurmagomedov (27-0) beat McGregor (21-4) in the fourth round on Oct. 6, clinching a submission victory via what UFC officials and commentators have alternatively identified as a rear naked choke or a neck crank.
The visibly upset Russian then scaled the Octagon fence and charged at McGregor's jiu-jitsu coach Dillon Danis, sparking a chaotic intervention by security staff who struggled to separate the two men.
McGregor was also seen trying to punch a member of Nurmagomedov's entourage who was in the Octagon.
A different person also came into the Octagon and hit McGregor while he wasn't looking.
On Monday evening, Las Vegas Police confirmed no arrests were made following the fight, according to Fox Sports.
The NSAC still could sanction other people involved, Marnell said.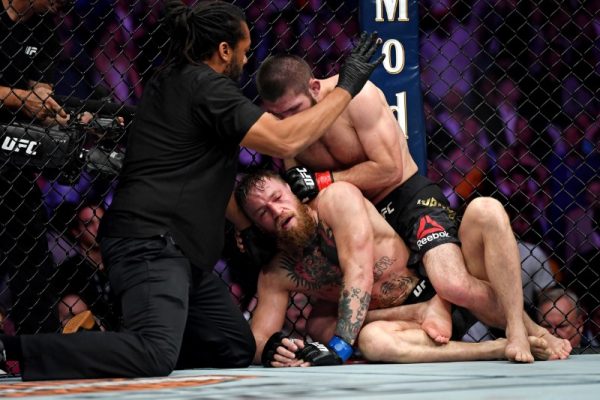 McGregor's Coach Calls for Criminal Charges
McGregor's coach John Kavanaugh, speaking to UFC commentator Joe Rogan on his MMA podcast, said that while Khabib's actions were forgivable, those who attacked McGregor in the octagon should face criminal charges.
"There have to be ramifications for that," Kavanaugh said.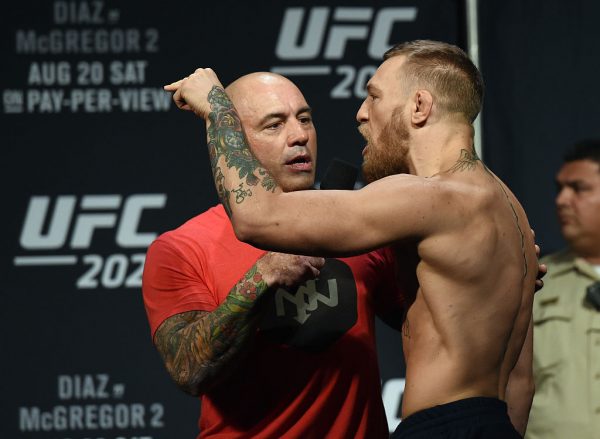 "An example has to be made so that other people in the height of it—'oh wait a second, it's not just a slap on the wrist, something substantial happens if you do something criminal,'" Kavanaugh said.
"It's assault," he said.