A sheriff in Florida is asking for new leads on a missing man who was thrust into the spotlight due to the popularity of Netflix's "Tiger King."
The new limited series focuses on owners of big cats like tigers and lions in the United States including Carole Baskin, who owns Big Cat Rescue in Tampa.
Baskin's husband, Jack "Don" Lewis, vanished in 1997 and hasn't been since. According to family members and workers, he was preparing to divorce Baskin at the time.
Chad Chronister, the Hillsborough County Sheriff, asked on Monday for new information in the cold case, noting how popular "Tiger King" has become.
"I figured it was a good time to ask for new leads," he wrote on social media.
Chronister included pictures of Lewis and a message that "Only YOU can help solve" the cold case. People were told to contact the sheriff's office with any leads at 813-247-8200.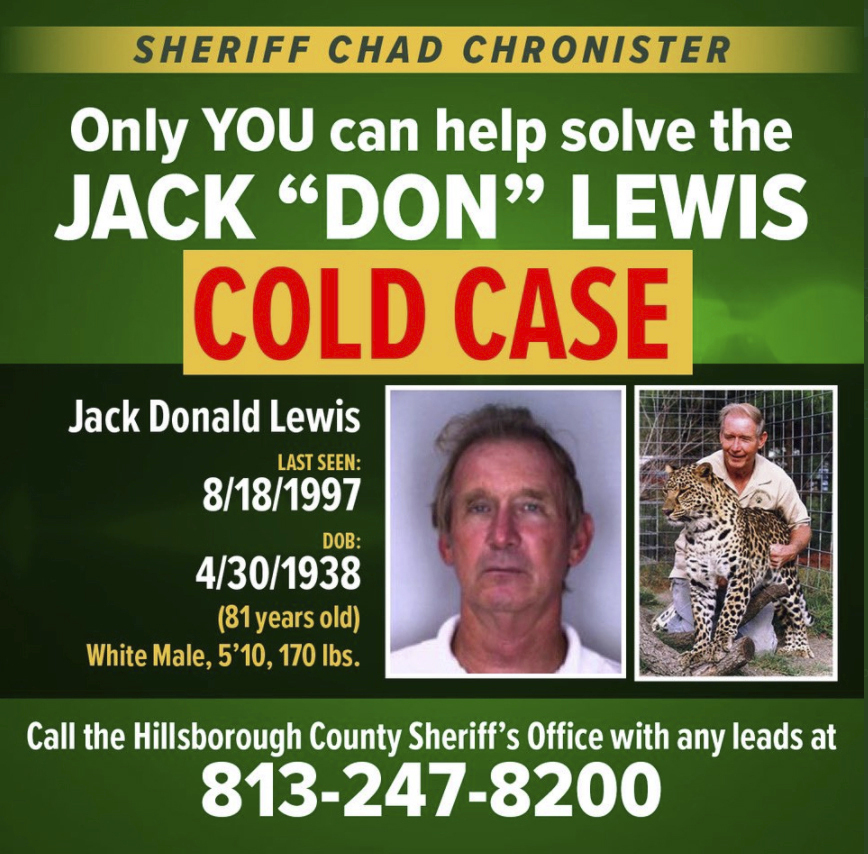 Episode 3 of the show led many viewers to the conclusion that Baskin was involved with the disappearance of Lewis. Baskin issued a statement trying to refute that notion.
The show includes "a segment devoted to suggesting, with lies and innuendos from people who are not credible, that I had a role in the disappearance of my husband Don in 1997," she wrote.
"The series presents this without any regard for the truth or in most cases even giving me an opportunity before publication to rebut the absurd claims. They did not care about truth. The unsavory lies are better for getting viewers," she added.
Baskin alleged, as she did in the show, that Lewis was showing signs of mental deterioration in the years leading up to his death. She said a doctor diagnosed him with bipolar disorder. And she said Lewis was not a millionaire when she met him.
According to detractors, including Lewis' top assistant and his ex-wife and daughters, Baskin's motive if she was involved with the disappearance was Lewis' immense wealth, pegged by some as over $10 million.
Eric Goode, who helped produce the program, said that Baskin spoke about her personal life, including the disappearance of Lewis, and was aware the documentary series wasn't going to be like "Blackfish," the famed movie that highlighted the plight of killer whales in aquariums in the United States.
"She knew that this was not just about … it's not a 'Blackfish' because of the things she spoke about. She certainly wasn't coerced," Goode told the Los Angeles Times.
"I would just say we were completely forthright with the characters. With any project that goes on for five years, things evolve and change, and we followed it as any good storyteller does. We could have never known when we started this project that it was going to land where it did," added Rebecca Chaiklin, co-director.