Thousands of Netflix accounts have been hacked and access to these accounts is being sold on the so-called Dark Web, according to several research groups.
Hackers are selling access to a Netflix account for as low as $0.50.
If the person who owns the account wises up and changes the password and the hackers can't get back in, the hackers are promising to give access to a new account, adding up to "lifetime access," reported Tech Insider. 
Spotify and HBO lifetime subscriptions are among the other services available.
"We found pretty much everything possible available for sale," said Raj Samani, the vice president and CTO at Intel Security. "Every possible service and every possible flavor you could think of was being made for sale."
People are selling hacked subscriptions to Netflix, Spotify, HBO, and pretty … – Tech Insider (blog) https://t.co/MTs7fFqTad

— Netflix report (@Netflixreport) November 28, 2015
Samani says some of the accounts are paid for with stolen credit cards, but others are hacked into and used as long as the real owner doesn't realize it.
"I don't want to call it a risk-free transaction but they try to make it as risk-free as they possibly can,"
Samani's group recently wrote a report for McAfee Labs on the Dark Web, which can only be accessed using TOR, a special Internet browser that masks the user's IP address.
How to Find Out and How to Fix
Want to know if you've been hacked? 
Check your "recently watched" shows and movies. If some strange ones have been popping up, someone may have bought access to your account.
Another way to look is to go to this website, and enter the email address you used to sign up for Netflix.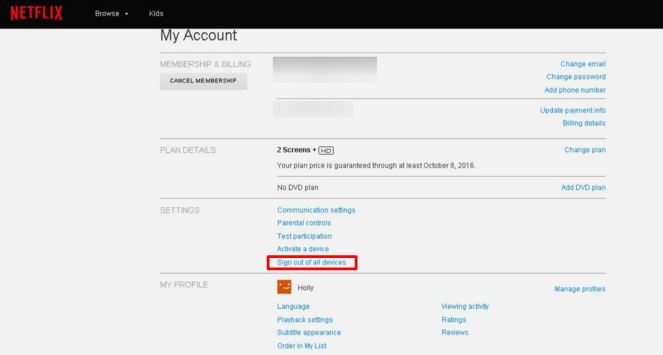 Your account is easier to hack the more people you share the log-in information, so the best way to fix it is to reset your password and consider limiting access for others.
After changing your password, go to the "My Account" page and click "Sign out of all devices" under the settings heading.
That will kick all the people that have been using your account off. Just share the new password with your family and/or friends–perhaps in person or over a secure email.
Fortunately, Netflix obscures user's credit card info, so that should be safe. If you've been using your Netflix password for other websites, though, make sure to change those, too.