United Australia Party leader Craig Kelly has pledged to stand against reconfiguring Australia's economy to meet net-zero targets, warning it will force the country to give up its competitive advantages to China.
Kelly, who quit the centre-right Coalition government in August 2021, made the comments during the National Press Club debate on May 16 between "The Crossbench" featuring himself, Australian Greens leader Adam Bandt, as well as independents Zali Steggall and Rex Patrick.
Throughout the debate, Bandt and Steggall emphasised the need for more climate change action and technological development in clean energy, as well as the removal of "subsidies" for the coal industry.
"We're spending $22,000 per minute on fossil fuel subsidies, so a transition away from such subsidies will free up a huge amount of revenue," Steggall said.
Greens leader Bandt agreed and promoted his party's tax policy targeting corporations and billionaires.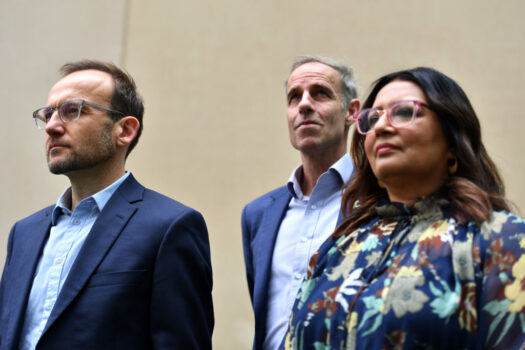 "Those fossil fuel subsidies that Zali was talking about adds up to about $10 billion a year. I'd rather make Clive Palmer pay the same that everyone else pays … and put dental into Medicare," Bandt said, in reference to the Greens' ambitious plan to bring dental care under Australia's universal healthcare program Medicare.
Clive Palmer is a Queensland mining magnate and founder of the United Australia Party, now led by Kelly.
Kelly, however, said that coal exports brought $100 billion of revenue into the country each year, and the wealth from Australia's resources provided room for debate on social services like the health system and National Disability Insurance Scheme.
The United Australia Party leader said that any removal of subsidies for the fossil fuel industry should be matched by the abolition of subsidies for the clean energy industry—an idea previously supported by tech investor and Shark Tank TV star Steve Baxter to test how commercially viable renewable energy could be in a free market.
"Let's get rid of all the subsidies for Chinese solar panels. Let's get rid of all the subsidies for wind turbines," Kelly added. "We cannot continue to trash the industries of this nation that provide our wealth and give it a national competitive advantage—that is, our coal, gas, and iron ore.
Australia's Morrison government has committed to transitioning to net-zero by 2050, while the Chinese Communist Party (CCP)—by far the world's largest polluter—has stated that it should hit peak emissions by 2030 and would aim to reach net-zero by 2060.
Kelly said that the haste at which Australia was racing towards net-zero would see it "surrender economic, political, and military advantages to the Communist Chinese" and that he would not stand for it.
Climate change has been a dominant feature of the 2022 federal election, with the issue galvanising millionaire Simon Holmes à Court to establish the Climate 200 group, which is backing several high-profile "teal independent" candidates in Australia's capital cities.
Some candidates, however, have struggled to reconcile their climate change ambitions against the activities of the CCP and China's rapidly growing emission levels—China emits more carbon in 16 days than Australia does in a whole year.
The teal independent for Wentworth in eastern Sydney, Allegra Spender, said it was an "incredible effort" that China had installed more offshore wind facilities than the whole world did over the last five years.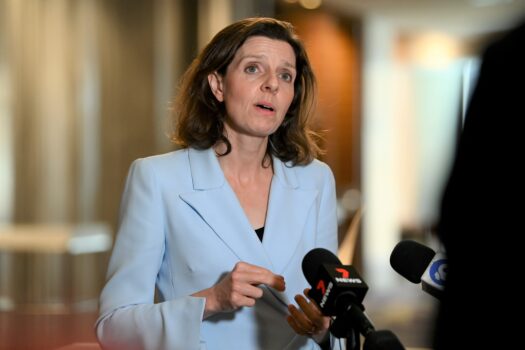 "All their electricity companies by 2025 have to get to 50 percent renewable," she told Sky News Australia on May 13. "They don't want to be dependent on our coal; they don't want to be dependent on our gas; they are seeking their own ways to decarbonise."
An investigative report from The Epoch Times has revealed that around six out of 10 Australian solar farms were sourcing panels from Chinese manufacturers likely to be using Uyghur forced labour in their production chain.
Meanwhile, Monique Ryan, the teal independent for Kooyong in east Melbourne, said Australia had handled its relationship with the CCP badly.
"China is our biggest trade partner, and the relationship with our biggest trade partner should be treated with respect and sensitivity, not with macho, breast-beating belligerence," she said during a Sky News Australia-organised debate.
The race to net-zero by Western democratic nations has also driven up demand for critical minerals and rare earth, which is essential for manufacturing green technologies.
Yet China currently controls around 90 percent of the world's supply chains for the precious resource, a situation that governments are pushing to change by establishing their own independent production chains.