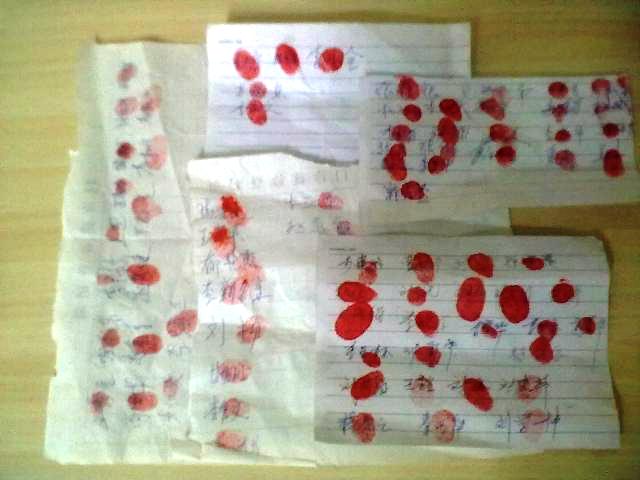 Over 100 neighbors came to the defense of a Falun Gong practitioner who was arrested at his home in Tangshan City, Hebei Province, according to a report by Minghui.org, a Falun Gong news site that publishes first-hand reports from practitioners in China. 
On the morning of June 9, over 10 officers from the Kaiping District police bureau entered the home of 58-year-old Li Zhen and his wife Wang Xiulan. The police seized Li and then began to ransack the home without producing a search warrant, Minghui reported. 
Li's wife called out an open window for help, yelling: "Come quickly, come see! Bandits are at the second gate, room 202. Please come save us."
Over 100 nearby residents arrived to Mr. Li's defense. Police had taken him outside wearing only his shorts. The neighbors formed a human wall to prevent police from taking Li away, and loudly questioned why the police would want to arrest such a good person.
Residents told the officers that Li, who has lived in the Wenxingjiayuan Community for decades, has often helped those in need. They recounted an incident in the summer of 2010, when someone had fallen into the river, with bystanders watching and doing nothing, until Li came along and immediately jumped into the water and pulled the victim to shore. 
The standoff between the residents and the police lasted close to two hours, according to Minghui. After the police eventually succeeded in taking Li away, residents drafted a joint appeal letter. More than 70 people signed their names and stamped their thumbprints to it on the spot. 
A neighbor said: "Mr. Li is a really good person. He helps whenever and whoever needs help. He is in trouble. We shouldn't just think about ourselves. We think that he is a good person." Another neighbor said, "I'd dare to say that to whoever interviewed me," according to Minghui.
According to Minghui.org, Falun Gong is a self-cultivation practice focused on the values of truthfulness, compassion, and tolerance. The practice has been suppressed by the Chinese regime since 1999, with practitioners subject to harassment, arbitrary detention, and torture. Thousands have been killed in custody and millions detained, according to Faluninfo.net, the official press office for Falun Gong.
Li and Wang have been persecuted by local authorities for over a decade, according to Minghui. 
In 2001, Li was arrested for delivering two letters explaining the practice of Falun Gong and its persecution to the Kaiping Town Appeals Office. Authorities detained him at the Tangshan No. 1 Detention Center for nine months. There, he was tortured, including being forced to stand for long periods of time without sleeping, and being doused with cold water during the winter. Li was also detained at the Kaiping Brainwashing Center, where guards tormented him in an attempt to force him to sign a statement renouncing Falun Gong. 
In April 2002, Li and Wang were arrested and detained at the Kaiping District Police Department, where both were severely beaten, causing Wang to loose consciousness for two days.
In October 2004, Kaiping Police Station officers arrested Li and two visitors after illegally entering Li's home. Li was taken to the Hehuakeng Forced Labor Camp for one year, and then transferred to the Handan Forced Labor Camp. He was regularly tortured at both facilities, including shocking with electric batons and beatings with rubber clubs.
The Epoch Times publishes in 35 countries and in 19 languages. Subscribe to our e-newsletter.