The mother of the 13 children who were allegedly kept malnourished and chained in their Southern California home apparently smirked and spit on the floor when police arrested her and her husband, a neighbor has claimed.
"Police officer kept talking and she kept just, like, smirking and, like, kinda, like, she spit twice down at the floor," an unnamed neighbor told The Mirror about Louise Turpin, 49, who is accused of torturing and endangering her children.
David Allen Turpin, 57, and Louise Anna Turpin were arrested on Sunday and each charged with nine counts of torture and 10 counts of child endangerment after a 17-year-old, emaciated girl escaped the house in Perris, about 70 miles east of Los Angeles and called police, the Riverside County Sheriff's Office said on Monday, Reuters reported.
"She was, like, just coughing, acting a little weird, just, like, kept looking," the neighbor added.
Their children ranged in age from 2 years old to 29 years old.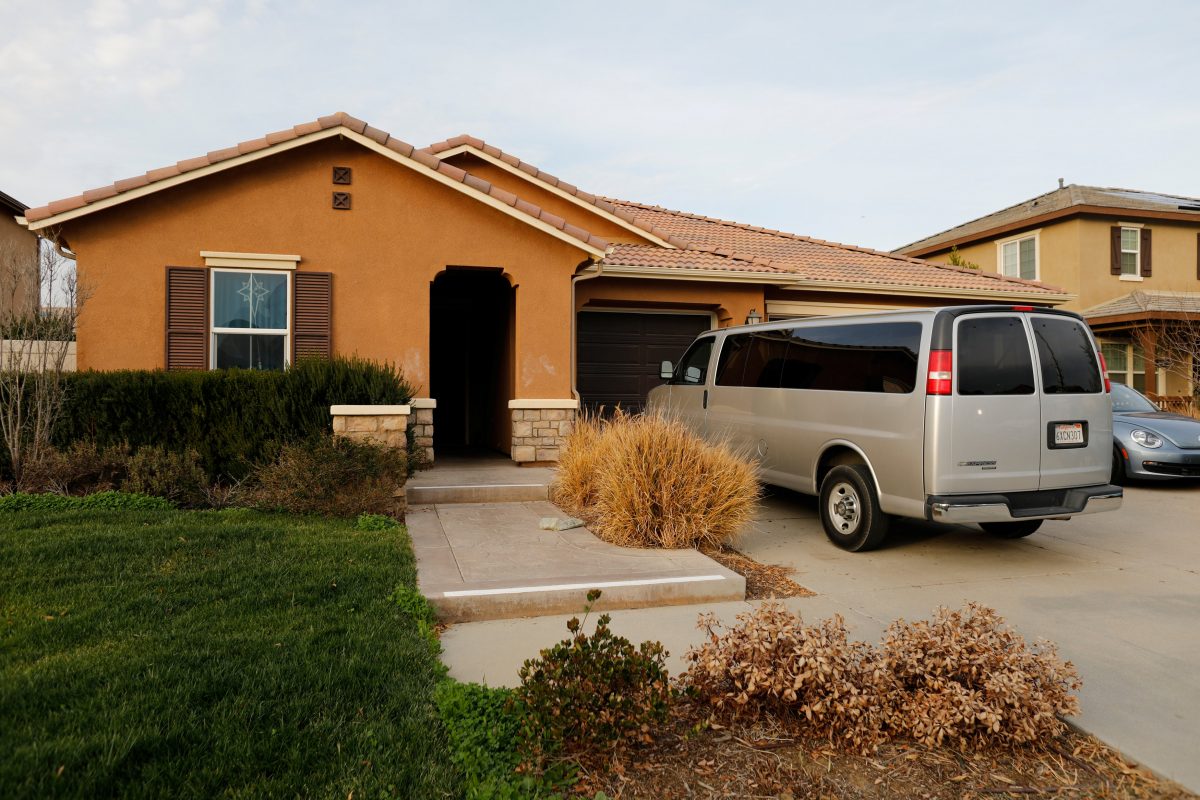 "I can't believe this. I can't believe this. It's so sad," said neighbor Jennifer Luna, CBS News reported. "The older kids, I thought they were, like, 12, because they looked so malnourished, so pale," Kimberly Milligan added.
"Why don't we ever see the kids?" Milligan said she asked herself, Reuters reported. "In hindsight, we would have never thought this. But there were red flags. You never don't hear or see nine kids."
They said that the kids rarely went outside.
The children were homeschooled, and their father was listed in state records as the principal of Sandcastle Day School, which is located at the home's address.
Two years ago, while walking around the neighborhood looking at Christmas lights and decorations, Milligan said she encountered three of the Turpin children and complimented them on their decorations. Milligan said that the children froze, as if by doing so they could become invisible, according to Reuters.
"Twenty-year-olds never act like that," she said. "They didn't want to have a social conversation."
'As a forensic psychologist, this is why I think David and Louise Turpin might have been holding their children captive' https://t.co/PI0lEZh2H9

— The Independent (@Independent) January 16, 2018
Nicole Gooding, 35, who has lived in the neighborhood for three years, said she saw the family for the first time two months ago when the mother and children were cleaning up the yard that was full of weeds and overflowing trash cans.
Housewife reveals bizarre evening encounter with pale Turpin childrenhttps://t.co/gqcTFg7Q4e via @MailOnline

— John B Tawn (@27Tawnyowl) January 16, 2018
On Facebook, images showed the family outside, including a group shot at Disneyland. In another image, the kids can be seen smiling as their parents renewed their marriage vows in Las Vegas as an Elvis impersonator presided over the ceremony.
"The way the kids looked physically? Thin, but not excessively thin. I thought they were very active as a family," the Elvis impersonator, Kent Ripley, told the BBC. "I didn't think that they didn't eat or there was punishment or anything like that. They smiled a lot."
The couple left a positive review of the Elvis chapel. "If you're in Vegas, this is defintely [sic] the best chapel to marry or renew your vows," they said online.
Ivan Trahan, a lawyer who represented the couple as they filed for bankruptcy in 2011, told the Los Angeles Times: "To me and my wife, Nancy, who was with me during the interviews, we always thought of them as very nice people who spoke highly of their children."
Reuters contributed to this report.
Recommended Video:
Kayaker Rescues Iguana Swimming Miles From Shore