Nearly all children in England have seen their education impacted as a result of COVID-19 lockdown restrictions, the UK's education watchdog Ofsted has warned.
In the watchdog's annual report, Ofsted Chief Inspector Amanda Spielman said the message around the harm that lockdowns cause children—and the importance of in-person schooling—"needs repeating now."
Spielman wrote that the education and social care sectors have been under "tremendous strain" during the pandemic and their efforts "deserve the highest praise."
"But the challenges of COVID-19 were so great that nearly every child has felt the impact of the resulting restrictions. Many young children's progress and development faltered."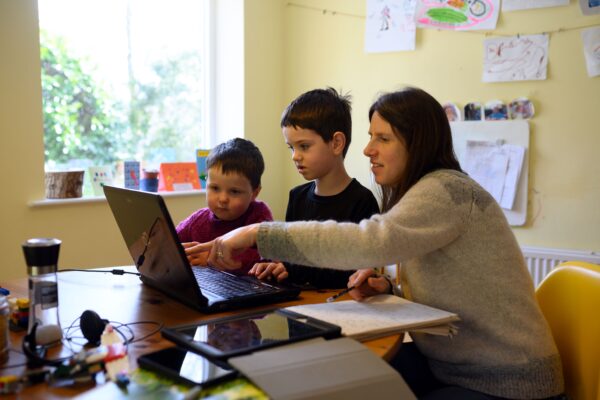 She said schoolchildren struggled with "a hokey-cokey education: in the classroom, at home, separated in bubbles, isolating alone."
As a result, many of the youngest children's progress and development "faltered" amid the pandemic, with some regressing in basic language and social skills, the report said.
Spielman said that many children have suffered physical and mental health problems as a result of the loss of education, disrupted routine, and lack of physical and other activities, adding, "Loneliness, boredom and misery became endemic among the young."
The report also noted that children with special educational needs or disabilities were unable to access the local support services they rely on, and many vulnerable children "disappeared" from teachers' line of sight.
The chief inspector said: "In order to protect older generations, we asked the youngest generation to put their lives and education on hold. As we look forward to the year ahead, we must strive to redress the balance."
Her comments come after the latest Department for Education (DfE) figures show that the number of children and staff off school for pandemic-related reasons in England had risen in recent weeks.
Education unions have warned that disruption to schooling is likely to worsen following the emergence of the newly-identified Omicron variant.
Education Secretary Nadhim Zahawi said on Monday that he would do everything in his power to keep schools open.
"The most important thing is we prioritise face-to-face education, keeping children in school is my absolute priority," Zahawi told the House of Commons.
He added, "Schools, as long as they continue to be open, should be holding nativities and every other important function that they deliver."
PA contributed to this report.