Light-up bed canopies from Justice, a girl's tween clothing store, are being recalled in Canada and the United States due to the possibility of the lights in the battery-powered canopy overheating, posing a fire and burn hazard.
Health Canada estimates about 953 units were sold in Canada, while the U.S. Consumer Product Safety Commission (CPSC) estimates about 23,900 units were sold in America.
Tween Brands, Inc., which owns Justice, initiated the recall when it became aware of the issues with its products.
In Canada, Tween Brands has received at least two reports of the canopy lights overheating and burning, including one instance where the lights burned a pillowcase. In the United States, the company has received 16 reports of the lights overheating or melting the wiring or mesh of the canopy, including one of a consumer with a burned finger.
So far, there have been no reports of any serious injuries.
The mesh canopies have lights along the trim and were sold in white, blue, and pink. The canopies attach to the ceiling with a hook and include a 69 centimetre (27 inch) round hoop draped in mesh that is lined with AA battery-powered LED light strands. The product is approximately 218 cm (86 inches) long and 239 cm (94 inches) wide at the base when suspended.
The following style numbers are included in the recall and are located on the product tag found near the battery compartment. The SKU appears beneath the bar code of the label on the packaging.
White Justice Light Up Canopy in styles 215218 and 775218 with SKU 21154676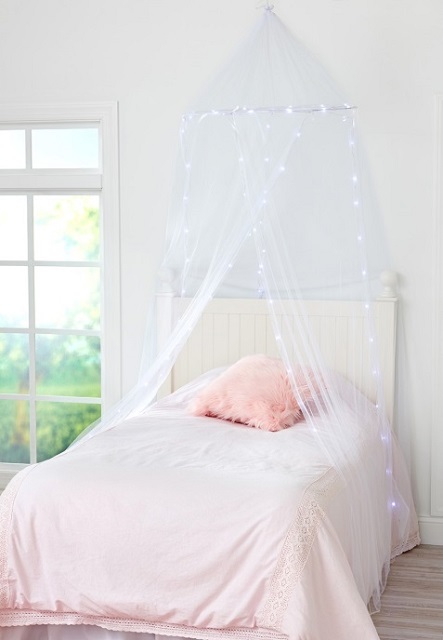 Blue Justice Light Up Canopy in styles 215219 and 775219 with SKU 21144916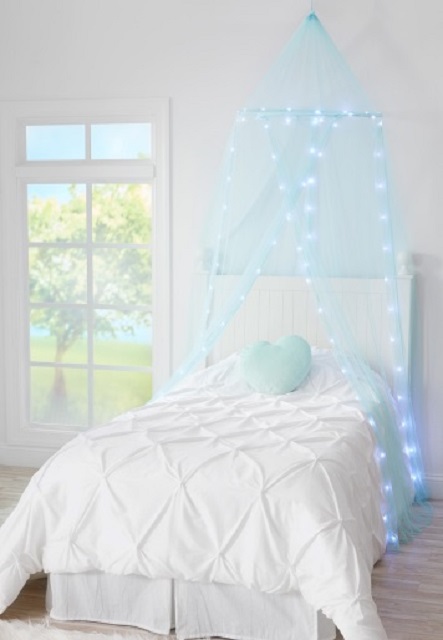 Pink Justice Light Up Canopy in styles 215220 and 775220 with SKU 21144903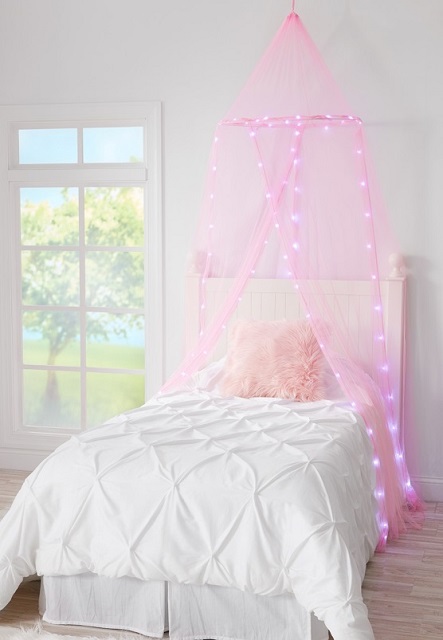 The canopies were sold nationwide in the United States and Canada  in store and online from July 2017 to October 2018.
The canopies were manufactured in China.
Health Canada and the CPSC say consumers should immediately stop using the recalled lights, remove the batteries, and return the product to any Justice retail store for a full refund or store credit. CPSC also says Tween Brands is notifying all known purchasers directly.
On their website, Justice says they will not be providing a replacement for the canopy.