NBA Power Rankings
March 16, 2013 3:30 am Last Updated: April 2, 2013 3:48 am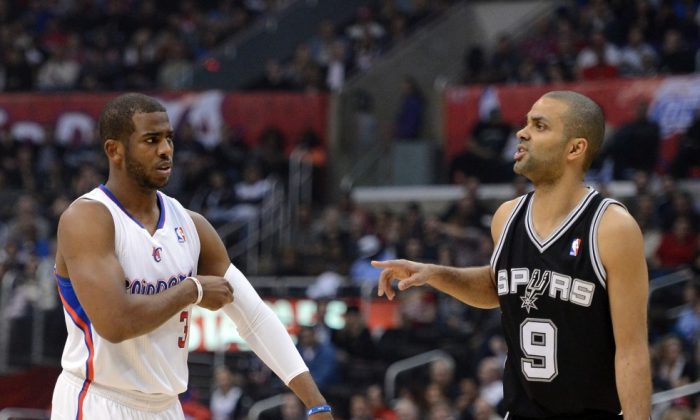 With just over a month left in the regular season the red-hot Heat has already clinched a playoff berth in the East, and is nearly a cinch for the top spot with a nine-game lead over the Pacers/Knicks. Meanwhile, out west, the under-achieving Lakers have finally pulled into the final playoff spot.
Here are the current best 10 teams in the NBA with records as of Tuesday.
10. (Last week: NR) Boston Celtics (34–29)—As crazy as the Lakers' season has been, Boston has been nearly as unpredictable. After taking the Heat to the limit in last season's postseason, Boston started off an anemic 20–23 when star point guard Rajon Rondo went down with a knee injury on Jan. 25. But since that time the Celtics are an amazing 14-6 and have slipped into the six seed in the East. Especially hot during the run has been forward Jeff Green, averaging 14.3 points per game as compared to just 9.6 before.
9. (NR) Brooklyn Nets (38–27)—Deron Williams's 42-point outburst last week against Washington, which included 11 3-pointers, represented a season-high for him as he continues his progression over the season. The 28-year-old point guard has seen his scoring average climb every month of the season and is at 23.6 points per game through seven contests in March thus far. Williams is now 17th in 3-pointers made on the season with 129.
8. (8) New York Knicks (38–23)—The Knicks are certainly a tough team to figure out. Built on defense, coach Mike Woodson had the team off to a blazing 18–5 start. They've been pretty mediocre since as Amar'e Stoudemire has returned from injury and now is out again, most likely until the playoffs. Meanwhile Carmelo Anthony—second in the league in scoring at 27.9 per game—just returned from a knee injury and the Knicks aren't sure if that issue is even behind him. Meanwhile, the team's 60-point output at Golden State Monday night is not a great sign.
7. (6) Indiana Pacers (39–24)—Little-known Pacers' coach Frank Vogel will surely be the leading vote getter for the NBA's Coach of the Year award should Indiana continue down this path. Playing without the team's best player, Danny Granger for nearly the entire season, the Pacers are tied for second in the East. Meanwhile it's uncertain whether Granger, who will sit out at least the remainder of the week, will be able to return this season.
6. (7) Denver Nuggets (43–22)—Winners of nine straight the Nuggets will face some stiff competition in the coming days with four consecutive games against playoff-bound teams New York, Memphis, Chicago, and Oklahoma City. Denver continues to do it at the offensive end ranking third in the league in scoring at 105.9 points per contest while compiling an NBA second best 24.9 assists per game.
5. (3) Los Angeles Clippers (45–20)—The Clippers, now 20–14 since the team's 17-game winning streak, continue to be an enigma. Blessed with two of the league's biggest stars in Blake Griffin and Chris Paul the team is third in the West, just two games ahead of surging Denver for home-court advantage in the first round. Ironically though staying out of the number one or two seed could actually work to their advantage should the Lakers sneak in as a seventh or eighth seed.
4. (5) San Antonio Spurs (49–15)*—Hard to know what to expect from the Spurs anymore. Much has been said about their aging core. Even more has been said about what the loss of point guard Tony Parker should do. Yet here the Spurs are still equipped with the best record in the West and even topped the streaking Thunder 105–93 Monday night as center Tiago Splitter went off with 21 points and 10 rebounds. Still, the Spurs aren't a good bet to continue strong without Parker.
3. (4) Memphis Grizzlies (42–19)*—Memphis, tops in the league in points allowed at 89.4 per game, is on a roll right now having won 12 of its last 13 games. Though much has been made of the team's record since the arrival of Tayshaun Prince (13–4) from Detroit, point guard Mike Conley has been especially hot. The 25-year-old is averaging 17.2 points and 7.4 assists in five March games while shooting better than 55 percent from the floor. Should the defense-oriented Grizzlies get this much offense from their point guard the rest of the way, they'll give the Thunder fits come playoff time.
2. (2) Oklahoma City Thunder (47–17)—Not much has been discussed as what could have been for the Thunder. While the team has two great young stars in Kevin Durant (NBA-best 28.4 points per game) and Russell Westbrook (sixth in scoring at 23.3 points per game) it's former sixth-man James Harden who is lighting up the league in Houston, putting up an average of 26.4 points per game—good for fifth best. Of course it's hard to imagine the team set up much better than it is now with three defensive stalwarts in Serge Ibaka, Kendrick Perkins, and Thabo Sefolosha alongside Durant and Westbrook in the staring lineup.
1. (1) Miami Heat (48–14)—With 19 straight wins the defending champion Heat is clearly the best and hottest team in the league. Is there any stopping them? Not in the East anyway. With a nine-and-a-half game lead over second they should enjoy home-court advantage through at least the first three rounds. Superstar James is headed toward another MVP as he ranks among the leaders in scoring, rebounding, assists, and field-goal percentage.
*-denotes record through Monday night.
The Epoch Times publishes in 35 countries and in 21 languages. Subscribe to our e-newsletter.