NEW YORK—For the veterans of our nation's armed forces, transitioning back into civilian life can be a battle in itself. Among the adversity many veterans face upon returning home are unemployment and homelessness, and despite the sacrifices they have made, a residence and a job aren't a sure thing after service. For U.S. Navy veteran Lawrence Linton, the future used to be far from certain, but a childhood passion for the culinary arts was reignited after his service—leading the way to a new livelihood.
Linton, 43, served in the Navy from 1996 until he was honorably discharged in 2000. The Brooklyn native wanted to pursue higher education and eventually become a cardiologist, but couldn't afford college after graduating from high school. One day, as he was walking past an armed forces recruiter, he realized he had always wanted to see the world. The Navy would certainly provide that opportunity for him.
Linton served on the USS Mount Whitney, based out of Norfolk, Virginia, and was assigned to different tasks on the ship. He served as a corpsman, but also worked as a firefighter and maintenance worker.
"Everything that you can possibly think of, I did on the ship," Linton said.
Tough Times
Linton would sometimes be at sea for three months at a time, and he and the crew performed war games and naval exercises to be ready for anything and everything. He also had the opportunity to visit Barcelona, Lisbon, Gibraltar, Algiers, and numerous other places in the Mediterranean area, which gave him the chance to experience vastly diverse cultures.
When he returned to New York City, he began to struggle with alcohol and substance abuse. He had been living with his parents, but homelessness quickly followed. While he always had a legitimate job—and filed his taxes every year—he didn't have a place to live for several years because of his substance abuse issues.
"Me being a hard-headed, young guy, I just wanted to rebel," Linton explained. "It didn't do justice for me."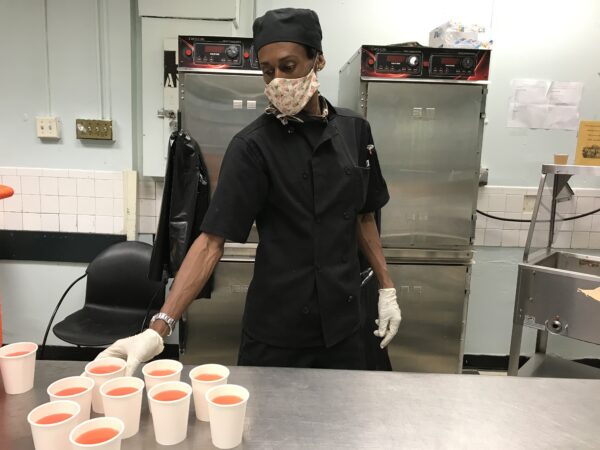 Linton began living in a veterans' residence, which initially helped him get on his feet. A year and a half ago, he learned about a New York City organization called Project Renewal and the culinary arts training program there. The organization's mission is "to end the cycle of homelessness by empowering individuals and families to renew their lives with health, homes, and jobs." The culinary program helps formerly homeless and low-income residents of the city start careers at restaurants, catering companies, and corporate kitchens. Participants are placed in culinary jobs at double the rate of similar programs across the nation.
He knew two people in the program and was immediately interested when they told him about it. He had always had a passion for cooking and used to cook for his nine siblings while his mother and father were busy at work. First, he started with box recipes and then progressed to making meals from scratch.
"I found out I had a knack for it. Everybody gobbled everything up," Linton said.
Knife Skills
Linton started his training in May 2019. During the nine-month program, Linton first learned kitchen basics such as taking inventory, following recipes, and critical knife skills. Over time, he was slicing and dicing like a professional. Before long, he knew how to work every station in the kitchen. What he enjoyed most was the hands-on nature of the job.
"I loved it. I absolutely enjoyed the experience. I didn't know culinary [arts] consisted of so much," Linton recalled.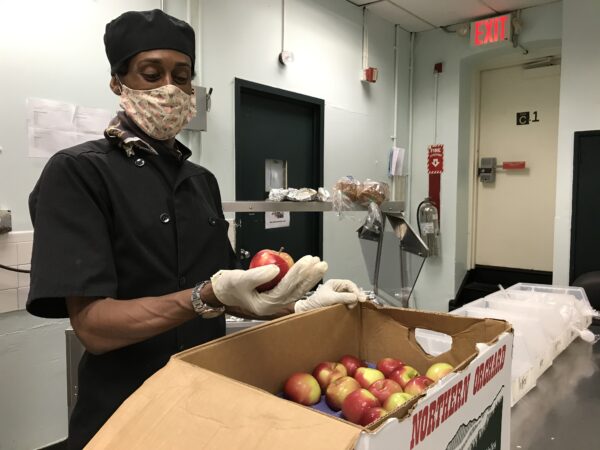 To get more real-world experience, Linton participated in three different internships during his time in the culinary program. At his first internship, he cooked at the veteran's residence where he was living, which encouraged other veterans to join the culinary program as well. 
"That was surreal. All of the ex-military said they couldn't believe I was working there," Linton recalled.
He cooked at a seniors' residence for his second internship and learned how to accommodate their medical and dietary restrictions. For his final internship, he cooked for the homeless at The Armory in Washington Heights.
A Culinary Career
On May 6, Linton's journey came full circle when he secured a cooking position at City Beet Kitchens, which is run by Project Renewal. At City Beet Kitchens, in downtown Manhattan, Linton cooks for catering events and serves up 5,000 meals a day for people in need at shelters. Linton enjoys mingling with the staff and talking to shelter residents.
"I like very much how Project Renewal takes care of their students and the training that we receive," Linton said.
He feels an immense sense of satisfaction when people tell him his cooking is delicious and ask him for second or third helpings. The menu changes frequently, and Linton enjoys cooking everything and experimenting. Not only is he now employed full time, but he also has his own apartment in Brooklyn.
And he's feeding and helping others who are in similar circumstances to his own when he had returned home after his service.
"It's a good experience overall," Linton said. "It's a good feeling because a lot of people don't get to eat at night, and they come in and they get fed."