On March 4, I attended the ASIS International New York City Chapter event with over 150 colleagues at the Yale Club.
For over 20 years, I have been involved with initiatives of this association, serving as a speaker and author, privileged to also have their board certified protection professional (CPP) designation.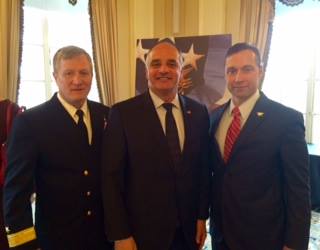 ASIS International is a professional organization for security, law enforcement, and military professionals with certifications, standards, guidelines, and educational programs. These initiatives assist schools, colleges, workplaces, government entities, law enforcement, and the public.
The CPP credential provides a board certified demonstrable verification of knowledge, as well as management ability in eight key disciplines: security principles and practices, business principles and practices, investigations, personnel security, physical security, information security, crisis management, and legal aspects.
Although my experiences with ASIS International have always been beneficial, the March 4 event was particularly inspirational due to the compelling patriotic keynote of Navy SEAL Britt Slabinski, Ret.
America's Navy SEALs
Navy SEALs are a unique breed of elite ethical protectors that conduct the most challenging, often clandestine military operations, especially with maritime environments.
SEALs is an acronym for sea, air, and land special operations.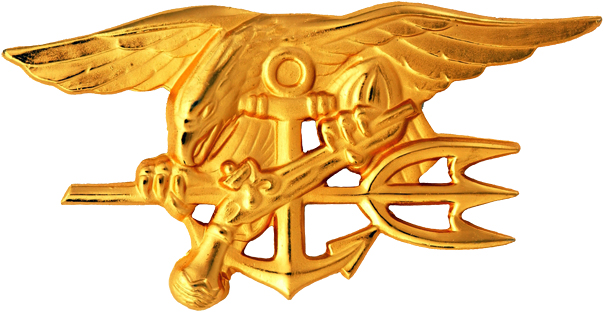 The SEALs symbol is a trident, a coveted insignia with a golden eagle holding a navy anchor and flintlock-style pistol.
The trident is a sacred symbol proudly worn by Navy SEALs, and solemnly embedded into the wooden coffins of fallen SEALs as an expression of respect, brotherhood, and honor for those who deserve to never be forgotten.
The Ethos of the Navy SEAL includes these inspirational words:
"My Trident is a symbol of honor and heritage. Bestowed upon me by the heroes that have gone before, it embodies the trust of those I have sworn to protect. By wearing the Trident I accept the responsibility of my chosen profession and way of life. It is a privilege that I must earn every day. My loyalty to Country and Team is beyond reproach. I humbly serve as a guardian to my fellow Americans always ready to defend those who are unable to defend themselves. I do not advertise the nature of my work, nor seek recognition for my actions. I voluntarily accept the inherent hazards of my profession, placing the welfare and security of others before my own. I serve with honor on and off the battlefield. The ability to control my emotions and my actions, regardless of circumstance, sets me apart from other men. Uncompromising integrity is my standard. My character and honor are steadfast. My word is my bond."
Missions of the Navy SEALs
According to the NavySeals.com, the Navy SEALs are called upon to perform missions of critical importance to the United States:

Direct Action: Neutralize, Capture and Kill Enemy Forces—Offensive strikes against an enemy target using tactics like raids, ambushes, and assaults.
Special Reconnaissance: Observe and Report, Covert Intelligence—Surveillance and reconnaissance operations to report on enemy activity or to provide a better understanding of the operational situation. These missions can include tracking of enemy units, monitoring military and civilian activity, and gathering information about beach and water conditions prior to a beach landing.
Counter Terrorism: Eliminating Threats, Pre-Emptive Strike—Directing action against terrorist groups to prevent terrorist activities.
Foreign Internal Defense: Training Allies—Training and assisting foreign counterparts to increase their capacity to respond to threats.
Britt K. Slabinski, Command Master Chief (SEAL), USN Ret.
As attendees entered the March 4 event, to hear keynote speaker Britt K. Slabinski, they were surrounded by posters of Navy SEALs who offered the ultimate sacrifice serving America.
This moving tribute was further ignited by the passion, dignity, and eloquence of the speaker who addressed issues of honor, respect, and patriotism.
Slabinski, whose service as a Navy SEAL included over 400 combat deployments in support of the Global War on Terrorism, is also recipient of the Navy Cross—an award for valor in combat, the Navy and Marine Corps Life Saving Medal, five Bronze Stars with Combat Valor distinguishing device, two Combat Action Ribbons, and numerous other commendations.
The immortal words of Thomas Paine, "These are the times that try men's souls," were used by Slabinski who stated "they apply not only to the American Revolution, but to contemporary challenges throughout the world especially concerning terrorism."
He also stressed the importance of honoring our flag, stating that it was a sacred symbol with its thread representing each of us united together.
The oath he learned as a young eagle scout was also shared by Slabinski, who emphasized "On my honor I will do my best to do my duty to God and my country," was his inspiration during the heroic incident that led to his being recipient of the Navy Cross.
Slabinski also stressed humility complementing members of the ASIS International chapter for protecting New York City and reminded all, "one must always remember that you are never too senior to be wrong or too junior to be right."
Final Reflections
These are challenging times for democracy, freedom, and liberty, and America is destined to be a model to the world of dignity, courage, and patriotism.
When each of us lives by a code of honor, exemplified by Navy SEALs, ethical guardians courageously dedicated to protecting America, we will be on the path to reawakening the nation.

Vincent J. Bove, CPP, is a national speaker and author on issues critical to America. Bove is a recipient of the FBI Director's Community Leadership Award for combating crime and violence and is a former confidant of the New York Yankees. His newest book is "Listen To Their Cries." For more information, see www.vincentbove.com
Views expressed in this article are the opinions of the author and do not necessarily reflect the views of The Epoch Times.