Just 20 miles from the clinic where a 35-year-old man with a cough and fever became the nation's first identified case of COVID-19, a Navy SEAL has tested positive at a naval training base in Washington.
"The individual is currently isolated on base and restricted in movement in accordance with the Centers for Disease Control and Prevention Guidelines," Naval Special Warfare Command said in a statement on March 19.
"The other members of the group who were in close contact with the sailor are also quarantined on base out of an abundance of caution. They remain in close contact with medical professionals."
The second-class petty officer was assigned to Kitsap-Bangor base, located about 20 miles from the outskirts of Seattle in Washington.
Since a 35-year-old man presented to an urgent care clinic in Snohomish County on Jan. 19 after four days of coughing and fever, Washington state has seen over 1,370 cases and 74 deaths.
Washington is currently the state with the second-highest number of cases (behind only New York) of the CCP virus, commonly referred to as novel coronavirus.
As of Wednesday, nearly 50 service members had tested positive for the virus, according to Pentagon officials.
"Right now, we have 49 military cases, 14 civilian cases, 19 dependents, and seven contractors," spokesman Jonathan Rath Hoffman told reporters.
The Navy SEAL is the latest of several cases among sailors on the West Coast to test positive for the CCP virus, including five so far announced on board various ships currently docked.
Two sailors who were onboard the 1,500-capacity amphibious landing ship, the USS Boxer, have tested positive.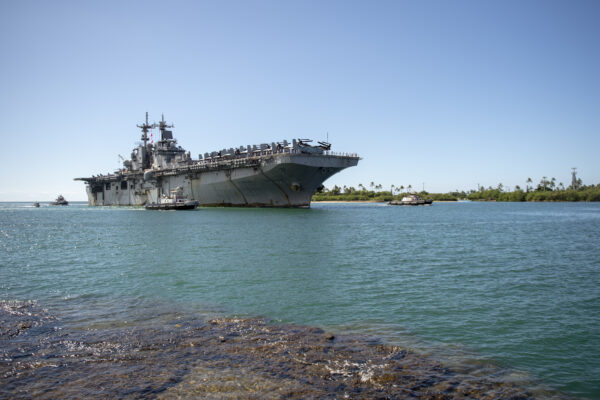 Close-quarters life aboard ships, such as the Diamond Princess and Grand Princess cruise ships, appears to make them into a petri dish for the virus to spread among those on board.
The U.S. Navy has announced that sailors will be allowed to grow their hair longer than the 2-inch regulation haircut if it reduces their exposure to the CCP virus pandemic.
"Commanding officers may allow for additional hair length and bulk on the sides, top, and back of the head," Vice Adm. John B. Nowell, the chief of naval personnel, said in a statement on March 18.
Regular fitness tests also will be postponed to meet social distancing guidelines.
Two Navy hospital ships are being drafted into the fight against the CCP virus, most likely as trauma centers to lighten the load on civilian hospitals that are better suited to handle an infectious disease.
The USNS Comfort, a hospital ship now in Norfolk, Virginia, will head to New York as soon as its current maintenance is complete, officials have said.
"They're going to expedite the maintenance that they can," Hoffman told reporters. "That's not a 'days' issue—that's a 'weeks' issue. So it's going to be a little while."
On the West Coast, the USNS Mercy will be ready to go in "days, not weeks," officials said. It isn't currently known where the Mercy will sail.
"Our understanding is that the intent is the ships will be used to take non-coronavirus patients, which is what our staffs are best assigned and organized to do," Air Force Brig. Gen. (Dr.) Paul Friedrichs, the Joint Staff surgeon, told reporters.
The Epoch Times refers to the novel coronavirus as the CCP virus, because the Chinese Communist Party's coverup and mismanagement allowed the virus to spread throughout China and create a global pandemic.