A video of a Navy SEAL standing to embrace his wife for the first time after a severe car accident put him in a coma, has gone viral. 
Jonathon Grant, 36, from North Carolina was a passenger in a horrific car crash that left him suffering from a brain injury called diffuse axonal injury (DAI) putting him in a coma for nearly two months, according to the couple's GoFundMe page. 
Doctors said Jonathon only had a 10 percent chance of survival. 
At the time Petty Officer Grant was serving as a combat medic instructor at Fort Bragg and earned his Navy SEAL trident in 2007 after serving his country on three overseas deployments. 
His wife, Laura, a pilates instructor has stood by his side every step of the way since the accident and spends nearly 10 hours a day at her husband's rehab facility where he receives therapy, Yahoo reports.    
The video watched by over 3.4 million people shows Jonathon standing up from his wheelchair and holding onto a parallel bar for support while his wife stands in front of him. Laura, with the help of a physical therapist, helps Jonathon stand before the couple share a kiss to celebrate the moment.  
"It felt like home," Laura told The Knot of their embrace. "It was like our first dance at our wedding." 
Jonathon is unable to talk and can only mouth words in a soft whisper. He also can't get dressed or brush his teeth on his own.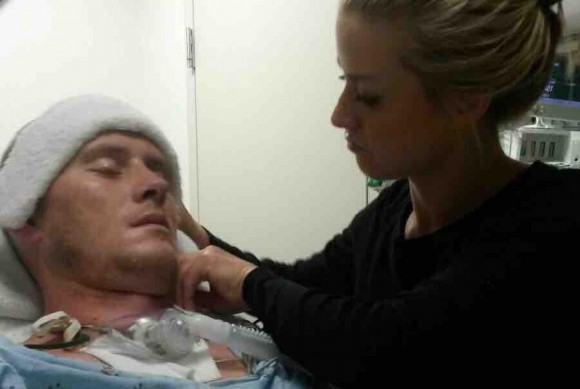 Laura said she believes John's survival and positive recovery comes from help from above. 
"John only had a 10 percent chance of surviving let alone be able to do some of the things he's already accomplished … The human brain has an amazing ability to heal itself with time, but in Jon's case, God's healing hand is clearly evident," the Knot reports. 
The couple's GoFundMe page has raised $100,000 in just 4 months and the number continues to grow as the community rallies behind them. The thousands of people who watched the video offered many words of encouragement, support, and prayers for the two. 
Laura said Jonathon is following the Navy SEAL's motto "The only easy day was yesterday" as he regains his strength on the long road to recovery.