The U.S. military's vision of the unmanned wingman—dogged, unflappable, and ready to make the ultimate sacrifice—has moved a step closer to reality with the successful test of two autonomously piloted Navy jets.
Boeing confirmed on Jan. 5 that the Navy simultaneously flew two autonomously piloted carrier jets, using a third human-piloted jet as a mission controller.
The EA-18G Growler jets used in the test are electronic-warfare aircraft—modified versions of the F-18. Over the course of four flights, 21 demonstration missions were completed, according to Boeing.
The test marks another step toward a warfare strategy that involves greater numbers of autonomous platforms in the air, on land, and at sea.
Autonomous jets, tanks, helicopters, and submarines not only take away the risk to human life but are also potentially cheaper and simpler to make. With no flesh and blood to protect, they need less armor, less air, less space, and have fewer design constraints.
Through fly-by-wire systems, some current manned platforms can be adapted for autonomy—such as the Growler.
"This technology allows the Navy to extend the reach of sensors while keeping manned aircraft out of harm's way," Tom Brandt, Boeing Manned-UnManned Teaming demonstration lead, said in a statement.
"It's a force multiplier that enables a single aircrew to control multiple aircraft without greatly increasing workload. It has the potential to increase survivability as well as situational awareness."
Both of the autonomously piloted aircraft had pilots on board during testing, according to AFP.
With China now spending more than a dozen times more on defense than it did 20 years ago, the U.S. military is revamping for renewed "great power competition" with Russia and China, as demanded by the 2018 National Defense Strategy.
Both Russia and China have developed extensive integrated anti-aircraft systems and long-range missile shields to try to neuter once-indomitable U.S. aircraft carriers.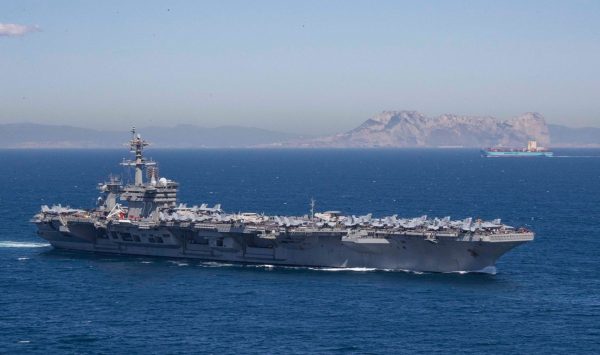 While U.S. strategic solutions have emphasized the need for next-generation capabilities, a key theme is also a greater integration of different weapons systems and spreading the load among more numerous platforms, including unmanned.
One of the challenges to teaming up the different platforms is a mismatch of communications between systems that currently run throughout the U.S. military, according to analysts. Even the next-generation F-35 is famously unable to talk to its stablemate, the F-22.
In what was described as a major milestone for the military's new integrated battle concept, on Jan. 22, two F-35s were integrated into the Army's missile defense system to be used as sensors to detect and track threats for the first time during testing.
The F-35, which was finally ready for deployment in 2015, provides bundles of next-generation capabilities so far unmatched by rivals. But the military planners aren't just looking for one-man shows: they want weapons systems to work together.
The Navy is developing the concept of distributed operations. That means moving away from reliance on a few large ships, and instead distributing the firepower and surveillance across many more platforms, including unmanned ships, with no single point of failure.
The Marine Corps has outlined a parallel strategy, proposing to use smaller boats to slip onto Pacific islands, to station missile batteries a safe distance from China's anti-ship missiles.