NATO Defense Ministers agreed at the meeting on June 17 not to mirror Russia's growth of nuclear-capable missiles but to strengthen and expand the Alliance's missile defense. The ministers also called on China to engage in global arms control in the wake of its military rise and heavy investment in modern missiles.
NATO Defense Ministers convened at the teleconference on Defense and Deterrence and on NATO's operations on June 16-18 discussed nuclear deterrence in the context of new nuclear missiles deployed by Russia.
Russia has been continuously expanding its arsenal of nuclear-capable missiles, NATO Secretary General Jens Stoltenberg said. It includes modernizing intercontinental ballistic missiles, putting into service the hypersonic glide vehicle, the development of a nuclear-powered cruise missile.
It also lowered the threshold for the use of nuclear weapons, he added.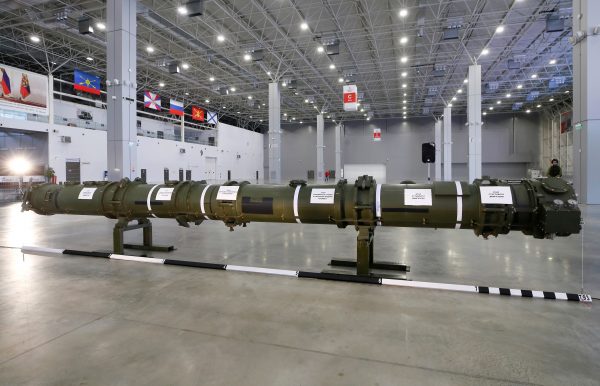 Russia's deployment of SSC-8 missile, also known as 9M729, violated the Intermediate-Range Nuclear Forces INF Treaty and led the United States to withdraw from the Treaty in August 2019.
"The SSC-8 missiles are dual-capable, mobile, and hard to detect … [and] can reach European cities with little warning time," Stoltenberg said.
"NATO will not mirror Russia's destabilizing behavior. We have no intention to deploy new land-based nuclear missiles in Europe," Stoltenberg said.
NATO's response to Russian threats will focus on strengthening the Alliance's defense and employing political measures. Some Allies plan to invest in new defenses such as Patriot systems and SAMP/T. NATO also plans to strengthen its advanced, conventional capabilities, such as fifth-generation combat aircraft, Stoltenberg said.
Patriot is an air and missile defense system equipped with radars and interceptors, capable to "detect, identify, and defeat tactical ballistic missiles, cruise missiles, drones, advanced aircraft, and other threats," according to its manufacturer's (Raytheon's) website.
SAMP/T is a mobile anti-aircraft defense weapon that protects against missile threats and aircraft, manufactured by a European company Eurosam.
Among political measures NATO urges all actors, including China and Russia to engage in arms control, disarmament, non-proliferation, said NATO's chief.
"A new arms race would benefit nobody. And make the world a more dangerous place," he said.
Engaging China in Arms Control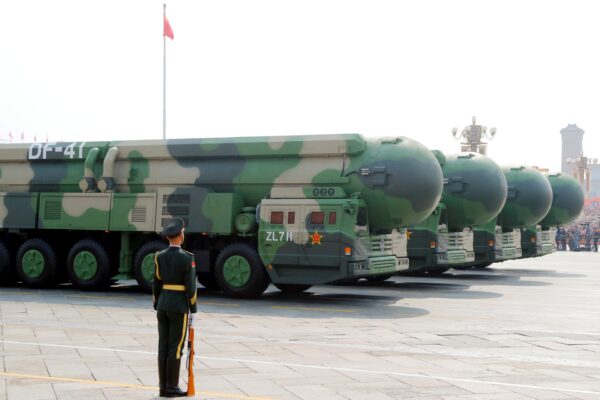 "Allies have also expressed concern about the consequences of the rise of China, especially when it comes to their heavy investments in new, modern military capabilities," such as new nuclear warheads, as well as the deployment and development of new delivery systems on land, at sea, and in the air, Stoltenberg said.
Therefore NATO urges China to take part in arms control negotiations. "As a global power, they have also global responsibility to engage in global arms control talks," Stoltenberg said.
However China has been very reluctant to engage in arms control and reluctant to "provide transparency regarding their nuclear weapon systems," he said. Therefore there is less transparency when it comes to China's nuclear weapons than the United States' and Russia's, as they both participate in international arms control agreements.
China has been invited to join the talks for nuclear disarmament that will be held by the United States and Russia on June 22 in Vienna but the Chinese regime declined the invitation.
Rep. Liz Cheney (R-Wyo.) along with 39 House Republican lawmakers sent a letter to President Donald Trump expressing their support for his administration's efforts to engage China in the U.S. arms control process.
The United States must increase its "readiness and lethality in the Indo-Pacific," and continue to develop advanced missile, missile defense capabilities, and modernize its nuclear systems on land, at sea, and in the air.
"Just recently, a CCP [Chinese Communist Party] state media editorial said that China should expand its nuclear arsenal to 1,000 warheads, which according to some estimates would mean tripling the regime's stockpile," House Representatives wrote.
A year ago, "Defense Intelligence Agency Director Lt. Gen. Robert Ashley warned that China will likely at least double the size of its nuclear stockpile over the next decade," lawmakers wrote.
The United States "must compel the CCP to be transparent about both this devastating virus and its nuclear capabilities and ambitions," the letter said.