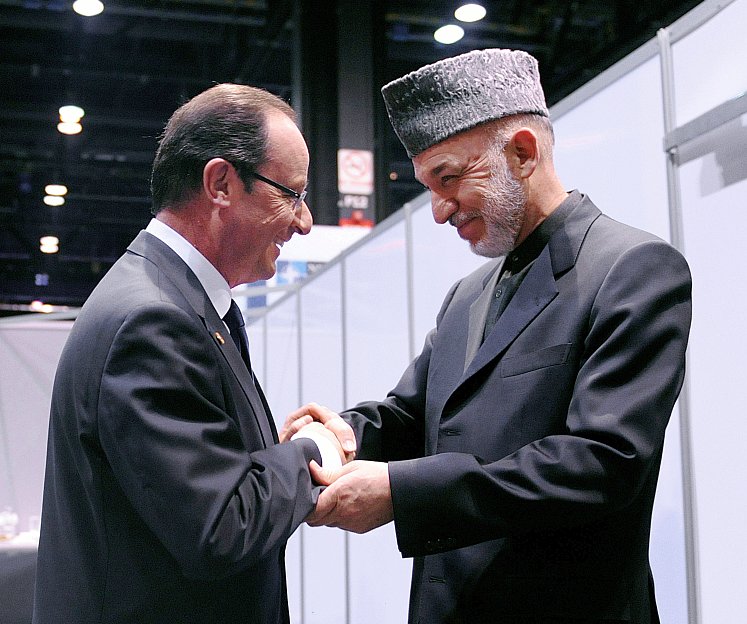 President Barack Obama and NATO leaders have affirmed their support for Afghanistan up to and beyond the 2014 withdrawal of troops, conditional however on the country's progress on democratic reforms.
"We also recognize in this context the importance of a comprehensive approach and continued improvements in governance and development," the NATO leaders said in a statement.
Following a morning session dedicated to Afghanistan at the NATO summit in Chicago Monday, leaders committed to an "irreversible transition" in security, moving from a war posture led by NATO's International Security Assistance Force (ISAF) to control by Afghan National Security Forces (ANSF).
In a summit communiqué, the leaders said ISAF would remain in Afghanistan to help train the ANSF but stressed their presence would "not be a combat mission."
Afghan President Hamid Karzai attended the morning meeting. Written into the communiqué was a commitment by his government to progress toward democratic governance including respect for rule of law, human rights, and women's equality.
"We emphasize the importance of full participation of all Afghan women in the reconstruction, political, peace, and reconciliation processes in Afghanistan and the need to respect the institutional arrangements protecting their rights," the communiqué said.
Referring to forthcoming elections in Afghanistan, NATO leaders indicated that support, both in terms of funds and personnel on the ground, would be linked to how the election is conducted and the progress of reforms.
"Their transparency, inclusivity, and credibility will also be of paramount importance. In this context, continued progress toward these goals will encourage ISAF nations to further provide their support up to and beyond 2014."
Assuring progress on reforms will be key to sustainment or funding for the campaign in Afghanistan, a sensitive topic at the meetings at time of fiscal austerity.
The cost to fund Afghan forces is estimated to be around $4 billion a year, according to National Security Adviser Tom Donilon. That bill will be shared by around 30 countries, with the United States picking up the lion's share.
The difficulty for many NATO members will be of balancing this commitment with the deep unpopularity of the war back home in many countries—a war that has lasted 11 years and claimed the lives of over 3,000 Western troops. The most recent poll in America, by Associated Press-Gfk, showed a new low of just 27 percent approval.
These domestic concerns will likely be further exacerbated by the increasing violence in Afghanistan.
Newly elected French President François Hollande, who campaigned on a promise to withdraw all French troops by the end of the year, vowed to keep that commitment at the G-8 meetings over the weekend.
President Obama announced the withdrawal of troops last year, following an initial surge when he came into office of 33,000 troops. Ten thousand of those have already returned home, and according to ISAF commander Gen. John Allen, the remaining 23,000 will follow by the end of September.
Gen. Allen was positive about the Afghan forces saying they would reach their target of 325,000 trained Afghan soldiers ahead of schedule in October, but he acknowledged there were still difficult months ahead for the remaining 68,000 U.S. troops.
The Taliban has signaled, "They intend to take advantage of the removal of the surge forces," Gen. Allen said.
"The ANSF will be in the lead in that period and they'll be in the lead for the purposes of prosecuting the operations there. But we're going to see U.S. forces and ISAF forces engaged in supporting them," he added.
President Obama acknowledged the challenges but reiterated his commitment to a peaceful withdrawal.
"I am confident, because of the leadership represented here as well as the leadership of our outstanding armed forces, that we can advance that goal today and responsibly bring this war to an end," he said.
The Epoch Times publishes in 35 countries and in 19 languages. Subscribe to our e-newsletter.