The National Park Service (NPS) attempted to conduct a controlled burn near the world's largest living tree but decided to postpone it on Oct. 19. Authorities said a test fire failed to burn strong enough due to too much moisture in the vegetation.
The controlled burn project named the 2018 Sherman Prescribed Burn was planned for 483 acres of land in the Giant Forest in Sequoia National Park, only about a half mile away from the Giant Forest Museum.
The test burn was conducted along the Lodgepole-Sherman Tree Trail, which leads to the giant sequoia nicknamed "General Sherman," identified as the largest living tree on Earth.
The Sherman Prescribed Burn has been postponed until further notice, after the fuels failed to carry fire in the test burn due to their moisture levels.

We hope to complete other fuels projects this fall and will keep you informed! pic.twitter.com/hJzs7pa8YW

— Sequoia & Kings Cyn (@SequoiaKingsNPS) October 20, 2018
Controlled burns aim to reduce hazardous dense vegetation in order to avoid more intense wildfires in the future. They also help the reproduction of giant sequoias as well, since the fire not only provides seeds with mineral-rich ashes but also produces enough heat to allow the cones to release their seeds.
However, the half-day test burn demonstrated that now is not the right time for the full controlled burn.
"Under current conditions, this prescribed burn would take much longer to complete than we had anticipated, and the moisture in the fuels would cause it to produce an inordinate amount of smoke," specialist Andrew Cremers said in a statement.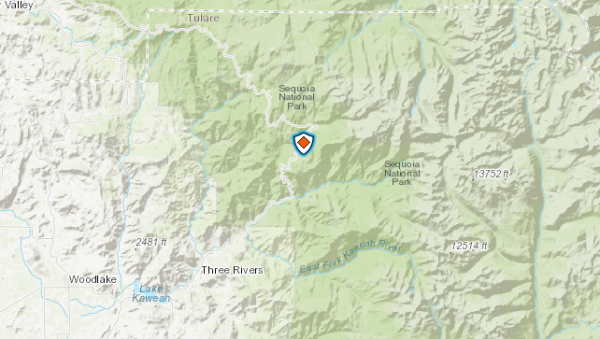 Officials said they will restart the project again under better conditions. Over the past 40 years, Sequoia National Park has conducted many controlled burns, which cost less and produce less pollution than wildfires. Compared to $250 per acre for a controlled burn, the devastating 2015 Rough Fire cost about $800 per acre to fight.
In the fiscal year of 2018, which ended on June 30, wildfires cost California about $773 million, which is triple the 2013 cost of $242 million, according to the California Department of Forestry and Fire Protection (CalFire). This uptick in deadly and large-scale wildfires in recent years has spurred Californians to investigate how to reduce such fire risk in the future.
California is once again on fire.

But the action needed to reduce the state's growing forest fire threat would be the same regardless of one's belief in any problems posed by climate change: start managing our forests again. @ChuckDevore https://t.co/eCI3gCXXd2

— Texas Public Policy Foundation (@TPPF) July 30, 2018
In California, about one-third of the land is covered by forest, and most of the forest is owned by the government. Chuck DeVore, a former California Assemblyman, blamed California's demanding environmental laws for supressing the timber business, which has led to dangerous levels of tree density in those forests.
"The combustible fuel load in the forest predictably soared. No longer were forest management professionals clearing brush and thinning trees," DeVore wrote in an article published in Forbes.
"But, fire suppression efforts continued. … Larger, more devastating fires—fires so hot that they sterilized the soil, making regrowth difficult and altering the landscape. More importantly, fires that increasingly threatened lives and homes as they became hotter and more difficult to bring under control."
The California Forestry Association (CFA) estimated that the tree density in the Sierra Nevada has grown from an average of 40 trees per acre roughly 150 years ago to hundreds of trees per acre today, which poses an increased fire hazard, according to a recent report from CNBC.
"Fire used to naturally go through the forest, and with 40 trees per acre, the fire will mostly stay on the ground, without creating a catastrophe," CFA President and CEO Rich Gordon told CNBC. "This has been a wake-up call for California. We have to do something different to prevent these catastrophic fires."
While the California government devoted hundreds of millions of dollars to fighting wildfires and blamed climate change for the extreme fire conditions, the federal government urged California to improve its forest management to avoid these destructive fires.
.@SecretaryZinke on California wildfires: "It doesn't have to be the new norm. We need to go back and actively manage our forest." #Dobbs pic.twitter.com/ImAY3odYAw

— FOX Business (@FoxBusiness) August 17, 2018
"It doesn't have to be the new norm. We need to go back and actively manage our forests," U.S. Secretary of the Interior Ryan Zinke said in an interview with Fox. "The amount of dead and dying timber, the density of trees is unprecedented. When a fire starts, you can't stop it."
"I've heard they're arguing about global warming," Zinke added. "Global warming is not the cause of the fires of this scale. It is a lack of management."
California wildfires are being magnified & made so much worse by the bad environmental laws which aren't allowing massive amounts of readily available water to be properly utilized. It is being diverted into the Pacific Ocean. Must also tree clear to stop fire from spreading!

— Donald J. Trump (@realDonaldTrump) August 6, 2018
In August, Governor Jerry Brown also voiced his support for "planned burnings" in order "to thin out the forest," according to CNBC.
Brown signed SB 901 in September, which allowed landowners to remove trees up to 32 inches in diameter without a permit and to construct a road without a permit when its length is less than 600 feet.