NOGALES, Arizona—National Guardsman Cpl. Scott Engels volunteered to deploy to the border to assist Border Patrol with surveillance. He had previously served in the military on active duty as an artillery radar operator for four years.
"I just want to serve my country and make sure everybody is as protected as they need to be," Engles said outside the surveillance room in the Nogales Border Patrol station in Arizona on May 23.
He said it feels "fantastic" to facilitate the apprehension of an illegal alien or drug smuggler from his surveillance work.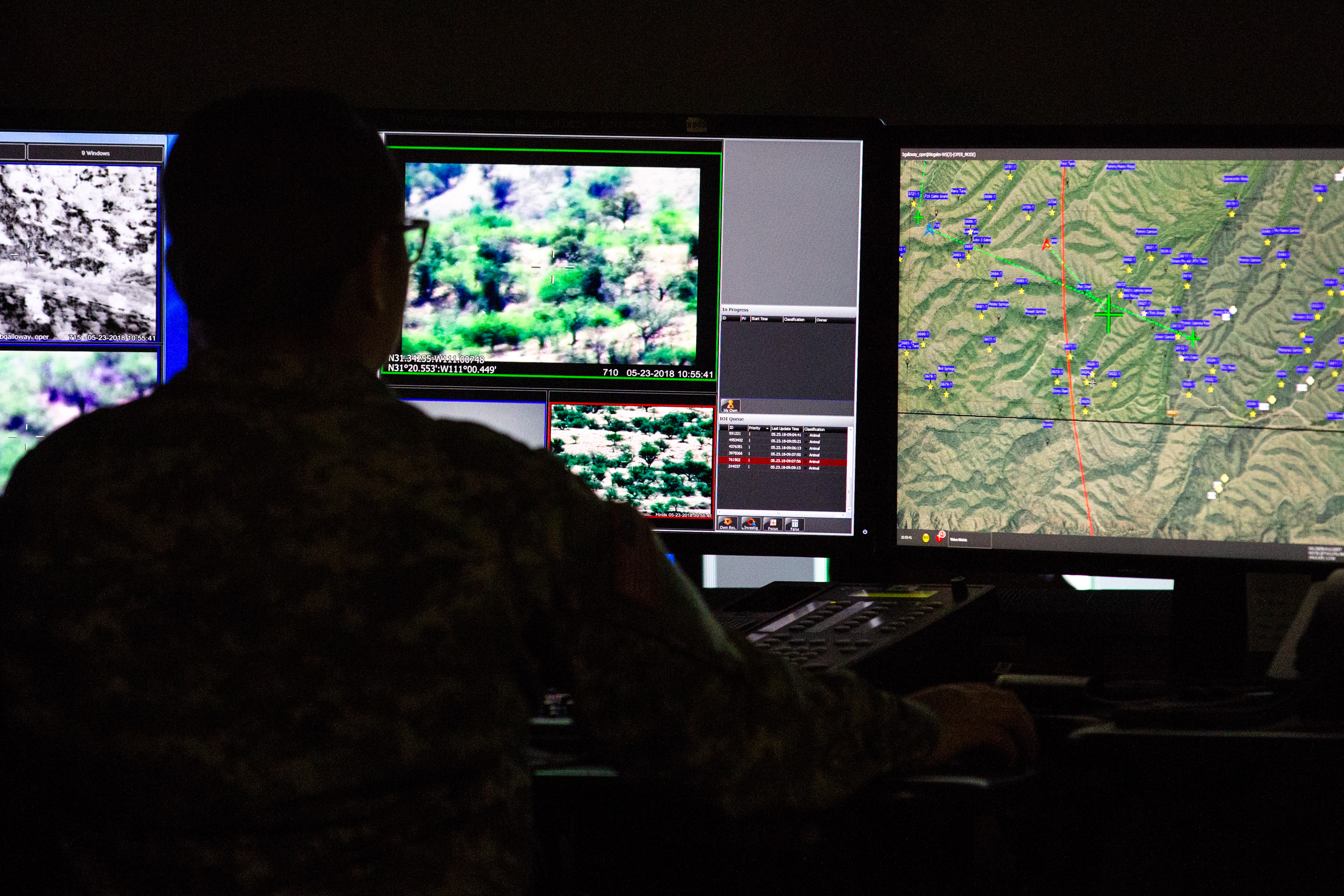 "It's sad that there are these types of illegal activities going on, but it's fantastic that I am able to participate in assisting these agents with the apprehension of these illegal activities," he said. His arrival at the border meant one more Border Patrol agent could be out in the field.
Engles said he logs in to the remote video camera systems and integrated fixed towers that are scattered along the border. He then scans for illegal aliens or drug activity, and the computer will also start flashing an alert if it detects anything. If he sees anything, he radios Border Patrol agents in the area to investigate.
Outside of this deployment, Engels is a transportation specialist for the National Guard and is also completing a criminal justice degree in Phoenix.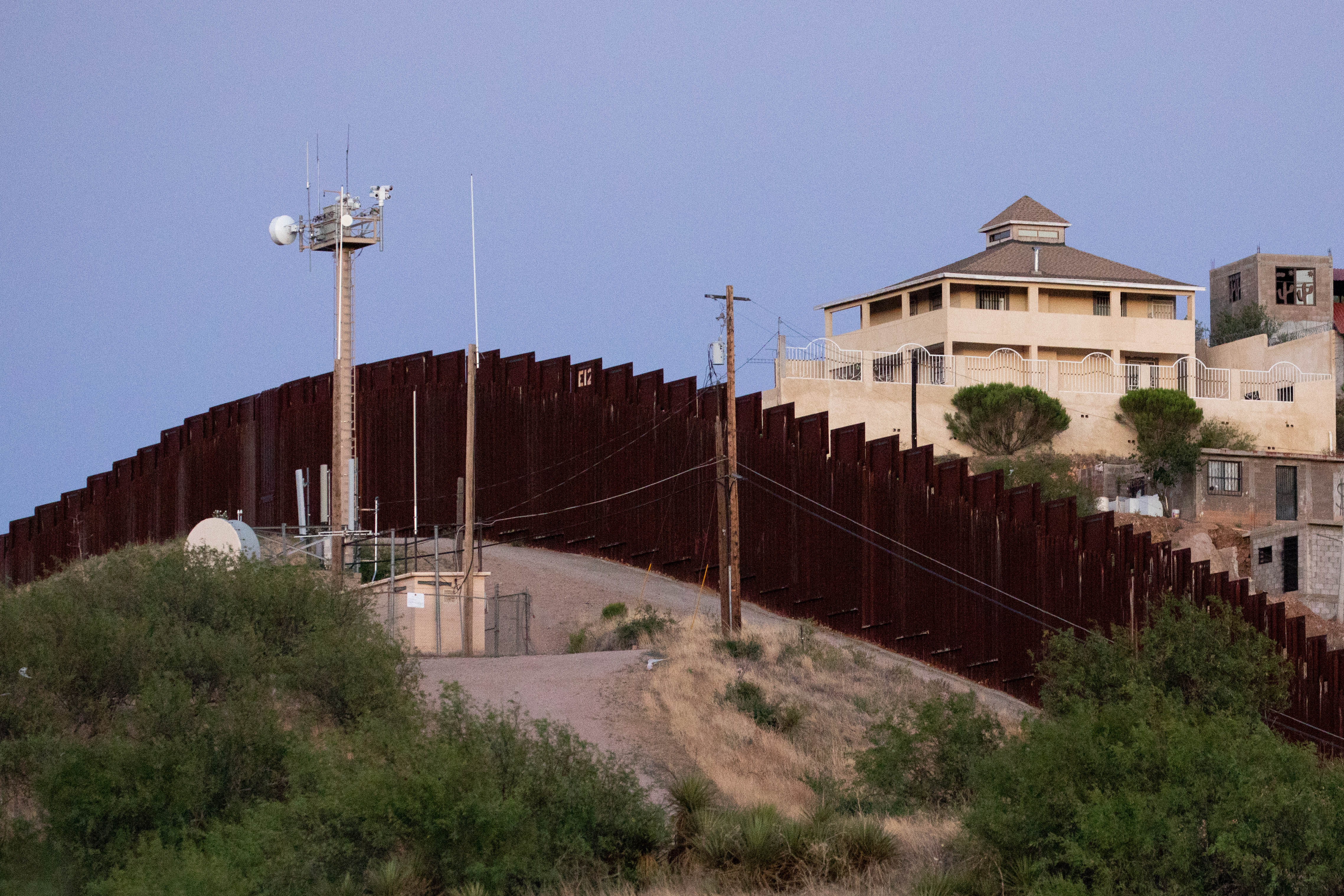 Operation Guardian Support
The National Guard has been assisting the Border Patrol on the U.S.–Mexico border operations since early April and has contributed to more than 4,500 arrests, according to Customs and Border Protection numbers. Around 6,500 pounds of illicit drugs have been seized during the same period.
More than 200 National Guardsmen have been deployed to the Tucson Sector, in which Nogales sits, and most of them are in the Nogales area.
Arizona has provision for 600 National Guardsmen, which has not yet been reached, and it may look at recruiting from other states.
The National Guard funding for the current "Operation Guardian Support" is through Sept. 30, 2018. It has provision for up to 4,000 soldiers.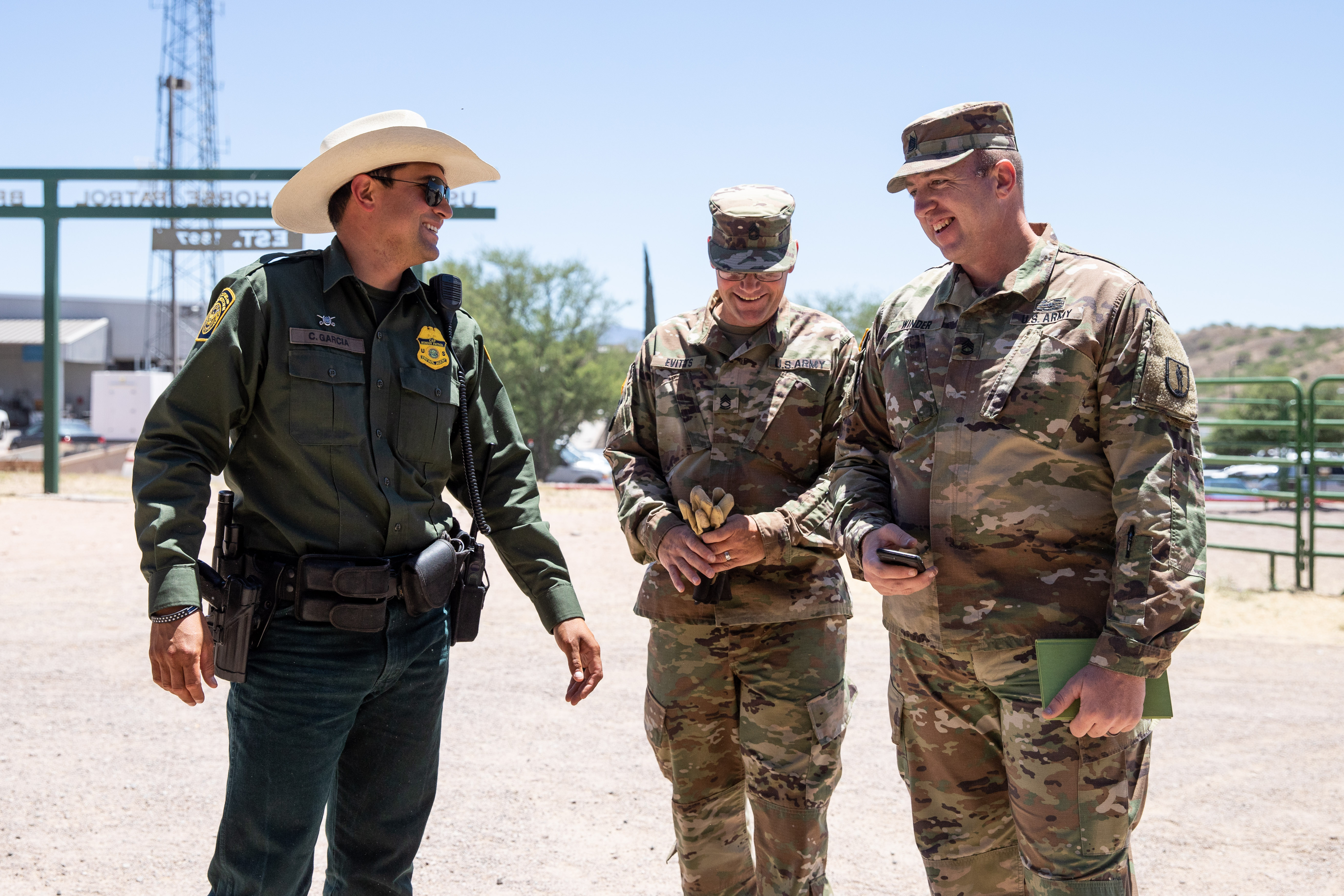 President Donald Trump announced the National Guard deployment on April 3, after illegal border crossing numbers were released.
Illegal crossings spiked in March, reaching 50,296 apprehensions—up 37 percent from February and more than triple from the same period last year.
"Until we can have a wall and proper security, we're going to be guarding our border with the military. That's a big step," Trump said on April 3.
"The security of the United States is imperiled by a drastic surge of illegal activity on the southern border," Trump said in a memorandum to the secretaries of Defense and Homeland Security and the attorney general on April 4.
"We'll probably keep them, or a large portion of them, until such time as we get the wall," he said on April 5.
Hooves on the Ground
This is the third deployment to the border for Sgt. 1st Class Thomas Evitts. He assisted with budget work in Phoenix during "Operation Jump Start" in 2006 under former President George W. Bush, in which 6,000 troops were deployed in California, Arizona, New Mexico, and Texas.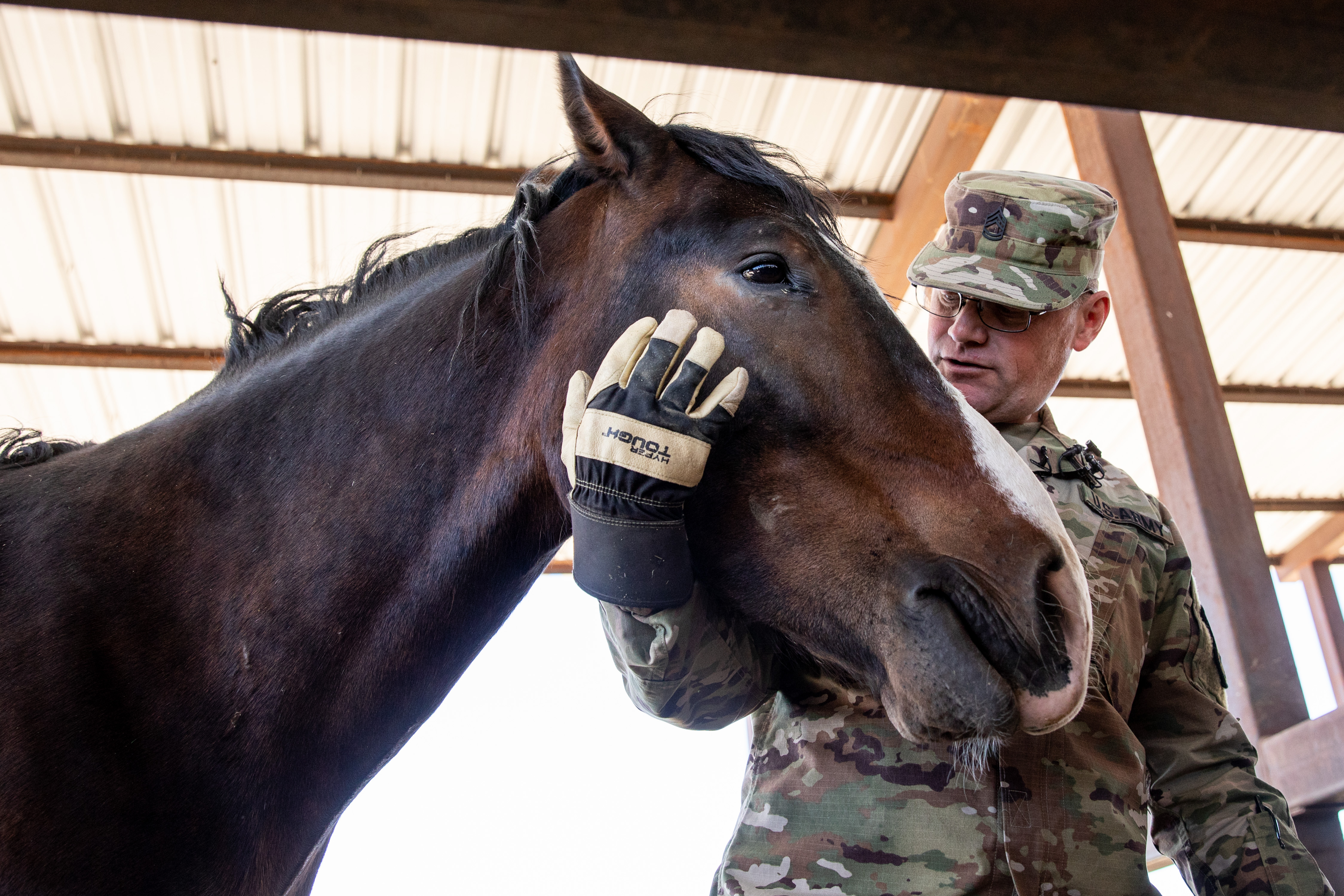 Evitts served again in 201o, running operations in Nogales during "Operation Phalanx," under former President Barack Obama, which saw 1,200 National Guard troops deployed.
"It is a different mission this time," Evitts said. "Last time, it was more eyes on the border, whereas this mission is more getting the border agents on the border. So we're more of a support role than we were in the past."
His arrival to take care of the herd for the horse patrol unit immediately freed up a Border Patrol agent to the field. He helps feed, water, and tack up the horses for the unit.
"It's definitely doing what the mission statement is [and] getting agents back on the border," he said. "It's definitely made a huge impact for them.
"I deal with the agents daily, helping them tack up their horses and managing the herd. It really does relieve them. They're able to keep their teams in the field and be productive."
The horses are wild mustangs from the Bureau of Land Management, which captures them and sends them to local prisons to get broken in by the prisoners before Border Patrol gets them. Mustangs are uniquely suited to border work because they are hyper-vigilant and agile, especially in the dark.
Evitts, who works for Sysco Foods, started with the National Guard in 2001 and said working with the horses is a unique opportunity.  
"This was a need and I was available, so I decided to go ahead and do it. It's a great job."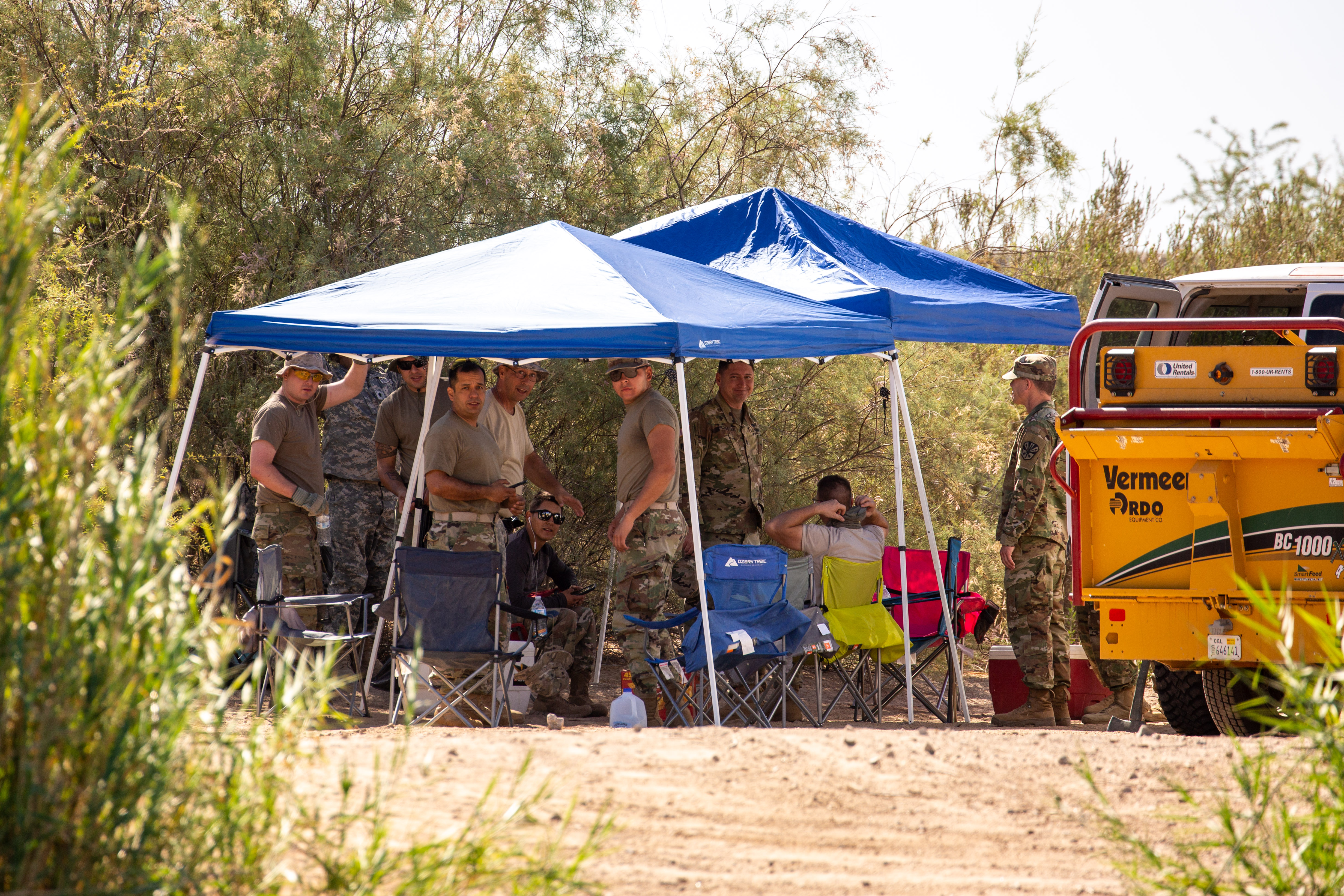 Captain Aaron Thacker said National Guard members bring a lot of unique skills and experience to the field.
"If you were to bring active-duty guys here, kids who enter military at 18 and learn nothing but that job, that's quite a contrast," he said. "Whereas a guardsman, when they come in and enter, they bring in a lot of their civilian skill sets with them and a lot of the things they learned when they grow up in this dual world of military and civilian. So that's what also makes us a unique fit."
National Guard members in the Nogales area are also assisting on the firearms range and in the vehicle maintenance garage. Further west, in Yuma, they are also helping clear brush from beside the Colorado River, which separates Arizona from Mexico.
Watch Next:
The National Guard Has Started Deploying Troops to the US–Mexico Border