The National Guard was deployed overnight to Brooklyn Center, Minnesota, following riots, protests, and looting after police shot and killed a black man during a traffic stop.
Daunte Wright was identified as the man who was shot and killed by police.
According to footage and officials' statements to the press, protests turned violent quickly on Sunday night in the Minneapolis suburb, located about 10 miles from where former Minneapolis officer Derek Chauvin is on trial for the killing of George Floyd.
Minnesota Gov. Tim Waltz deployed the Guard after crowds were gathered in front of the Brooklyn Center Police Department on Sunday evening. A curfew was implemented until Monday morning at 6 a.m.
It came as rocks and other objects were thrown at the police building, according to John Harrington, Commissioner of the Minnesota Department of Public Safety. Harrington added that there were reports of shots fired in the vicinity of the department building.
In a statement, the nearby Brooklyn Park Police Department's building had its front door hit by gunfire, and glass was shattered.
When investigators from the Minnesota Bureau of Criminal Apprehension responded to the officer-involved shooting, Harrington said there were about 100 "highly agitated" people at the scene. Those people then marched and threw objects at police.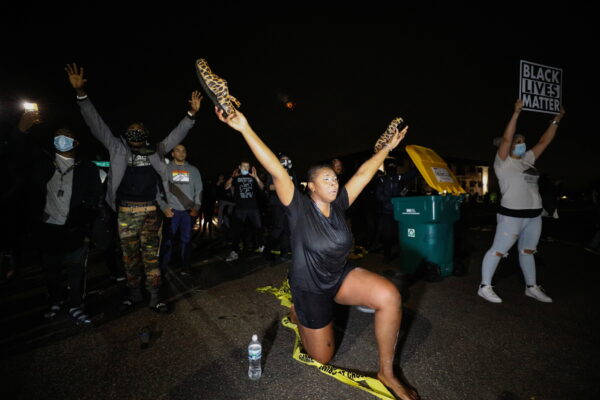 "We saw rocks and other objects thrown at the police department. There were reports of shots fired in the area of the police department," Harrington said at a press conference on Sunday night. "Within hours of that, a secondary group we heard was at the Shingle Creek mall or business center and we have reports of approximately 20 businesses that were broken into during that period."
Harrington said that local authorities requested that Waltz mobilize the National Guard to Brooklyn Center.
"At this time, we have essentially a full activation," Harrington said. 'You will see a robust assortment of National Guard, state and local police departments working together over the next two or three days as we once again prepare for the trial and also are prepared for any other and any further civil unrest that may come from the Brooklyn Center officer-involved shooting today."
According to footage posted online, officers were seen firing what appears to be rubber bullets and tear gas at the crowd, who earlier was seen jumping on top of police cars.
Brooklyn Center Mayor Mike Elliott said that around 20 businesses were broken into and were looted. He added in a 2 a.m. Twitter video that he has "issued a curfew so that we can continue to keep our community safe."
Elliott said that "my heart goes out to Daunte's family" for the "pain [they're] going through."
Waltz, meanwhile, wrote: "I am closely monitoring the situation in Brooklyn Center. Gwen and I are praying for Daunte Wright's family."