Two NFL players who have participated in the national anthem protests nearly came to blows on the field on Sunday, Oct. 21.
Carolina Panthers defensive back Eric Reid, who was the first person to kneel with former quarterback Colin Kaepernick while both played for the San Francisco 49ers in 2016, confronted Philadelphia Eagles player Malcolm Jenkins before the game.
After the coin toss, it's common for players of the opposing team to exchange high fives and chat before the game officially starts. While their teammates were doing just that, Reid and Jenkins began jawing at each other before other players recognized the exchange and separated them.
The exchange was a continuation of Reid splitting from Jenkins's The Players Coalition.
#Eagles Malcolm Jenkins and #Panthers Eric Reid had confrontation after the coin toss before the game started.

Reid had major concerns with Malcolm Jenkins' Players Coalition that raised nearly $100 million to causes considered important to African-American communities. pic.twitter.com/qBsfDr4yLi

— Dov Kleiman (@NFL_DovKleiman) October 21, 2018
Jenkins's group agreed to a deal with NFL executives that had the league donate about $90 million to groups supported by the players, as the NFL sought to end the divisive kneeling protests that have been blamed for declining ratings. The donation did not end the protests, which are still happening after a rule announced this past offseason punishing kneeling players was put on hold by the league.
After the game, Reid claimed Jenkins "co-opted the movement." He also wanted Kaepernick to be involved in the negotiations.
"We believe a lot of players should have stepped up for Colin," Reid told reporters. "I believe Malcolm capitalized on the situation. He co-opted the movement that was started by Colin to get his organization funded. It's cowardly. He sold us out."
Kaepernick, who recently starred in a Nike ad campaign but remains without a job in the NFL, took to Twitter to say: "Eric Reid!!! Enough said!!!"
Jenkins declined to comment on the issue, saying, "I'm not going to get up here and say anything negative about that man."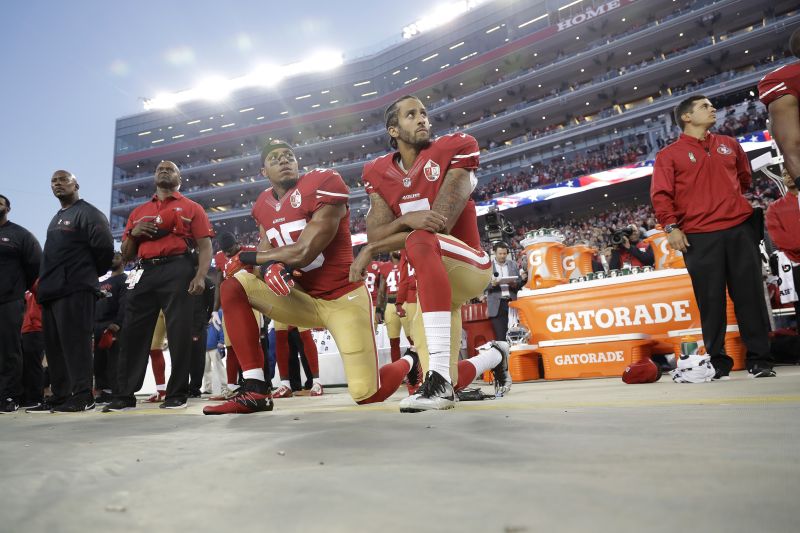 Reid Continues Protest
Reid, 26, became a free agent in March after spending five seasons with the 49ers.
Turning down a one-year offer from San Francisco, he opted to sign with the Carolina Panthers. Reid knelt during the national anthem on Sunday before his first game with the team. In March, he said he wouldn't be kneeling during the anthem this season.
Cincinnati Bengals Owner Mike Brown reportedly asked Reid if he would kneel during the anthem during a free agent meeting, and Reid refused to say he wouldn't. Brown then declined to offer him a deal.
Reid joined Kaepernick's collusion grievance against the NFL in May.
Kaepernick claims the league conspired to keep him off the field after he departed the 49ers at the end of the 2016 season.