Nate Scimio Named as Franklin Regional HS Student Who Pulled Fire Alarm During Stabbing
April 9, 2014 12:24 pm Last Updated: April 9, 2014 12:33 pm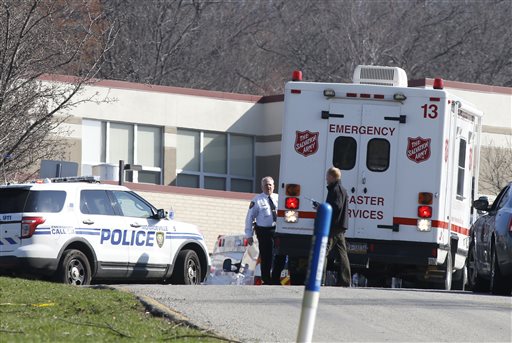 Nate Scimio has been named as the Franklin Regional High School student who pulled the fire alarm during a mass stabbing situation at the Murrysville school on Wednesday morning. 
A yet-unnamed 16-year-old suspect brandishing two knives stabbed 20 people–19 students and a security guard.
"One of the students pulled the alarm, my daughter said, after the incident happened to clear the school. She reported to me it was a 10th grade student," parent Tim Graham told KDKA.
Murrysville police Chief Thomas Seefeld added that someone pulled a fire alarm after seeing some of the victims getting stabbed.
That created chaos but ultimately got more students running outside to safety.
"The fire alarm being pulled probably assisted with the evacuation of the school and that was a good thing that that was done," Seefeld said.
Several students told CBS Pittsburgh that the student was Scimio, who later posted a photo on Instagram of himself at Children's Hospital with a stab wound.
Seefeld said the bloody crime scene at Franklin Regional High School, some 15 miles east of Pittsburgh, was "vast" and may take a couple days to process.
Police haven't named the suspect, who was taken into custody and driven from the police station in the back of a cruiser for treatment for a minor hand wound.
Investigators haven't determined a motive, but Seefeld said they're looking into reports of a threatening phone call between the suspect and another student the night before. Seefeld didn't specify whether the suspect reportedly received or made the call.
Two student victims were in critical condition, according to Dr. Mark Rubino of Forbes Regional Medical Center, the closest hospital to the school where eight victims were taken.
The University of Pittsburgh Medical Center treated a dozen patients. Officials said a 17-year-old boy and 14-year-old boy were in critical condition, a 17-year-old boy and a 16-year-old boy were in serious condition, and a 17-year-old boy and two 17-year-old girls were in fair condition.
Five patients had been discharged, including three 15-year-old boys, a 16-year-old girl and an adult.
Seefeld wouldn't detail the carnage beyond saying, "The juvenile went down the hallway and was flashing two knives around and injured the people."
The Associated Press contributed to this report.