An on-duty police officer was killed when an unlicensed teenager slammed head-on into the driver's door of his squad car in the early morning hours in Tennessee.
Central Precinct Officer John Anderson died when his marked police care was "violently struck" on July 4 in Nashville at an intersection by a Ford Fusion, driven by a 17-year-old.
"That teenager, Jayona Brown, has just been booked into juvenile detention on charges of vehicular homicide by recklessness, felony evading arrest, aggravated assault by recklessness, driving on a suspended license and juvenile curfew violation," said a press statement from the Nashville police.
Anderson had been an officer for just 4 years, all served with the Nashville Metropolitan Police.
He died at the scene of the crash.
The Nashville police chief said the death was a "very tragic way" to start what was supposed to be a festive Fourth of July weekend.
Anderson had been on the way to assist with a report of a pedestrian in a traffic lane waving his arms, when his car was hit just after 3 a.m. by Brown's Ford.
Funeral arrangements for Officer John Anderson are being made. Details will be shared here when complete. Officer Anderson, the father of an 18-month-old son, spent his entire MNPD career at the Central (downtown) Precinct. He was also a proud member of our Drill & Ceremony Team. pic.twitter.com/WWOGYNK7IU

— Metro Nashville PD (@MNPDNashville) July 4, 2019
According to authorities, he was crossing an intersection and had right of way via a flashing yellow traffic light.
Brown was taken to Vanderbilt University Medical Center where she was treated and released according to authorities. Her passenger was critically injured and is being treated at Skyline Medical Center.
A picture of the crash site shows Anderson's battered squad car with the hood caved in, blackened, and partially gutted and melted from a fire.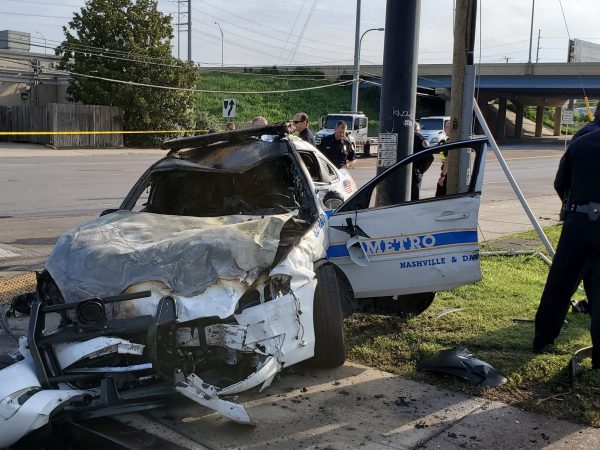 The front of the Ford, which came to rest on the grass a dozen or so yards away, is caved in.

According to the police report, minutes before the collision, Brown had sped away from an unmarked police car on DUI duty when the officer tried to pull her over for a lane violation and for driving on full beam.
The officer did not pursue, since they knew the car was not stolen, but radioed in the fact that the car had not stopped.
"Officer Anderson was a big part of this police department," said Police Chief Steve Anderson (no relation).  "He worked the downtown area, one of the busiest areas in town, by his own choosing," he told reporters at a news conference.
"Other officers that worked around, even those that don't know him, are obviously very disturbed. It goes without saying that when we lose an officer … it's like losing a brother or sister."
Jayona Brown, 17, the driver who struck Officer John Anderson's patrol car today fatally injuring him, is in juvenile detention on charges of vehicular homicide by recklessness, agg assault by recklessness, felony evading arrest, driving on a suspended license & curfew violation. pic.twitter.com/Gv9tSYHVNH

— Metro Nashville PD (@MNPDNashville) July 4, 2019
Mayor David Briley called the crash a "tragic day for Nashville," reported NBC.
"For this holiday to start on such a tragic note … is just horrible," he said. "Officer Anderson and his family are in our thoughts and our prayers go out to them."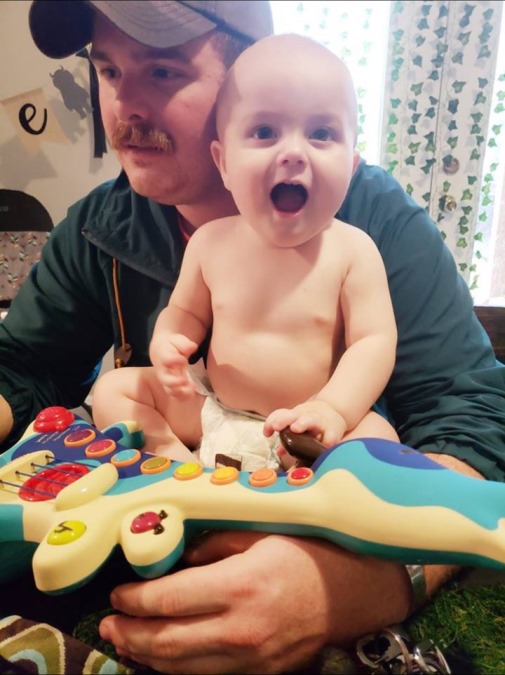 According to ABC, Anderson had an 18-month-old son, Gavin.
The Nashville police department shared images of Anderson with his son in a press release.