The Daytona 500 NASCAR race was postponed until Monday afternoon following a visit from President Donald Trump on Sunday, according to race officials.
The race was postponed after two lengthy delays totaling more than three hours. The Florida race will resume at 4 p.m. ET Monday and be broadcast on Fox. The first delay of the day came moments after the presidential motorcade completed a ceremonial parade lap around the 2 1/2-mile track. Trump's armored limousine, nicknamed "The Beast," exited Daytona International Speedway, and the sky opened for a brief shower that forced drivers back to pit road.
"The Daytona 500 is the legendary display of roaring engines, soaring spirits and the American skill, speed and power that we've been hearing about for so many years," Trump told the crowd on Sunday.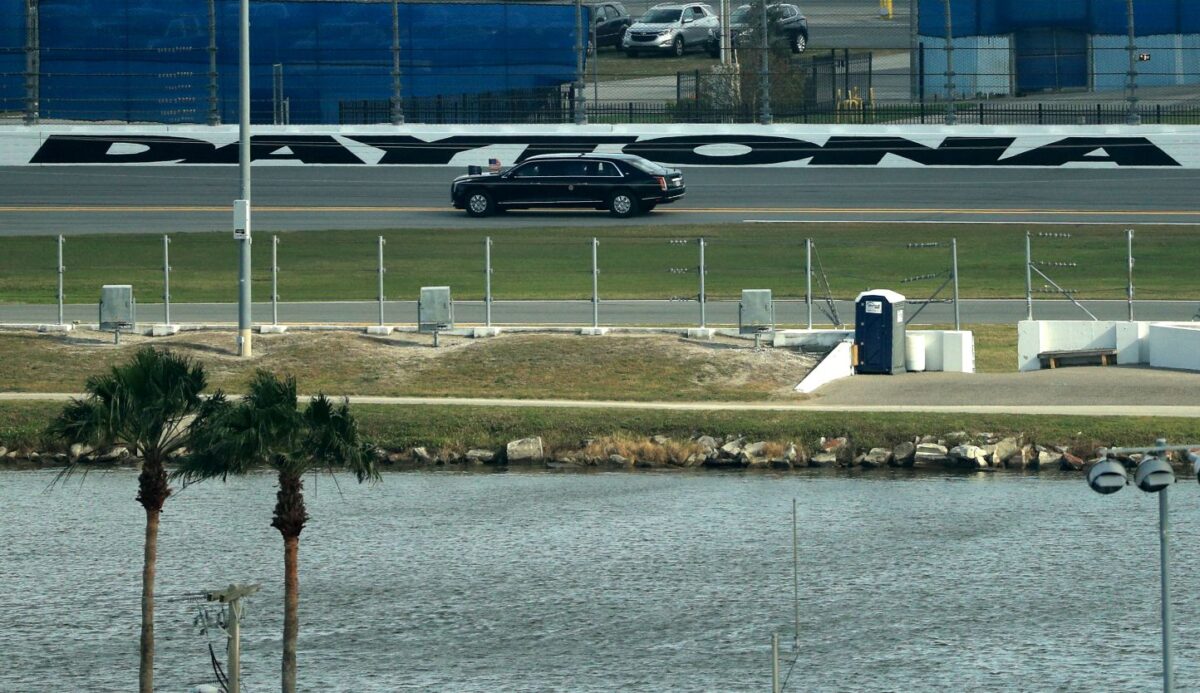 Trump then said that "NASCAR fans never forget that no matter who wins the race, what matters most is God, family, and country."
In the speech, Trump also thanked Gold Star families and military veterans who attended the race.
He said, "To all of the drivers, technicians, and pit crews here today, good luck and may the best team win. God bless you, God bless our military, God bless our veterans, and God bless America. Have a great race."
During his speech and when "The Beast" took a lap around the track, the crowd loudly cheered.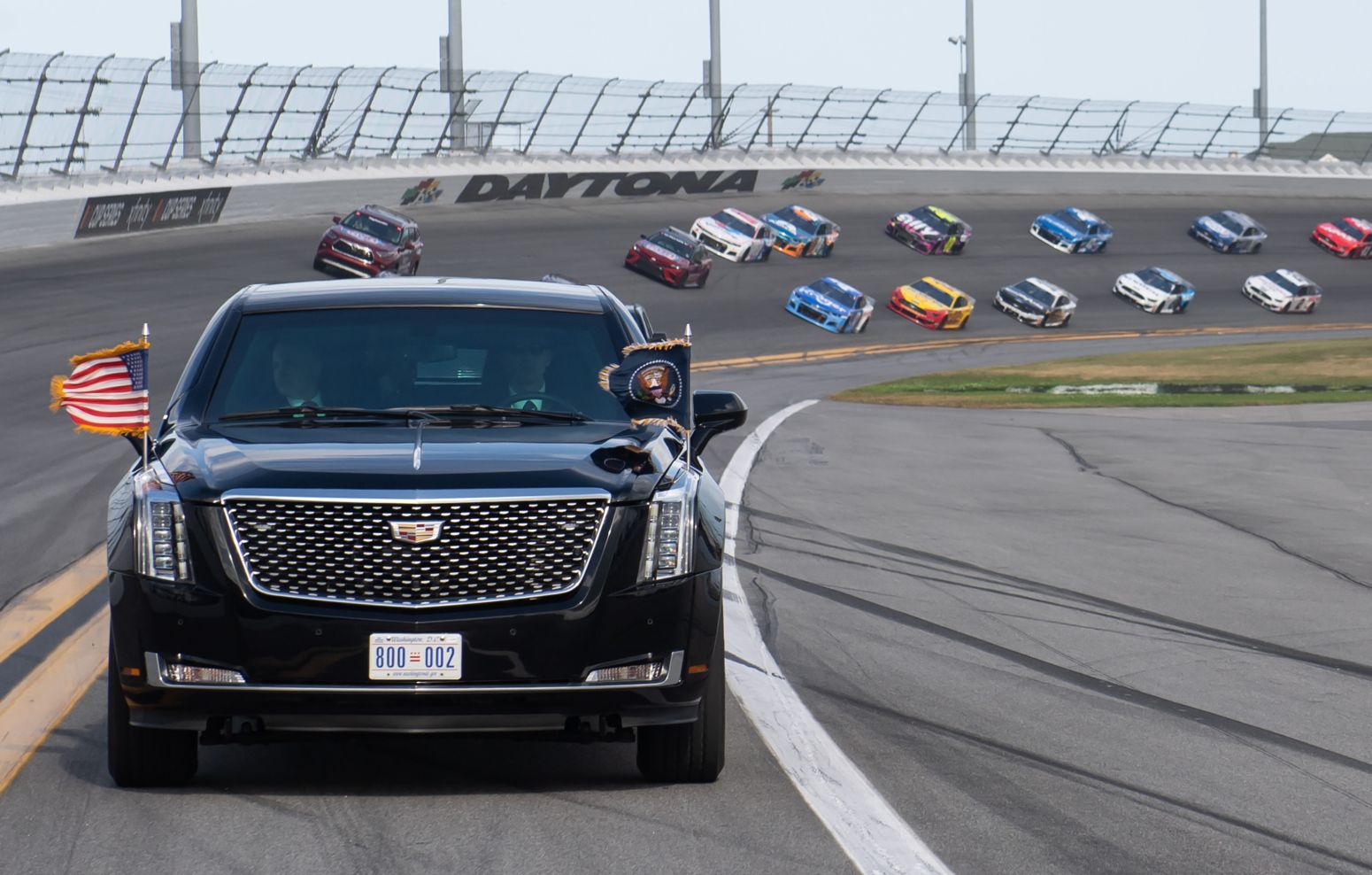 The president and First Lady Melania Trump took a lap of the circuit in "The Beast" after Trump gave the iconic command: "Gentlemen, start your engines." Trump is the second sitting president to attend the race after former President George W. Bush issued the command to drivers in 2004.
Before that, former President Ronald Reagan attended a NASCAR race, the Firecracker 400, and had the honor of giving the command.
The Daytona 500, considered the biggest race of the year, has served as the NASCAR season opener since 1982. The 500-mile long, 200-lap race features 40 drivers, and the winner takes home a replica of the Harley J. Earl Trophy and a prize worth about $1.5 million.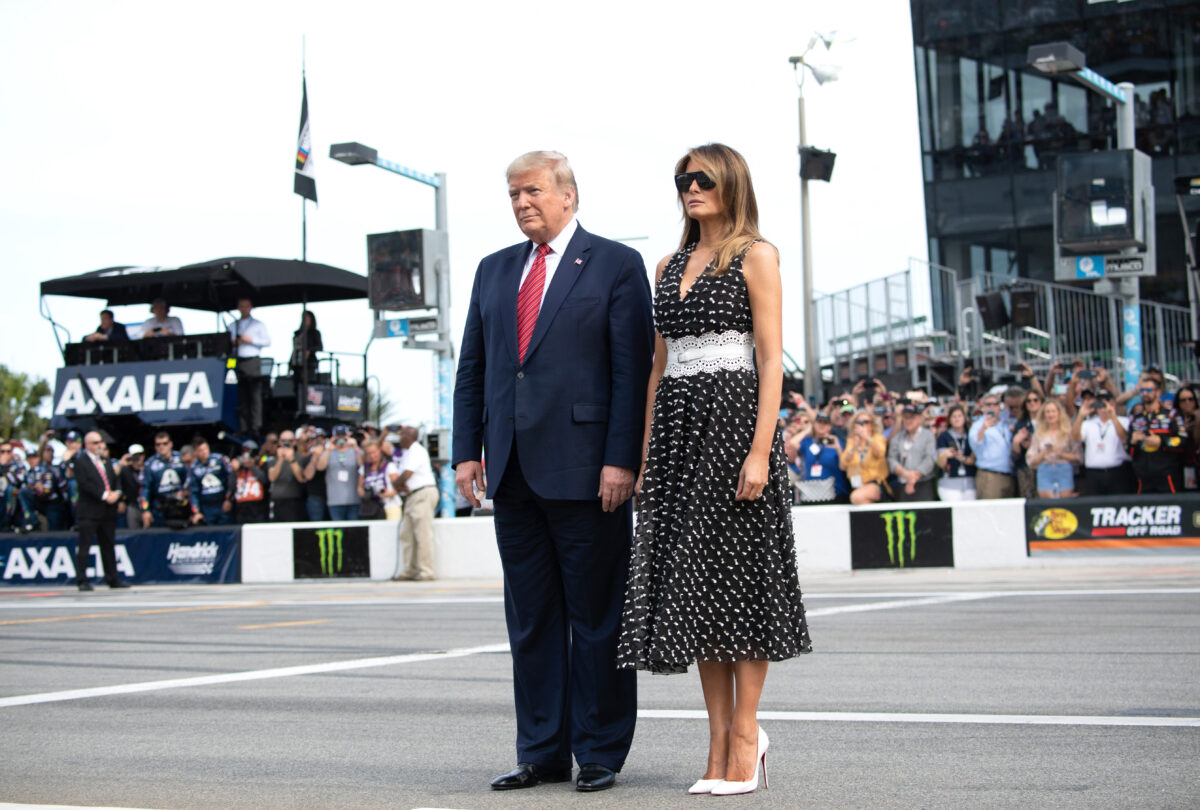 "We're honored that the President of the United States has chosen to experience the pageantry and excitement of 'The Great American Race' by attending Sunday's 62nd annual DAYTONA 500," Daytona International Speedway President Chip Wile said in a statement.
Over the past several months, the president and first lady have attended a number of sporting events, including a UFC event, a college football game between LSU and Alabama, the annual Army-Navy game, a World Series game, and the college football championship between LSU and Clemson.
The Associated Press contributed to this report.