Protesters in Southeast China Succeed in Stopping New Tax Law
June 17, 2009 9:33 pm Last Updated: October 1, 2015 9:43 pm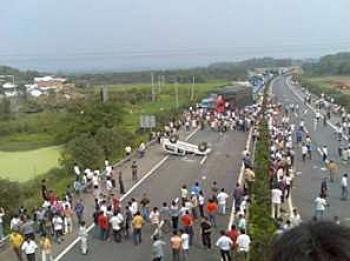 According to a Xinhua report on June 16, a protest against a new tax law in Nankang city, Jiangxi Province, caused authorities to repeal the new law, which was supposed to go into effect on June 15.
Authorities in China rarely compromise, analysts say. That they did in this case shows that high-ranking Chinese Communist Party (CCP) officials are growing worried that local protests might spread into nationwide unrest.
On that same day, Xinhua reported the not-guilty verdict in the tempestuous Deng Yujiao rape case. Deng had been charged with manslaughter for killing a Party official she claimed was trying to rape her. Originally Deng was judged guilty of using excessive force in self-defense.
The reversal shows that the CCP is adopting a more compliant approach when faced with massive public outrage.
According to Xinhua's report, Su Rong, Secretary of Jiangxi Province Committee, requested all city officials to use every means of communication to tell the people of the region that the objectionable law had been repealed, to forestall further protests.
The Nankang government had planned to increase the tax on furniture sales, effective June 15. Furniture sales is a major industry in Nankang, but the profit margin is low. The new tax law would have increased the tax burden, forcing many stores out of business.
At 10a.m. on June 15, more than 10,000 people gathered in front of Nankang City Hall, and the furniture mall on Highway 105. The protests turned rowdy and ten police cars were overturned. Later that afternoon, the demonstrators moved to the Nankang exit on Ganyua Highway, paralyzing traffic in the Nankang area. According to eyewitnesses, more police cars were overturned.
The city government issued orders to immediately terminate all measures related to the tax law, and announced the decision through radio, television, text message, and the Internet.
After the protesters dispersed, government spokespersons claimed that the violent protest occurred because some furniture shop owners misunderstood the new tax law.