Nanjing City: Mechanics Make More Money than PhDs
July 14, 2006 12:00 am Last Updated: July 14, 2006 12:00 am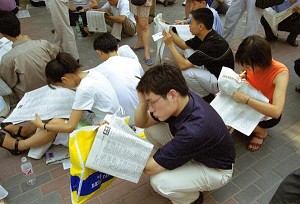 It pays to get dirty in mainland China these days. As a result of a shortage of mechanics, Chinese technical school students, in particular those who are specializing in the fields lacking employees, have had their social status suddenly raised. Many mechanics are now making more money than PhD degree holders.
According to a wage instruction guide recently published in Nanjing City, Jiangsu Province, the average annual wage for PhD and more advanced degree holders is 46,847 yuan(US $5,860), while the maximum annual wage for senior mechanics has reached as high as 84,187 yuan ($10,535). Although this may be positive for mechanics, the phenomenon has indicated further difficulty in career opportunities for PhD degree holders. According to The Modern Bulletin, a Jiangsu based newspaper, Nanjing's newly released wage instruction guide shows that, among enterprise employees with no more than three years' working experience after graduation, "PhD and above degree" holders have an annual average of 46,847 yuan ($5,863). Conversely, according to the "by specialty wage instruction", a new wage guide published this year, the maximum annual wage of senior mechanics is as high as 84,187 yuan ($10,523), far exceeding the average annual wage of PhD degree holders.
Additionally, the "by specialty wage instruction" indicated that senior mechanics, including lathe operators, boiler operators, vehicle assemblers, machine repair fitters, auto mechanics and welders, all have maximum wages exceeding the average wage of PhD holders. Yet, this only applies to senior mechanics. Normally an average mechanic will still only earn about10,000 yuan ($1,252) a year.
Data released by the Nanjing Mechanics Institute suggests that its newly graduated alumni receive an average monthly wage of between 1,200 yuan ($150) and 1,500 yuan ($188) during trial period, which has broken the record of Nanjing's labor market.
Liu Xingguo, the director of the Nanjing Labor and Social Security Bureau Training Department, said that the number of technical school graduates specializing in the secondary sector of industry, including manufacture and construction industries, is less than 20,000 each year. Liu predicts that in the next five years the demand for technical school graduates will be far higher than supply. In addition, he believes that five-year senior mechanics as well as seven-year technician class graduates will never worry about job opportunities.
According to the Employment Administrative Center of the Nanjing City Labor Safeguard Bureau, at present, Nanjing's labor market has too many entry-level mechanics and too few senior mechanics. Therefore, skillful and experienced senior mechanics are ever more becoming the object of pursuit by enterprises.
While each region is presenting a mechanic shortage, many university graduates are conversely experiencing an ever increasing employment difficulty as Chinese society has begun to reach its capacity of these individuals.
The Chinese Communist Party Development and Reform Committee issued its first quarter employment situation analysis report for 2006 at the beginning of May. This report showed that 60 percent of the university graduates might not be able to find a job this year. Under this circumstance where jobs are becoming ever harder to find, university graduates in every region have had to continually lower their wage expectation. It has come to the extent that a so-called "zero wage community" has recently come into existence, which refers to individuals who do not even require payment as long as they are hired.
Facing the current situation of high degrees equaling low wages, some studentshold that it's reasonable that senior mechanics, given their rich experience, are receiving such high wages. It is normal that when something is rare, it becomes precious. They also believe that it's normal for a PhD degree holder who has just graduated to have a lower wage, but adding that were this situation to become long-term it would not be normal.
Some PhD degree candidates say however, in such a situation, they would rather give up looking for a job after graduation than lower their own sale price.